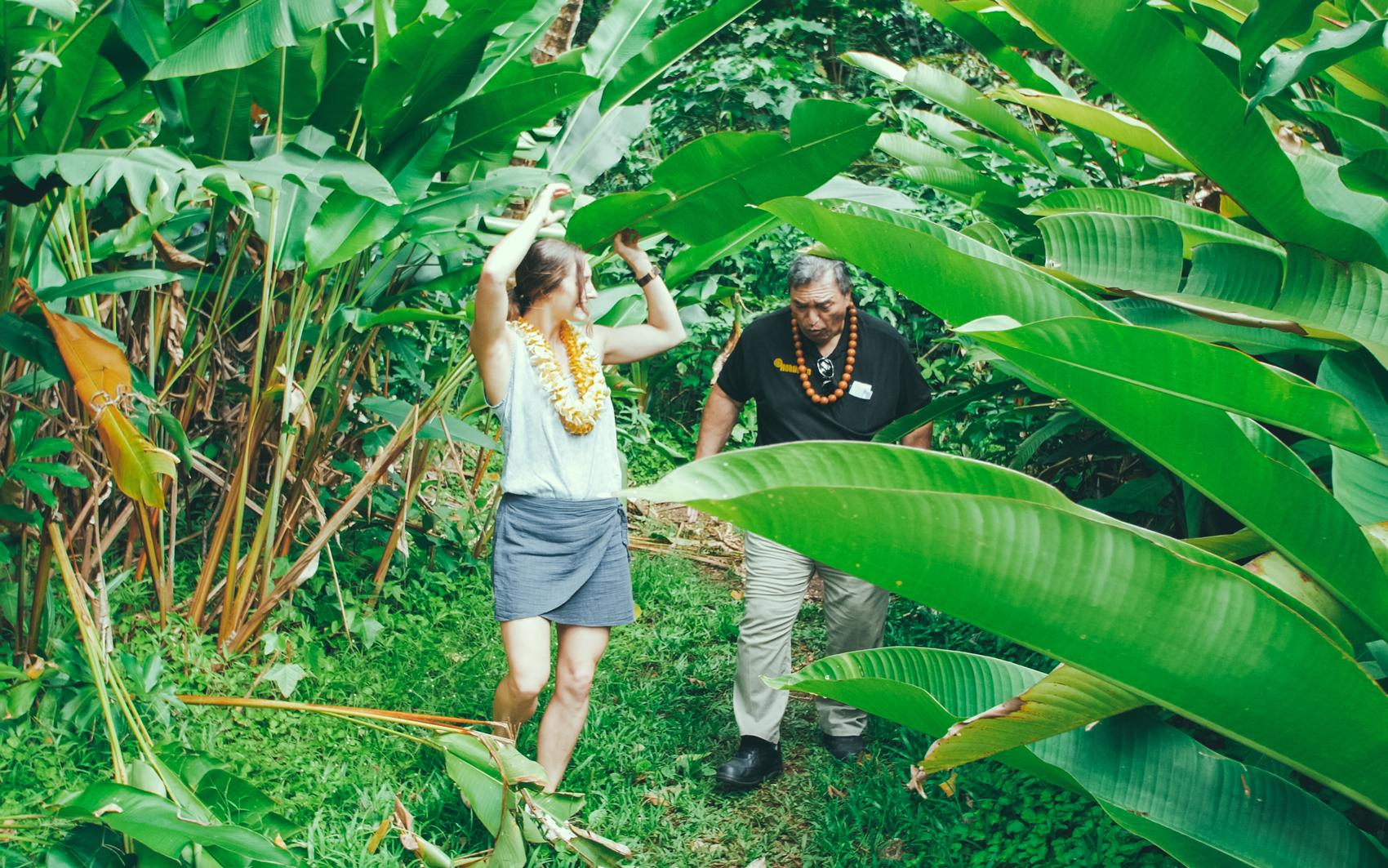 5 Ways to Experience Aloha
Discover the true meaning of aloha
Aloha is one of the most important values in Hawaiian culture. It can mean hello and goodbye, but it is also a concept of altruism and unity. Aloha can be created in an instant through a decision to behave with kindness and generosity.

To spread Hawaii's spirit of aloha with Australia, we hired 'Aloha Apprentice' Jamie Scroop, to help us make this happen. Jamie's task was to share the Aloha Spirit by giving hundreds of Sydneysiders' a fresh flower lei greeting. To prepare her for her task in Sydney, Jamie flew to Hawaii on four- day aloha immersion. See what Jamie learned and uncover 5 ways you can experience aloha.

Mele (Music)
'Mele' or music creates that special sense of ohana (family) in Hawaii and is used to pass on stories and tradition from generation to generation. Jamie got the unparalleled opportunity to experience what music means to the culture of Hawaii with a private ukulele lesson with local musicians Honoka & Azita who travel the world sharing the spirit of aloha through 'mele'.
Kai (the ocean)
The ocean is a very special part of the spirit of Aloha. Locals of Hawaii visit the ocean to restore 'Lokahi' (balance) in the mind, body and soul. Jamie experienced this by learning to ride some Waikiki waves with legendary Waikiki Beach Boy Ted Bush and his nephew, pro surfer, Nelson Ahina. Waikiki is the birth place of modern surfing and the ocean there has an ancient 'mana' that provides nourishment, healing and balance.
Mea Ai (food)
The cuisine of Hawaii is a harmonious blend of Asian and Pacific foods and flavours. Sharing a meal is the cultural way to build a sense of community and unity. Jamie had a true taste of Hawaii with a special cooking experience at Ok Farms with local Chef Mark Pomaski of Moon and Turtle restaurant. In the true spirit of Aloha, Mark invited Jamie back to his restaurant Moon and Turtle to share a Hawaiian farm to table feast with his family and friends.
Aina (the land)
Hawaiians treat the land with the highest respect and believe that they have a responsibility to care and nurture it into the future. Jamie was brought to the heights on a helicopter tour over the entire Island of Hawaii with Local cultural advisor Aunty Leilani Kahoano who taught her about the 'mana' or energy of the land. As we flew by waterfalls and over Kilauea Volcano, Jamie experienced the presence of the volcano goddess Pele, creator of Hawaii.
Lona Hawaii (traditions)
Lei are a symbol of Aloha, a meeting and greeting of one's spirit to another and a sharing of positive energy. Jamie had the chance to explore Hawaii's traditions with a local cultural guide Manly Kanoa and met with local Artisans in beautiful Waimea Valley. Lei maker Uncle Dino Kapuni Harvest, (a 5th generation artisan!) gave Jamie a lesson in the art of lei making and the tradition of gifting Lei to prepare her for her task in Sydney.