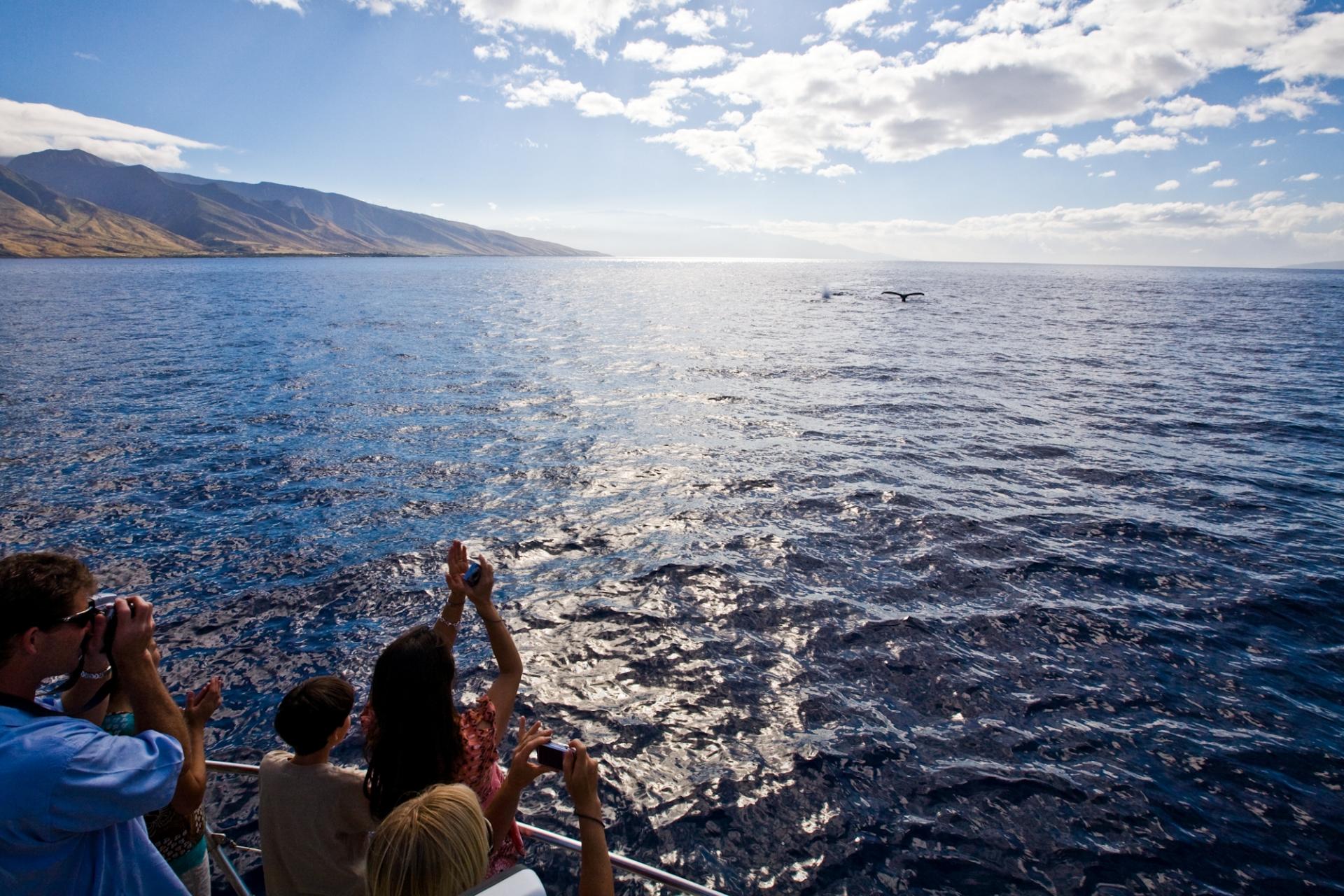 Just as our idyllic weather welcomes tourists from around the world, the warm and shallow waters surrounding the Hawaiian Islands are a favorite destination for
kohola
, or humpback whales. Scientists estimate that two-thirds of the entire North Pacific humpback whale population return to Hawaii to breed, calve and nurse their young. They race more than 3,000 miles from the Gulf of Alaska to Hawaii, then stay for a lengthy vacation, frolicking just off our shores and delighting spectators from December through May.
Adult males range from 40 to 52 feet and can weigh up to 45 tons. Despite their size, humpback whales are graceful acrobats. Keep your eye on the ocean and you might see one breach, propelling up to 40 percent of its body out of the water and landing on its side with a spectacular splash.

Cultural Significance of Whales in Hawaii
Whales have great
cultural significance for Native Hawaiians
. They play a large role in Hawaiian legend—including one creation story—and appear in
ancient petroglyphs
on several islands. The return of the
kohola
(humpback whale) is considered more of a homecoming than a visit. Humpback whales are born in Hawaiian waters, making them
kamaaina
(native born). Some Native Hawaiians also believe the whales are
aumakua
(family guardians), so these gentle giants are treated with great respect.

What's the Best Way to See Whales?
Although humpback whales can be seen from all of the Hawaiian Islands, the shallow Auau Channel
between
Maui, Molokai
and Lanai is one of the best whale-watching destinations in the world.
You may also spot
kohola
from the southern shores of
Oahu
, especially at
Makapuu Lighthouse
and along the seaside overlooks near
Leahi (Diamond Head)
.
Kauai
offers a range of whale-viewing opportunities, including
Poipu Beach
on the South Shore,
Kilauea Lighthouse
on the North Shore and Kapaa Overlook on the island's Coconut Coast.
On the
island of Hawaii
, whales are often seen along the shores of the
Kohala Coast
, as well as
Hilo
Bay on the east side of the island. The
Puukohola Heiau National Historic Site
is another great viewing spot, with its sweeping, elevated views near Kawaihae Harbor. In fact, Puukohola literally means "hill of the whale" in Hawaiian.
Boat tours may be your best option for viewing whales up close. Hawaii has dozens of tour operators, including a few that lead kayak excursions—a thrilling way to experience these majestic mammals.
In respect for the
kohola
and the safety of sightseers, all watercraft must stay a minimum of 100 yards from the whales, but you'll be surprised how close you feel when a 45-ton behemoth lunges out of the sea. If a boat tour is not for you, the whales' impressive acrobatic displays are often visible from miles away. If you're on land, keep a pair of binoculars handy because you never know when you'll see a humpback's spout (which can be 10–20 feet tall).
Sorry, there are no results. Please try another search.