All of the Hawaiian Islands have complex and fragile ecosystems that are easily affected by outside influences. This is partly why Hawaii has the highest number of endangered and threatened native plant and animal species of any place on the planet. An important value for native Hawaiians and Hawaii locals is the idea of
malama aina
or to care for the land. There are many ways visitors can learn about the native traditions used to work the land—and help locals keep Hawaii more sustainable for generations to come. For travelers interested in eco-tourism experiences, there are a variety of farm and agricultural tours, botanical gardens and more that showcase the islands' unique environments.
Kauai
Take a farm tour in the beautiful, green
Hanalei
taro fields to see how
kalo
(taro), an important Hawaiian root starch, is cultivated. The South Shore of Kauai is also home to
Kauai Coffee
, a working coffee plantation. Some of Hawaii's largest botanical gardens can also be found on Kauai; the National Tropical Botanical Garden has three sites here:
Allerton Garden
and McBryde Garden just west of
Koloa
, and Limahuli Garden on the North Shore. You can also opt for a
whale-watching
tour (December–May), or spot some of the 1,200 endangered Hawaiian monk seals swimming in Kauai's waters on Poipu Beach.
Oahu
Embark on a farm tour to learn about the farm-to-table processes that are such a vital part of Hawaii Regional Cuisine, and see Native Hawaiian plants and flowers at Honolulu Botanical Gardens' five diverse sites on Oahu. From December through May, go
whale watching
off Oahu's southern coast to greet humpback whales on their annual visit to Hawaii's warm waters.
Lanai
Besides the island's resort areas, much of Lanai looks the way it did hundreds of years ago. Cook pines and what is left of pineapple fields remain in
Central Lanai
, but there are other off-the-beaten-path spots that can transport you back in time. Visit the
Kanepuu Preserve
for a self-guided tour featuring 48 species of endemic Hawaiian plants. Protected by the Nature Conservancy, learn how this fragile ecosystem continues to survive in Lanai today.
Maui
Take a drive to
Upcountry Maui
and stroll among fields of sweet lavender and vibrant protea in Kula. Or walk back in time through gardens of indigenous plants at the
Kula Botanical Garden
. Continue to the 30,000-foot summit of Haleakala and you just might meet our state bird, the endangered
nene
(Hawaiian goose), or stumble across a Haleakala
silversword
, a rare and beautiful succulent that shimmers in the early light.
Molokai
Take a farm tour to see how locals work the land. Visit Purdy's Natural Macadamia Nut Farm for a fascinating tour. Hawaii is the world's leading producer of macadamia nuts. Or, to really see environmental preservation in action at the Nature Conservancy's two sites on Molokai: the Moomomi Preserve on the northwest coast and the
Kamakou Preserve
in the mountainous rainforests to the east.
Island of Hawaii
There are numerous ways to learn about the local ecosystem and experience the unique beauty of the island of Hawaii. At the Hawaii Wildlife Center's Hoopulauma Science and Discovery Center you can learn about efforts to protect and rehabilitate native bird species and other wildlife. At the Natural Energy Laboratory of Hawaii Authority campus there are a variety of tours focused on renewable energy, sustainability and emerging technology offered by the
Friends of NELHA
group. Or, help restore native flora on a tree planting tour with
Hawaiian Legacy Tours
, where you can help plant a Koa tree as part of the excursion.
"Tip #1: Use Reef Safe sunscreen. Research has found that even a small amount of sunscreen generally has chemicals in it which can bleach the corals and kill the reef."
"Tip #2: Bring a reusable, preferably stainless steel bottle of water."
"Tip #3: Clean your shoes before and after a farm tour to prevent spreading of seeds and disease."
Discover the agricultural cornucopia growing in Hawaii's rich, volcanic soil.
More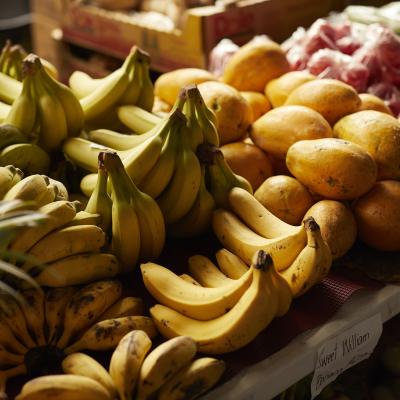 You can't travel far in Hawaii without passing a farmers market or fruit stand. Beyond a rainbow of fresh fruits, flowers and vegetables, you'll often find Hawaii-grown coffee, local jams, macadamia nuts and even pop-up stands from trendy restaurants.
More
The Hawaiian Ecotourism Association, (founded in 1995), certifies sustainable tour companies throughout the state of Hawaii to protect the environment and host culture while giving visitors an eco-friendly option for touring.
More