Kona Country Club Mountain Course
Description
Of the 36 holes offered by the Kona Country Club, the Alii Mountain Course is more challenging, demands more concentration, and is a little cooler in temperature than its sibling, the Ocean Course.
Perched above beautiful Keauhou Bay and the Kona coastline, The Mountain Course offers golfers gentle trade winds and sensational vistas. It also delivers what may arguably be the best five consecutive holes in Hawaii golf from No. 13 through 17.On the front nine is No. 7, one of Hawaii's toughest par-4s. It typically plays into the wind, with water hazards on both the golfer's tee shot and approach. But water isn't the real problem. The challenge is to thread the drive between two lava-rock formations. Bailing out to the right forces a more difficult second shot, with trees, lava rock, water, and sand in the equation. The two 3-pars on the back nine at 14 and 17 are exhilarating. Their highly elevated tees to substantial greens are well protected by water.
Those on their game can put up a great score during their Mountain round. For those not familiar with all their clubs and easily distracted by compelling scenery the Alii Mountain Course will still be a memorable, but for altogether different reasons.
Course Overview
Daily Fee | 18 Holes | Par 72
Course Architect: William Bell, Nelson and Robin Wright
Available Amenities
Driving Range, Pro Shop, Restaurant, and Lounge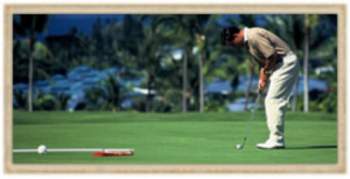 {{description}}{{:link.url}}
more
{{/link.url}}
{{:windowImage}}
{{:promo_designation}}
{{promo_designation}}
{{/promo_designation}}
{{/windowImage}}
", item) } } //insert marker if lat/long if(item.latitude !== undefined && item.longitude !== undefined) placemarks.push(tmp); }); //initialize map var map = new sv_mapLib.GoogleMap({ node :mapContainer, mapOptions : { zoom: 12 } }); map.addPlacemarks(placemarks); map.fitToPlacemarks(); });
Contact Info
Kona Country Club Mountain Course
78-7000 Alii Drive
Kailua-Kona, HI 96741
phone: (808) 322-2595
toll-free: (888) 707-4523
COURSE DETAILS
 
Yardage
Rating/Slope
Blue
6509
72.9/135
White
5917
70.0/130
Red
4851
64.2/116
Yellow
5437
71.8/120