Noelani Lee
Ka Honua Momona, Executive Director
Thousands of little green tree-like sprouts jut out from the placid water encircled by a massive, ancient lava rock wall. Volunteers in water up to their ankles bend over to pluck them out, snapping the aggressively destructive mangrove stalks in half.
Rich with nutrients, the water here is a magnet for life. Especially the fish that swim with the current between the narrow bars of a gate in the wall, through which they can't escape once they've fattened up. It's an ingenious, sustainable technology native Hawaiians developed more than eight centuries ago to create a sustainable food system. By engineering a muliwai (an estuary environment) in the pond, where wai (fresh water) from springs meets and mixes with brackish kai (ocean water), they became the world's first great aquaculturists. The Hawaiians call their architectural marvels loko

iʻa

(fishpond, literally translates to fish inside).
Overgrown and even obscured by invasive species for decades, fishponds across the islands are being cleared and restored in a renaissance of Hawaiian knowledge, culture and pride. At Ka Honua Momona, an organization that cares for two fishponds on

Molokaʻi

, executive director Noelani Lee welcomes volunteers to heal the loko

iʻa

, the community it supports - and themselves.
What does Ka Honua Momona mean?
Ka Honua Momona means the fertile earth or the bountiful earth, and it's a nod to one of
Molokaʻi
's ancient nicknames,
ʻāina
Momona, the fertile lands. Because
Molokaʻi
fed not only this island, but other islands as well, with the food it was able to produce. And so our mission is to be a model of sustainability.
What is the chant that happens when visitors arrive to volunteer at Ka Honua Momona?
How we enter a community is so crucial. It's really important for us to ask permission before we enter a space. And then to be invited in.
So a visitor will do an
oli

kāhea
which is a chant to ask permission to enter a place - and if they don't know how to chant, we are happy to provide someone who can chant for them. And we will respond with the
oli komo,
which says, yes, you're welcome here.
It's kind of like a Hawaiian doorbell. You wouldn't just go into someone's home without asking permission first. In Hawaiian thought, the
ʻāina
is our home, the land is our home. And when a visitor knows to ask permission before they enter a place, it fills us with happiness. And it makes us feel heard and understood, like you know this is our home and you'll most likely be welcome here, if you come with a sensitivity that's loving. If you come with your
aloha.
It's a tenuous balance where you have a choice to come inside, bringing your
aloha
. If you're not bringing your
aloha
, it's okay; but don't come inside. (laughs) It's a very polite way to say that, but I think it's really effective too. It allows everyone to be self-determined and still respect the spaces. So if you choose to come here and you can bring your
aloha
, please come, you're welcome. Because when visitors come with their
aloha
, they're sensitive to the culture and the place of
Hawaiʻi
, and they really give of themselves to the space.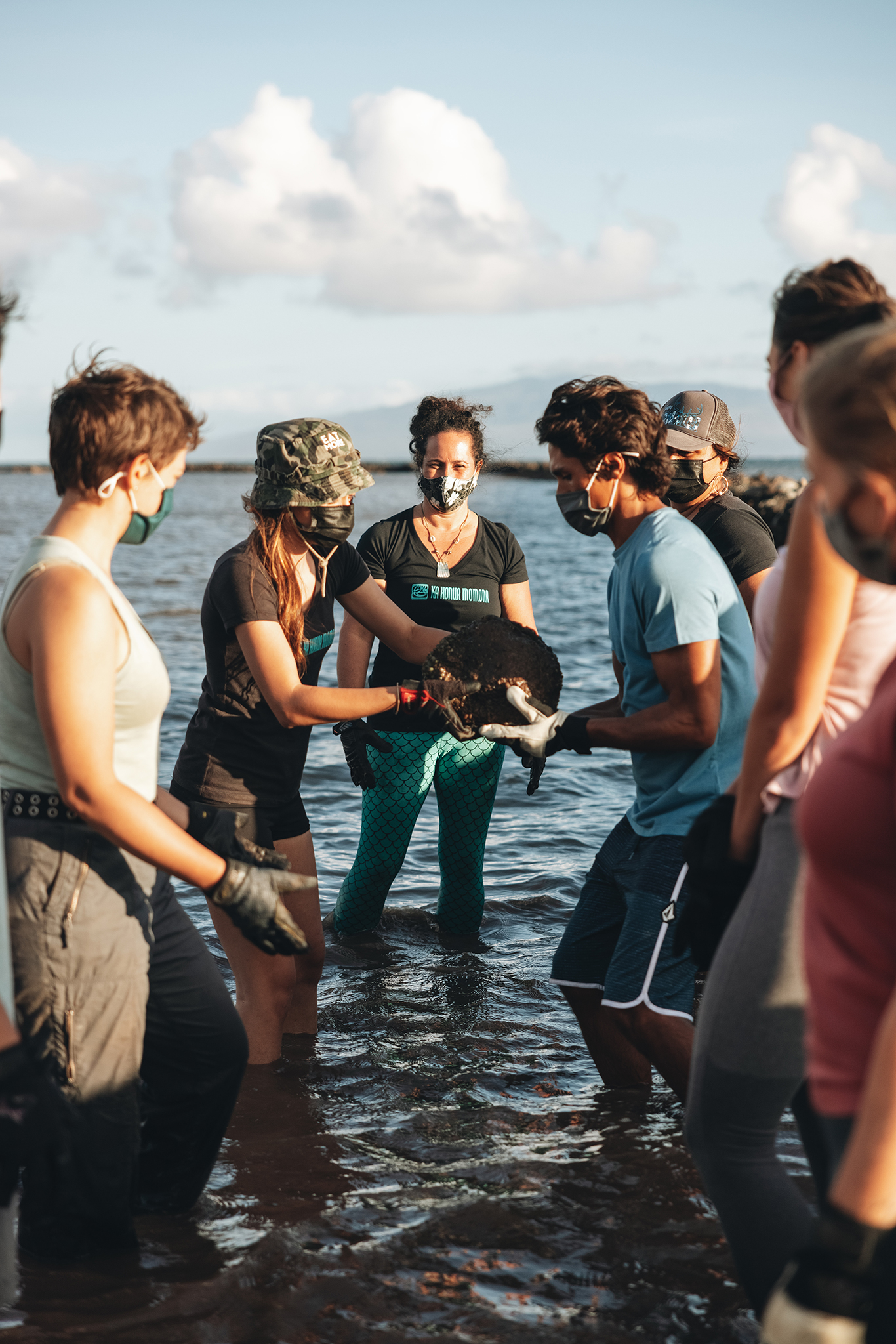 What does it mean for visitors to give of themselves?
When visitors come, they may experience slight discomfort in areas that they're not used to, and I think that's a gift for them if they relax and experience it in their whole self, but also with a very keen eye on being culturally sensitive.
In Hawaiian thought our wealth is defined by how much we're able to give. And I think when different cultures meet and you have someone saying, "how much can I give?" and someone else saying, "how much can I take?" then you are out of balance. We all have to be givers and receivers. And we have to be really conscious of when we visit a new place that we're both a giver and receiver. But mostly a giver. If you come with a giving heart, you'll receive so much more back. We tell people, whatever you give to the land, it will return double back to you. And also to the people of the place, because it nourishes us. In Hawaiian thought, we think the land nourishes us. It's not just the food, it's also the spiritual nourishment that we receive when we are intimately involved with healing the
ʻāina
(land). We're healing the land, we're healing the people, we're healing ourselves.
So when visitors
mālama
- whether it's removing gorilla ogo (invasive seaweed), or pulling and snapping mangrove, or just being there with their positivity and their aloha, they've given back to a place and that place opens and receives them. They leave feeling elated. They're so joyous for what they were able to give.