Mauna Lani Resort Francis H. Ii Brown North Course
Description
The Mauna Lani North Course is a feast of lush fairways and inviting greens set atop an ancient lava flow much older than the South Course's Kanika flow. The challenge here is to keep the ball in the short grass and avoid the array of kiawe trees that populate nearly every hole. If you don't, you'll soon find out why the North course is rated slightly tougher than the South.
The North Course is also more coveted by better players. The first hole is a classic par-4 with a dogleg right that invites risk off the tee to win the reward on the green. No. 9 is a longish par-4 that plays straight away toward the ocean, out-of-bounds at your left, with water guarding the right of the green. Even with a helping trade wind, most golfers will need to hit a full approach for a go at par or better.
The most distinctive hole on the North course is the short par-3 at No. 17. It plays from an elevated tee to a wide green that sits down inside a bowl of threatening lava rock. Be aware of the ever-present and changing wind. The large bunker that fronts this inviting green is there for good reason.
Course Overview
Resort | 18 Holes | Par 72
Course Architect: Homer Flint & Raymond Cain - redesigned by Robin Nelson & Rodney Wright
Available Amenities
Club Rentals, Driving Range, Pro Shop, and Restaurant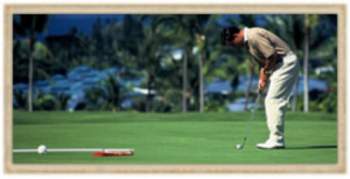 {{description}}{{:link.url}}
more
{{/link.url}}
{{:windowImage}}
{{:promo_designation}}
{{promo_designation}}
{{/promo_designation}}
{{/windowImage}}
", item) } } //insert marker if lat/long if(item.latitude !== undefined && item.longitude !== undefined) placemarks.push(tmp); }); //initialize map var map = new sv_mapLib.GoogleMap({ node :mapContainer, mapOptions : { zoom: 12 } }); map.addPlacemarks(placemarks); map.fitToPlacemarks(); });
Contact Info
Mauna Lani Resort Francis H. Ii Brown North Course
68-1310 Mauna Lani Drive
Kohala Coast, HI 96743
phone: (808) 885-6655
fax: (808) 881-7920
www.maunalani.com
COURSE DETAILS
 
Yardage
Rating/Slope
Championship
6913
74/135
Tournament
6579
72.6/131
Middle
6057
70.2/126
Forward
5307
70.6/120