Mauna Lani Resort Francis H. Ii Brown South Course
Description
The Mauna Lani Resort's South Course was home to the original Senior Skins Game from 1990 to 2000 and is the first course to play before tackling the more prodigious North Course. Another reason to play is No. 15: a stupendous, ocean-drenched par-3, and Hawaii's most photographed over-the-water golf hole. However, if there is more than just a breeze, its timeless beauty can turn to treachery.
In 1991, the South course was expanded to 36 holes. Among the new holes: the challenging par-3 at No. 7, which parallels water on the left. While the ocean is not really in play, wind and club selection most certainly are. The deep and narrow green's pin location can make a three-club difference off the tee.
South delivers an extremely playable and forgiving layout with ample fairways and approachable greens. But the illusion created by black lava on both sides of virtually every hole a Big Island golf staple makes the playing areas seem rather tight. Mauna Lani fittingly means 'mountain reaching heaven,' its name coming from Mauna Kea to the north and Mauna Loa to the south.
Course Overview
Resort | 18 Holes | Par 72
Course Architect: Homer Flint and Raymond Cain - redesigned by Robin Nelson & Rodney Wright
Available Amenities
Club Rentals, Driving Range, Pro Shop, and Restaurant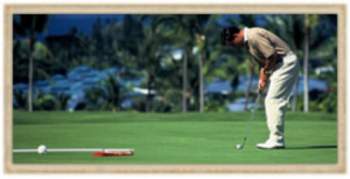 {{description}}{{:link.url}}
more
{{/link.url}}
{{:windowImage}}
{{:promo_designation}}
{{promo_designation}}
{{/promo_designation}}
{{/windowImage}}
", item) } } //insert marker if lat/long if(item.latitude !== undefined && item.longitude !== undefined) placemarks.push(tmp); }); //initialize map var map = new sv_mapLib.GoogleMap({ node :mapContainer, mapOptions : { zoom: 12 } }); map.addPlacemarks(placemarks); map.fitToPlacemarks(); });
Contact Info
Mauna Lani Resort Francis H. Ii Brown South Course
68-1310 Mauna Lani Drive
Kohala Coast, HI 96743
phone: (808) 885-6655
fax: (808) 881-7920
www.maunalani.com
COURSE DETAILS
 
Yardage
Rating/Slope
Championship
6938
72.8/133
Tournament
6436
70.5/128
Middle
5940
68.3/124
Forward
5128
69.6/117