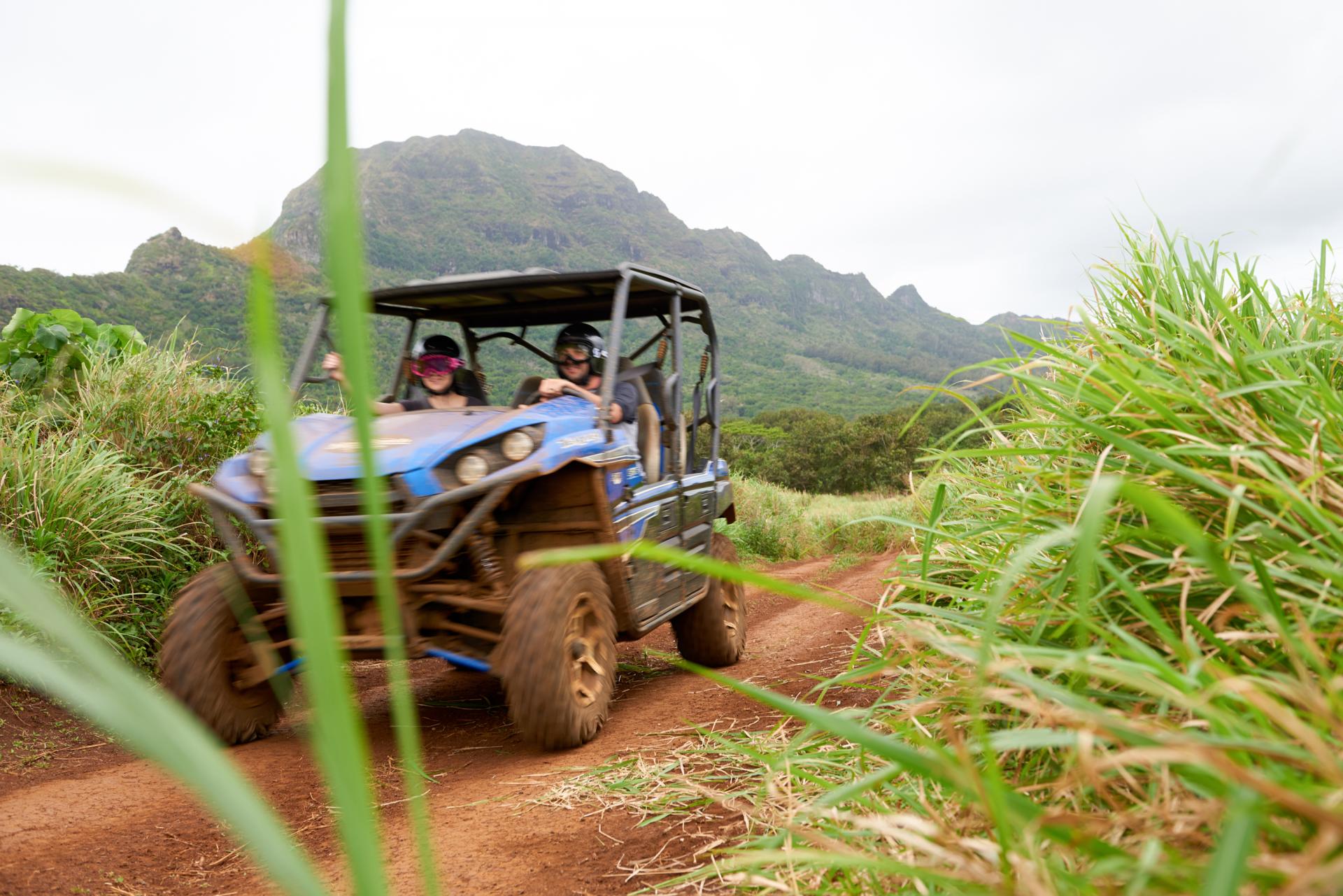 There are many ways to explore Hawaii's stunning scenery and rich history. Trekking through lush landscapes on an all-terrain vehicle (ATV) is one of the most exhilarating. Many of Hawaii's islands offer guided ATV tours that usually last from 1 ½ to 3 hours. While driving ATVs is restricted to visitors who are at least 16 years of age, a number of companies feature multi-seat ATV buggies that can accommodate keiki (kids) or passengers who prefer to ride along. Whichever island you visit, there are many not-to-be-missed ATV adventures – from driving through private ranch land on Oahu and the Island of Hawaii to zooming through the lush jungles of Kauai or exploring thousands of pristine acres on Lanai.
Kauai
Explore Kauai's lush tropical jungle on an easy-to-use all-terrain vehicle with
Kauai ATV
on the south side of the island. You'll also have the opportunity to view rare wildlife and breathtaking vistas.
Kipu Ranch Adventures
offers a top eco-tour and guides visitors through the rich history, landscape and legends that make Kauai unique.

Oahu
Ride an ATV through
Gunstock Ranch
, home of Oahu's first Hawaiian Legacy Forest. This 45-year-old, family-owned horse and cattle ranch also has plenty of other adventure options including horseback riding, hiking and walking tours.
Lanai
With over 90,000 acres to explore,
Lanai Adventures
at the
Four Seasons Resort Lanai
offers multiple opportunities for exploration. Enjoy horseback riding, or take their two-hour guided UTV tour. Similar to an ATV experience, UTVs (utility task vehicles) are slightly larger and offer side-by-side seating. Through this tour of Lanai's uplands, visitors will learn about the island's many cultural and historical offerings.

Island of Hawaii
There are a number of tour companies that will take you through the unparalleled nature of the Island of Hawaii. Experience riding by the Hawaiian coastline, two beautiful waterfalls and an old tropical rainforest with
ATV Outfitters
, departing from Kapaau. Enjoy
paniolo
(Hawaiian cowboy) life at Kahua Ranch, where you can ride an ATV through agricultural land followed by a BBQ. At
Ho'omau Ranch
, discover endangered species and rare birds along with fun opportunities for horseback riding and ATV tours.