Hawaiian Islands Travel Tips
You are likely embarking on planning a trip to
Hawaiʻi
. We want to share our deep knowledge with you to ensure you enjoy every moment and can truly let go and emerse yourself in all that the Hawaiian Islands have to offer. You see, this is not just another vacation! If you are educated on how to understand the relationship between the natural beauty and rich culture that makes
Hawaiʻi
unique, you will naturally want to help keep it sacred and protected for generations to come. We invite you to take a few moments to explore...
Hawaiʻi Travel Tips
Hawaiʻi Travel Tips: Ocean Safety
Beneath the ocean's beautiful blue surface, conditions can be unpredictable and even dangerous. Ocean safety experts recommend checking in with lifeguards before you enter the water - they'll be happy to tell you about potential hazards like rip currents, hidden rocks and shorebreaks. Then you can experience the majesty of the Pacific the way we do - with reverence and respect for its awesome power.
Hawaiʻi Travel Tips: Land Safety
Hawaiʻi's mountains, valleys, waterfalls and canyons are amazing to see up close, and to keep them that way, we listen to land safety experts' tips to minimize our impact on the trails. When you learn about land access, trail protocol and weather preparedness, you'll be ready to enter Hawaiʻi's awe-inspiring wilderness like we do, as protectors and explorers.
Hawaiʻi Travel Tips: Culture
The Hawaiian Islands are like no place else - and experiencing them fully means having a completely different mindset. We do our best to open our hearts and minds to consider the Hawaiian perspective, by learning about the culture and traditions that shaped this place over many centuries. You'll gain a deeper appreciation for the people and the place that, together, make Hawaiʻi a truly unique destination.
Hawaiʻi Travel Tips: Ocean Conservation
The ocean is a source of more than just fun and adventure - it's also home to countless marine animals in delicate ecosystems. We've learned that even small actions - like using reef-safe sunscreen and reducing single-use plastics - can have a big impact on the ocean, keeping it healthy for everyone to experience.
Hawaiʻi Travel Tips: Astute Renting
With so many beautiful rental options on the Hawaiian Islands, many properties often seem too good to be true. And in some cases, they are. Maui resident, Malika Dudley reminds visitors to do a quick search online to avoid any potential scams. Just a few minutes of research can save you an entire deposit, and make for a far better experience the next time you visit Hawaiʻi.
Hawaiʻi Travel Tips: Marine Animal Protection
How can you help preserve Hawaiʻi's sea life? Keep a respectful distance from all the marine animals. Don't feed the animals; they have their own diets. Also, put trash in its place to keep the beaches clean and the animals safe.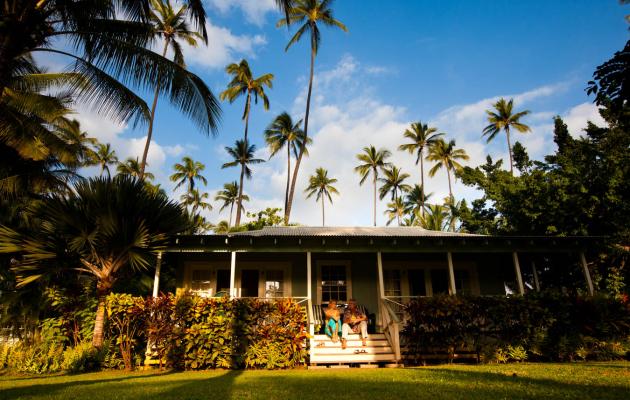 Vacation rentals are a popular type of accommodation, but it's important to beware of false advertising and make sure you're staying in a legal, permitted property. Illegal vacation rentals leave you no recourse if something goes wrong or your deposit is taken, and they do not contribute their fair share to our communities.
Tips for a Smart Traveler
Weather and Reports
The Hawaiian Islands are known for their beautiful weather year round, but conditions can differ at various elevations, so we want you to be prepared when you arrive. Make sure to check local weather and surf reports before going out to hike, surf, or for a day at the beach. National Weather Service Forecast Office -
Hawaiʻi
Phone: (808) 973-5286.
More >>
What Can be brought in and out of
Hawaiʻi
According to the
Hawaiʻi
Biological Survey,
Hawaiʻi
is the "endangered species capital of the world," with more endangered or threatened species per square mile than any other place on the planet. Because we need to protect our unique environment and fragile ecosystems, flying to
Hawaiʻi
requires a level of screening unlike many other destinations.
More >>
Travel Tips by Island