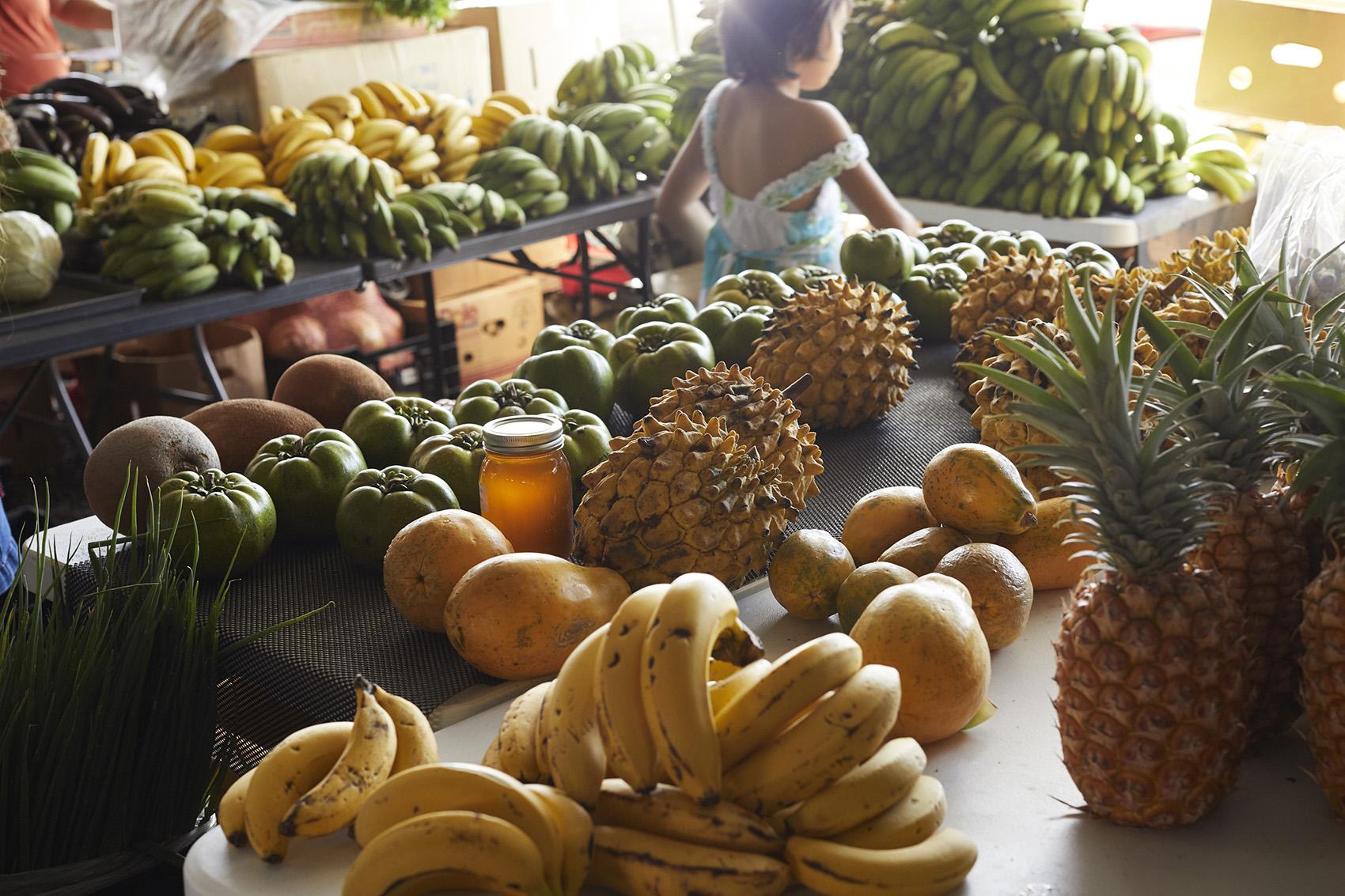 Island of Hawaii Farmers Markets
There's no better way to experience the amazing cultural diversity of the island of Hawaii than to visit one of the many farmers markets that take place all around the island. You can't beat the prices or the selection. You'll find fresh, locally grown fruits and vegetables used in Hawaii Regional Cuisine, exotic varieties that are as intriguing as they are tasty (dragon fruit, anyone?), plus an eclectic Hawaii-only collection of prepared foods such as Portuguese malasadas (doughnuts), Korean kimchi (spicy pickled cabbage), Filipino lumpia (fritters) and of course, poi.

If that sounds tempting, wait till you see the local-style plate lunches with heaping portions of delicious entrees like teriyaki steak and chicken katsu (Japanese-style fried chicken) served with rice and salad.

Our local farmers markets are also a great place to pick up handmade artwork, unique gifts and packaged foods and strike up a conversation with the person who made them. And the flowers? Get some for your room! Our advice: go early and take your time. Continue scrolling for times and locations.
Featured Farmers Market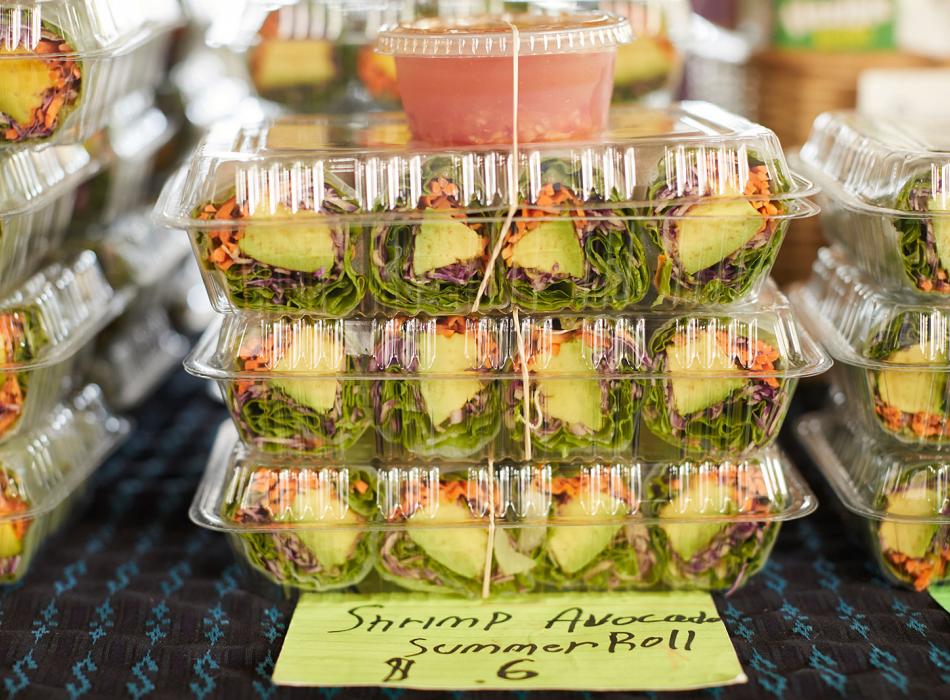 Fresh fruit, locally grown coffee, handmade treats, artisanal crafts, aloha shirts — you'll find a true taste of Hawaii at Downtown Hilo's Farmers Market.
More
Island of Hawaii Farmers Market Schedule
HAMAKUA
Hamakua Harvest
Sundays
9 a.m. - 2 p.m.
44-2600 Hawaii Belt Road (intersection of Mamane St. and Mamalahoa Highway #19)
Locally-grown produce, value-added products, and tasty food.
WEBSITE

HILO
Hilo Farmers Market
Wednesdays and Saturdays
6 a.m. - 4 p.m.
Corner of Kamehameha Avenue and Mamo Street (Downtown Hilo)
More than 200 vendors offer local produce, flowers, plants, crafts, baked goods, and food. Select
vendors (about 30) are there on Monday, Tuesday, and Thursday (7a - 4p).
WEBSITE

Panaewa Hawaiian Homestead Farmers Market
Daily
8 a.m. - 4 p.m.
Sidewalk in front of Hilo Walmart
Fresh produce, fish, and other treats.

PUNA
Volcano Farmers Market
Sundays
6 - 10 a.m.
Cooper Center, 19-4030 Wright Road, Volcano Village
Fresh local produce, breads, coffee, jams, candy, grass-fed beef, poi, flowers/plants, arts and crafts.
WEBSITE

Makuu Farmers Market
Sundays
8 a.m. - 2 p.m.
15-2131 Keaau-Pahoa Hwy
Hawaiian crafts, plants, produce, jewelry, shells, food, and more from 150 vendors.
WEBSITE

KA'U
Naalehu Farmers Market
Wednesdays and Saturdays
8 a.m. - Noon
Shaka Restaurant grounds, 95-5673 Mamalahoa Highway
Locally-made crafts, gifts, art and clothing. Local beef, lamb, and eggs. Veggies and fruits. Shave
ice.
*Hawaii Made must be grown, crafted, or created in Hawaii.
WEBSITE

KONA
Keauhou Farmers Market
Saturdays
7:45 a.m. - Noon
Keauhou Shopping Center
Locally grown Hawaii Island products only, no crafts. Island grown produce and plants, 100% Kona
Coffee, mac nuts, honey, eggs, organic greens, fruits, veggies, baked good and more.
WEBSITE

Kailua Village Farmers Market (also known as Kona Farmers Market)
Wednesdays through Sundays
7 a.m. - 4 p.m.
Across from Hale Halawai, corner of Alii Drive and Hualalai Road, Kailua-Kona
Flowers and lei, mostly local produce, mac nuts, honey, coffee, Hawaiian crafts, soaps, etc.
WEBSITE

Kona Sunset Market
Wednesdays
2 p.m. - Sunset
K-Mart Parking Lot, 74-5465 Kamakaeha Avenue
Community-based farmers market featuring food and agricultural products that are grown, sourced,
and made in Hawaii.
WEBSITE

Hooulu Community Farmers Market and Artisans Fair
Wednesdays
9 a.m. - 2 p.m.
Sheraton Kona Resort & Spa, 78-128 Ehukai Street
Local produce, fruits, and estate coffees. Local artists and original hand-crafted products from the
island of Hawaii.
WEBSITE

South Kona Fruit Stand
Mondays - Saturdays
9 a.m. - 6 p.m.
Sundays
10 a.m. - 4 p.m.
84-4770 Mamalahoa Highway, between Mile Marker (MM) 103 - 104, Honaunau
Tropical fruits, smoothies, juices, based goods, coffee, panini sandwiches.
WEBSITE

Pure Kona Green Market
Sundays
9 a.m. - 2 p.m
82-6160 Hawaii Belt Road, Captain Cook
Formerly the South Kona Green Market, this local farmers and artists market was founded with the
intention of "From the land - by our hand." Only vendors that offer 100% grown or made in Kona
(non-imports) are allowed to participate at this Sunday Green Market. On Fridays (9a - 3p) the Pure
Kona Friday Market takes place in this location for the many talented vendors that don't qualify for
the Green Market Rules (e.g. imports).

KOHALA
North Kohala (Hawi)
Hawi Farmers Market
Saturdays
8 a.m. - 12:30 p.m..
Kohala Village HUB Entrance, 55-514 Hawi Rd
WEBSITE

South Kohala (Waimea)
Waimea Homestead Farmers Market
Saturdays (first Saturdays of the month usually largest)
7 a.m. - Noon
Grounds of Waimea Middle/Elementary School, 67-1229 Mamalahoa Highway/Lindsey Road (past
the post office)
Produce, flowers, baked good, potted plants, crafts and food.
WEBSITE

Waimea Town Market
Saturdays
7:30 a.m. - Noon
Parker School (behind Paniolo Country Inn restaurant)
Fresh baked breads, produce, fresh-made sausage, flowers and crafts.
WEBSITE

Waimea Midweek Farmers Market
Wednesdays
9 a.m. - 2 p.m.
67-139 Pukalani Road
A wonderful selection of local farm produce as well as local artisans and prepared foods. Free onsite Paniolo Museum, home of the Hawaiian cowboy.
WEBSITE

Kamuela Farmers Market
Saturdays
7:30 a.m. - 1 p.m.
67-1319 Pukalani Road
Fresh, locally-grown produce, plants, flowers, prepared foods, coffee, dried fruit, live entertainment.
Paniolo Heritage Museum and Kuaaina Saddle Shop are open and offer free admission on
Saturdays.
WEBSITE

Waimea Nui Farmers Market
Saturdays
7 a.m. - Noon
Kuhio Hale (64-756 Mamalahoa Hwy)
Locally-grown vegetables, fruit, plants, prepared food, pickled items, arts and crafts and more.

Kings' Shops Farmers Market
Tuesdays
9 a.m. - 2:30 p.m.
250 Waikoloa Beach Drive
Weekly Farmer's Market is held throughout the shopping complex and features local produce, crafts
and freshly made pastries and jams. Cultural activities during the market include hula,
entertainment, lei making and wood carving.
WEBSITE

* Days/times may change without notice.