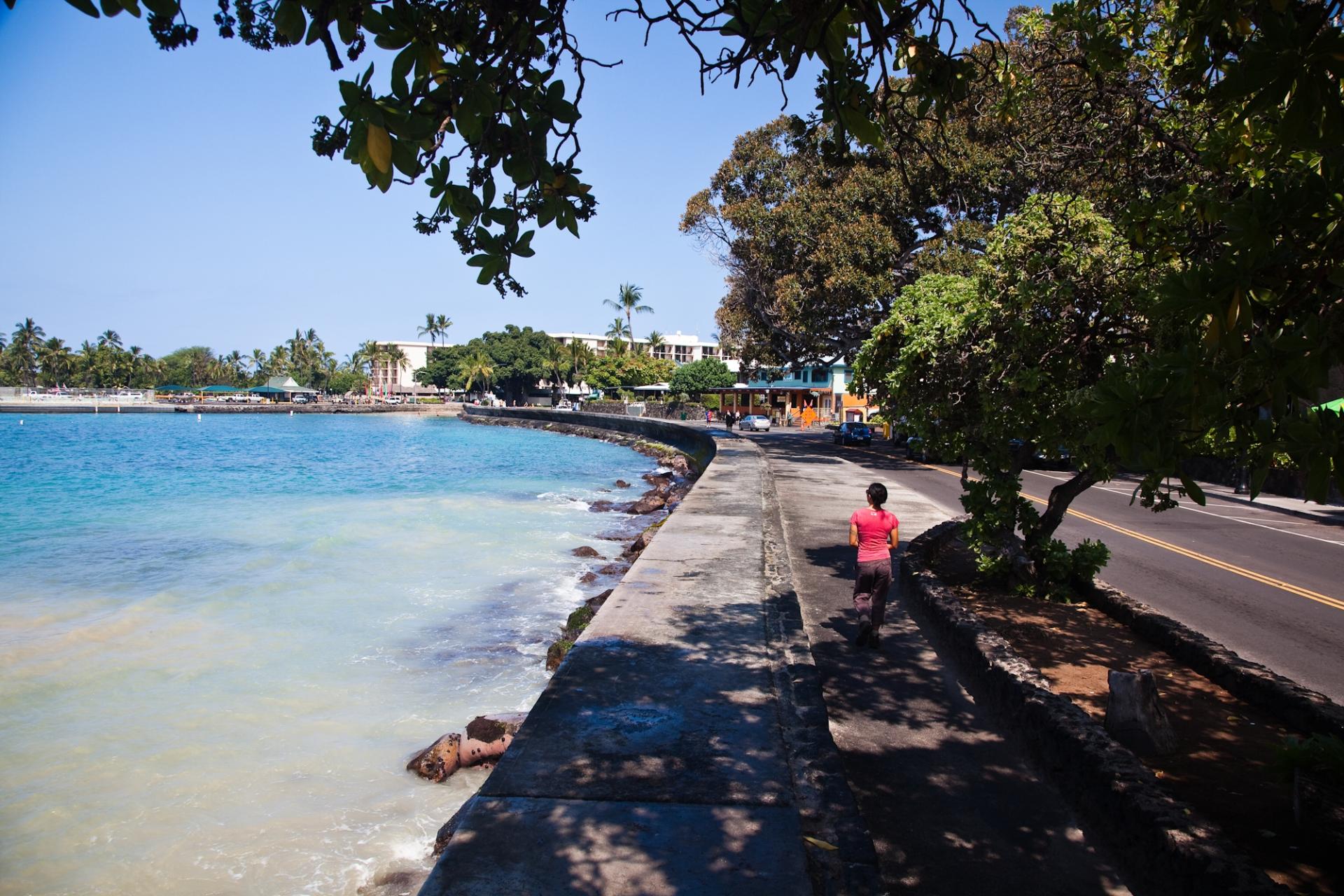 Hawaii Island's Scenic Byways
The Island of Hawaii is the youngest and the largest of the Hawaiian Islands, boasting more miles and climate zones than anywhere else in Hawaii. This means that the Big Island's roads offer exceptional views and roadside stories of a remarkable native culture.

These roads were designated Scenic Byways for their archaeological, cultural, historic, natural, recreational and/or scenic significance, in an effort to preserve Hawaii's past for generations to come.
Mamalahoa Kona Heritage Corridor
Named after Kamehameha the Great's "Law of the Splintered Paddle," this ancient footpath granted runners safe passage for hundreds of years. Today, the 10-mile Mamalahoa (paddle) Kona Heritage Corridor is infused with stories of old and new Hawaii, interwoven with the immigrant influences of Europe, Asia and the Americas that shaped the Kona of today. Although this byway is a mere two lanes wide, its pleasures are abundant, including historic architecture, shrines, coffee farms, art galleries and quaint Holualoa Village.

This scenic byway winds its way along the slopes of Hualalai Mountain and offers scenic vistas of Kailua-Kona and the Pacific Ocean as it travels through nearly 10 miles of Route 180, Old Mamalahoa Highway between Palani Junction and the intersection of State Route 11 (Kuakini Highway).

Mamalahoa Kona Heritage Corridor is sponsored by Pulama ia Kona Heritage Preservation Council whose mission is to preserve, protect and enhance the special qualities of Kona.
Royal Footsteps Along the Kona Coast
The Royal Footsteps Along the Kona Coast Byway is a seven-mile stretch of Alii Drive that tells the story of 700 years of Hawaii's alii or ruling class. This byway is rich in history, leading you past four of Kona's seven "Royal Centers," treasured locations chosen for their abundance of natural resources and recreational value, and reserved exclusively for use by Hawaii's kings and queens. Among them are Hulihee Palace, one of three palaces in the United States; the royal surfing grounds of Kahaluu; Hawaii's oldest Christian church; and several heiau, sites of sacred Hawaiian temples.

The Royal Footsteps Along the Kona Coast Byway travels along Alii Drive on the Kona Coast from Historic Kailua Village through Keauhou, making it a pleasant trip by car, bike or on foot. This byway is sponsored by Kailua Village Business Improvement District.
Kau Scenic Byway - The Slopes of Mauna Loa
The 54-mile Kau Scenic Byway reveals a story of extraordinary natural wonders, taking you through the southernmost point of the United States and offering the longest stretches of unspoiled, spectacular natural scenery to be found in the inhabited Hawaiian Islands. Exceptional and unique experiences make this byway one of Hawaii's most remarkable, featuring striking views from Honuapo Overlook, napping sea turtles at Punaluu Black Sand Beach, the 1,000-year-old cave system of Kula Kai Caverns, and sweeping vistas of majestic lava fields as they unfold into the deep blue Pacific Ocean.

The Kau Scenic Byway travels along Highway 11 (also known as the Hawaii Belt Road) around the base of Mauna Loa, connecting the Historic Kona Town to two points of the Hawaii Volcanoes National Park: the Kahuku section (that offers sweeping views of the ocean and mountain) and the main entrance to the park. The Kau Scenic Byway is sponsored by the Kau Chamber of Commerce.

For detailed maps and information about all of Hawaii Island's Scenic Byways, visit www.hawaiiscenicbyways.org.