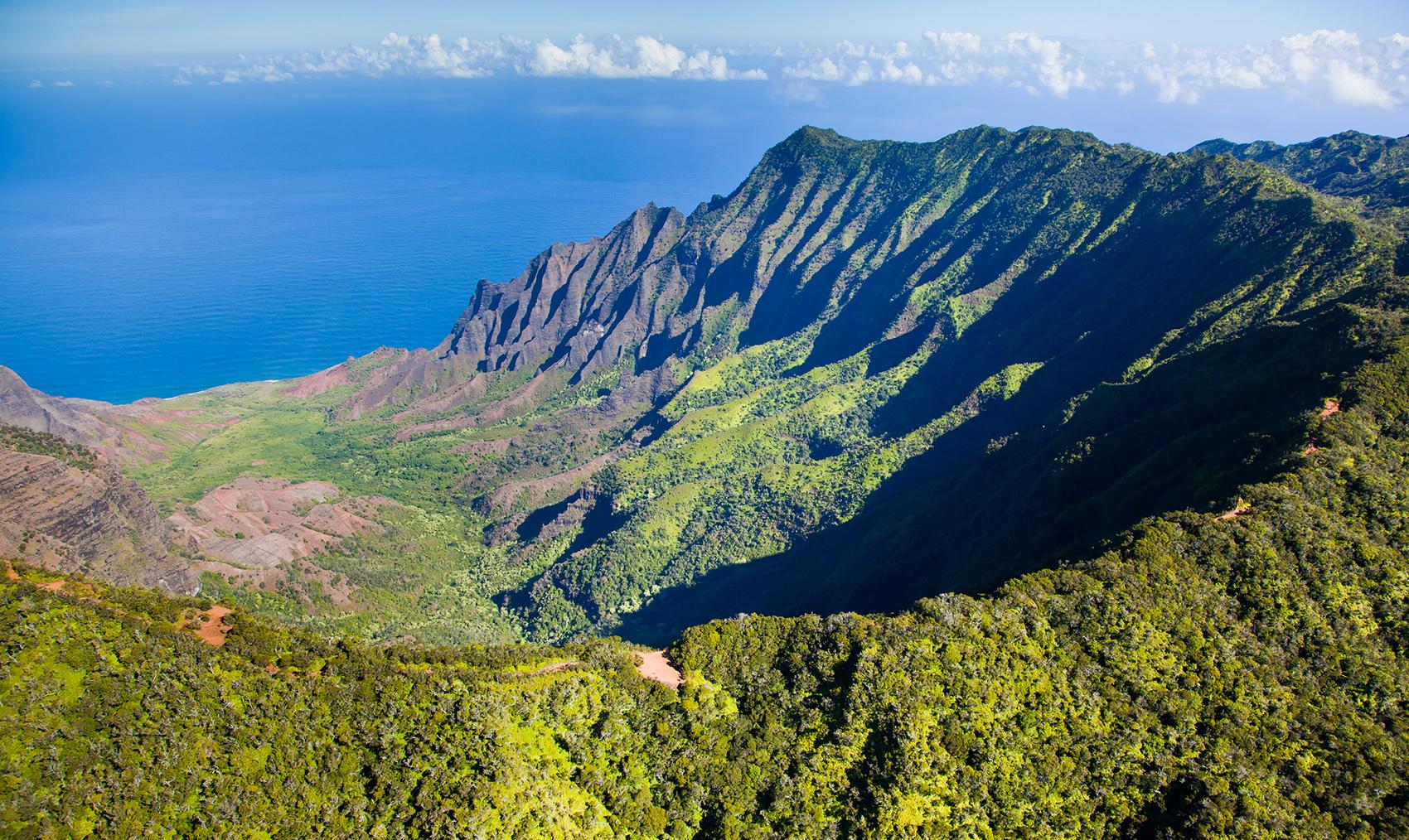 What: State park with hiking trails and the Kalalau Lookout
Where: North beyond Waimea Canyon
When: Open daily during daylight hours
How much: tent camping fees start at $12 per campsite
More Info: Hiking trails, restrooms, camping, picnic areas.
North of Waimea Canyon on Kauai's West Side is Kokee State Park. Spread over 4,345 acres on a plateau 3,200 to 4,200 feet above sea level, Kokee State Park is covered in forest, wild flowers and hiking trails making it an excellent spot to see native plants and colorful endemic Hawaiian forest birds like the apapane, iwi and moa. The park also offers roughly 45 miles of the state's finest hiking trails. Some trails lead to views of Waimea Canyon, others wind through wet forests with sweeping views of valleys opening up to the North Shore.
The
Kokee Natural History Museum
is a must-stop shop for information about the park and the trails. Exhibits will give you an overview of the park and Waimea Canyon. Staff will also provide you with helpful assistance, advice and information on trail and weather conditions.
Beyond the museum and the Lodge at Kokee (12 rustic rental cabins for campers) are two amazing lookouts. Both the Kalalau Lookout and the Puu O Kila Lookout offer commanding views of the Kalalau Valley stretching out to the sea. This view offers a glimpse at the towering cliffs of the
Napali Coast
. Note that the temperature drops as you climb up to the 3,200 to 4,200 foot elevations of the park. Temperatures range from 45 degrees in January to 68 degrees in July with annual rainfall of about 70 inches, so remember to dress warmly.
Note:
If you are scuba diving during your visit to Kauai, you should wait at least 24 hours before visiting this location due to the higher elevation of Waimea Canyon and Kokee State Park.