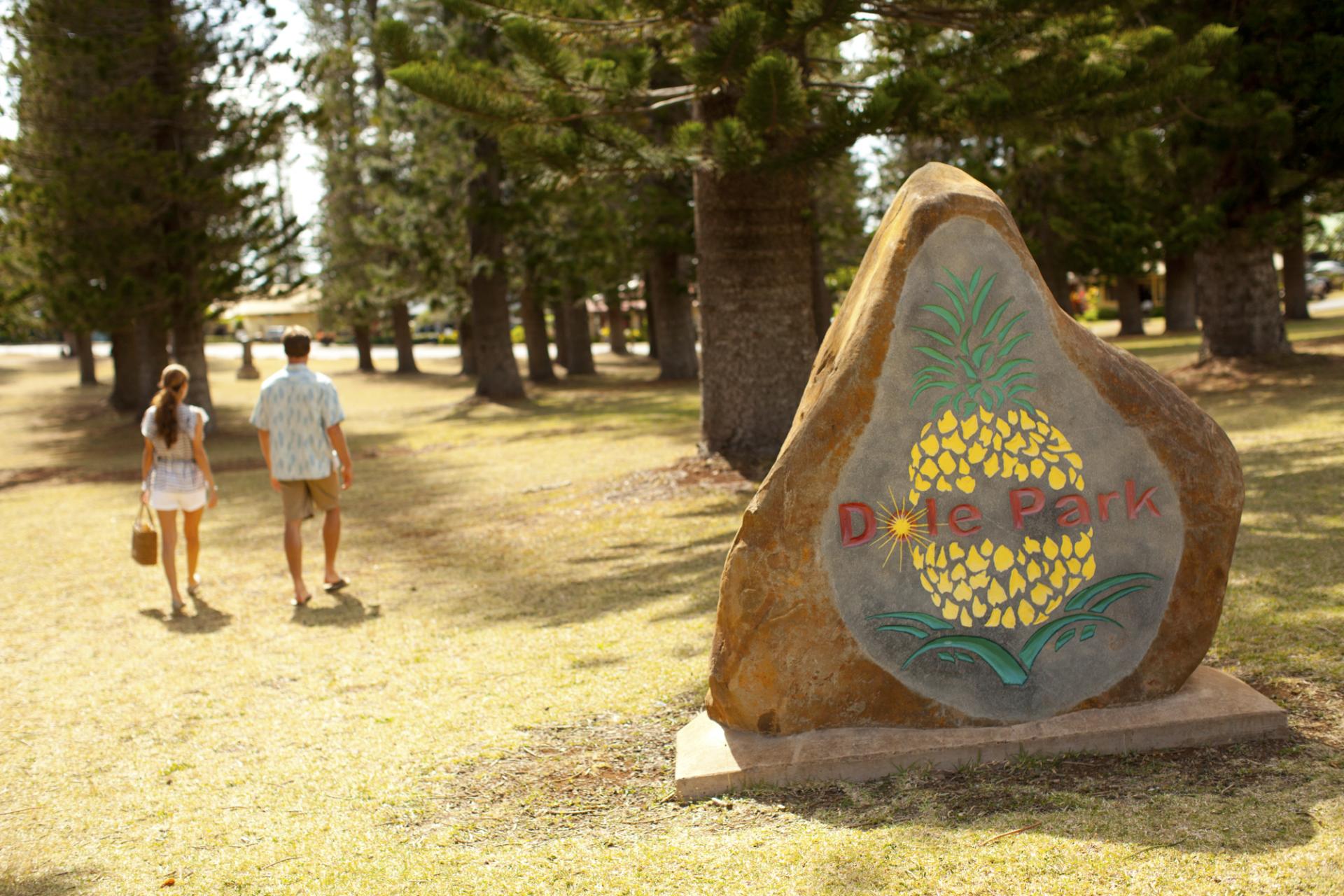 What: Lānaʻi's central town
Where: Central Lānaʻi, three miles from Lānaʻi airport

Just 3 miles north of the airport, Lānaʻi City was founded in the early 1900s as a plantation town at the center of the island's booming pineapple industry. During that era, Lānaʻi was responsible for 75 percent of the world's pineapple production, and the fruit is still celebrated in the city's annual Pineapple Festival. Located in Lānaʻi's central highlands and at an elevation of 1,700 feet, Lānaʻi City is noticeably cooler than coastal areas of the island.

Many of the shops, restaurants and businesses of Lānaʻi City are found near Dole Park. This grassy spot is a popular place for locals to gather, meet and picnic. The towering pines lining the park provide just the right amount of shade on a sunny afternoon. Visitors will love that this charming, historic town is not a tourist town but that Lānaʻi residents do welcome visitors.

Lānaʻi City is also a great place for unique shopping, a variety of dining, as well as history and culture. Visit the Local Gentry, a small boutique clothing shop with unique finds. The Lānaʻi Art Center displays local artists' works, from ceramics to watercolors. Visitors are also welcome to drop into the art classes and creative workshops offered. Or, are you looking to immerse yourself in the unique cultural history of Lānaʻi? Then, plan a stop at the Lānaʻi Culture & Heritage Center to help guide and plan a visit to one of the many cultural and historical sites on Lānaʻi. After window-shopping, or a cultural site visit, grab a cup of coffee from Coffee Works, or place your order at Blue Ginger Café, Ganotisiʻs Pacific Rim Cuisine, No Ka Oi Grindz, Lānaʻi City Service Station or Pele's Other Garden for a true local dining experience. For entertainment, enjoy the local entertainment and ambiance at Lānaʻi City Bar & Grill, located within Hotel Lānaʻi.

Nestled in Lānaʻi City, Hotel Lānaʻi is a country inn with charming plantation-style décor secluded amongst the Cook island pines. Licensed affordable vacation rentals can also be found near town.

Add Day Trip Itinerary:
Day Trip Itinerary
A day trip to explore the historic and quaint town of Lānaʻi City. There's no better way to unplug, recharge and breathe.
9:45 am: Catch Expeditions ferry from Lāhainā to Lānaʻi (early birds can hop on the 6:45 am ferry to maximize their day of discovery). Download the Lāna'i Guide App to begin learning and planning your adventures. During the winter season, watch for whales along the way!
10:30 am: Arrive in Lānaʻi and pick up your rental car, taxi, or shuttle (reservations required).
11:15 am: Arrive in town. Feline lovers can explore the famous Lānaʻi Cat Sanctuary, open daily from 10 am – 3 pm, even on holidays. Thrill-seekers can head to Lānaʻi Adventure Park for a guided e-bike tour, aerial ropes course, or zip-lining! Or take a private 4 x 4 tour with Expeditions or Rabaca's. Gain insight into the island's rich culture and history at the Lānaʻi Culture & Heritage Center. Open the Lānaʻi Guide App to learn more about the many wahi pana (storied and sacred places of Lānaʻi) and embark on a self-guided walking tour of Lānaʻi City… or find driving directions to a nearby hike or driving tour that piques your interest!
1:00 pm: Enjoy lunch at a local eatery or at a picnic table in Dole Park. Blue Ginger, Pele's Other Garden, No Ka Oi Grindz, Lānaʻi City Service Station, Richard's Market, Coffee Works and more all serve delish favorites.
2:00 pm: Stroll and shop around town. Zero traffic lights and an abundance of authentic aloha in charming mom-and-pop boutiques, gift shops, and galleries. Take your time as you'll make lots of new friends along the way. Unique and surprising finds await you at The Local Gentry, Mike Caroll Gallery, Lānaʻi Art Center, Hula Hut, Lāna'i Culture & Heritage Center, Rainbow Pharmacy, and more!
4:15 pm: Catch your transportation back to the harbor. Take a short hike to Puʻupehe to learn the cultural significance and experience the unforgettable, awe-inspiring beauty of Lānaʻi.
5:30 pm: Relax and grab a nap on the last ferry back to Lāhainā.