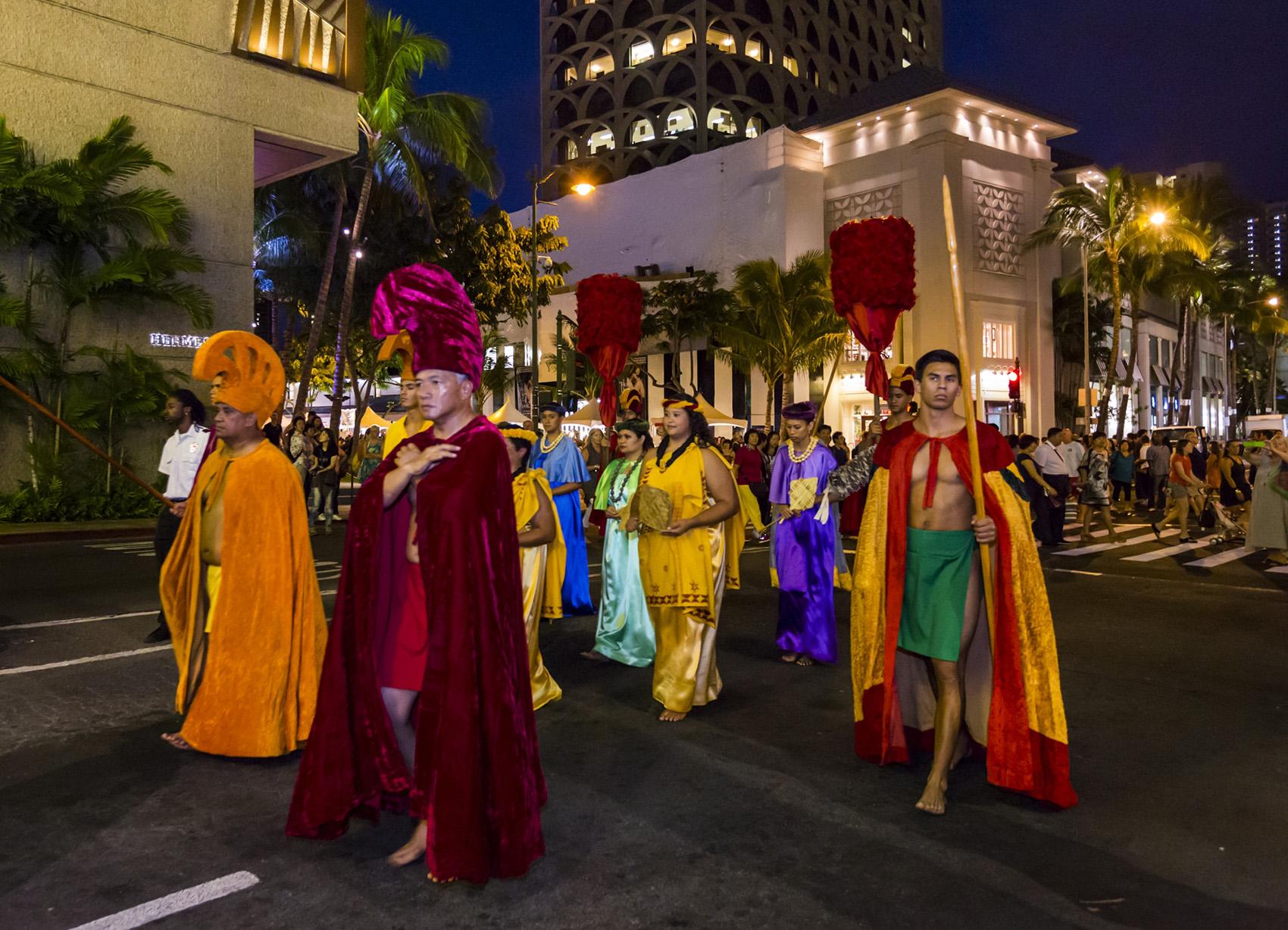 Festivals and Annual Events
Oʻahu Festivals and Annual Events
Experience Oʻahu's dynamic culture by incorporating local events and festivals into your trip. Oʻahu hosts more happenings than any other island in the state, including parades, concerts, art festivals, culinary celebrations and sports tournaments. Get to know Oʻahu through its unique arts scene, watch authentic hula and pro surfing or get a taste of the distinctive and diverse Hawaiian food scene. Here's a sample of the special festivals and events you'll discover on Oʻahu, and you'll find more complete listing in Oʻahu Events.

Cultural Events
POW! WOW! HAWAI'I
is a week-long event that takes place during Valentine's Day week in the Kakaʻako district and brings over a hundred international and local artist together to create murals and other forms of art.
The Honolulu Festival
in March is rich and vibrant blend of Asian, Pacific and Hawaiian cultures. The three-day celebration of local art, music and dance culminates in a grand parade through Waikīkī.
The Lei Day Celebration
takes place on May Day (May 1) at the beautiful Kapiʻolani Park, including lei-making competitions and demonstrations, crafts, food, hula and live music.
The King Kamehameha Floral Parade
in June features brightly decorated floats and traditional
pā'ū
riders (female riders in ornate dresses and lei) on horseback, representing the Hawaiian royal court.
July's
Prince Lot Hula Festival
is the biggest non-competitive hula event of the year and also features crafts and traditional Hawaiian games.
The Aloha Festival
in September is the largest cultural celebration in the state, sharing the Aloha spirit with more than 100,000 attendees each year. This weeklong event is a premier showcase of Hawaiian music, dance and history.

Sporting Events
The
Sony Open
in January gives you the chance to watch world-class golf pros play at the scenic Waiʻalae Country Club in Oʻahu. It's the largest charity golf event in Hawaiʻi, raising funds for dozens of local nonprofit organizations.
The
Honolulu Marathon
in December attracts runners from around the world. Get your heart pumping as you run 26.2 miles through the heart of Honolulu.
The
Vans Triple Crown of Surfing
is where you can see the world's best surfers ride the world's best waves. The Triple Crown happens in late November and early December on the North Shore of Oʻahu and is known as the "Super Bowl of Surfing."

Food Events
The
Parade of Farms
in May provides tours to local farms and agribusinesses to experience a behind-the-scenes look into local agriculture and products.
Downtown Honolulu
Mango Jam Honolulu
festival happens in June, showcasing a diverse mix of live entertainment, food and craft booths, a beer garden, and a farmer's market highlighting one of Oʻahu's most beloved fruit.
The
Hawaiʻi Food and Wine Festival
is a gourmet getaway in late October."Try delicious fare from more than 100 international chefs, culinary personalities, and wine and spirit producers.
Find more events happening during your trip on the Oʻahu Events Calendar.
More