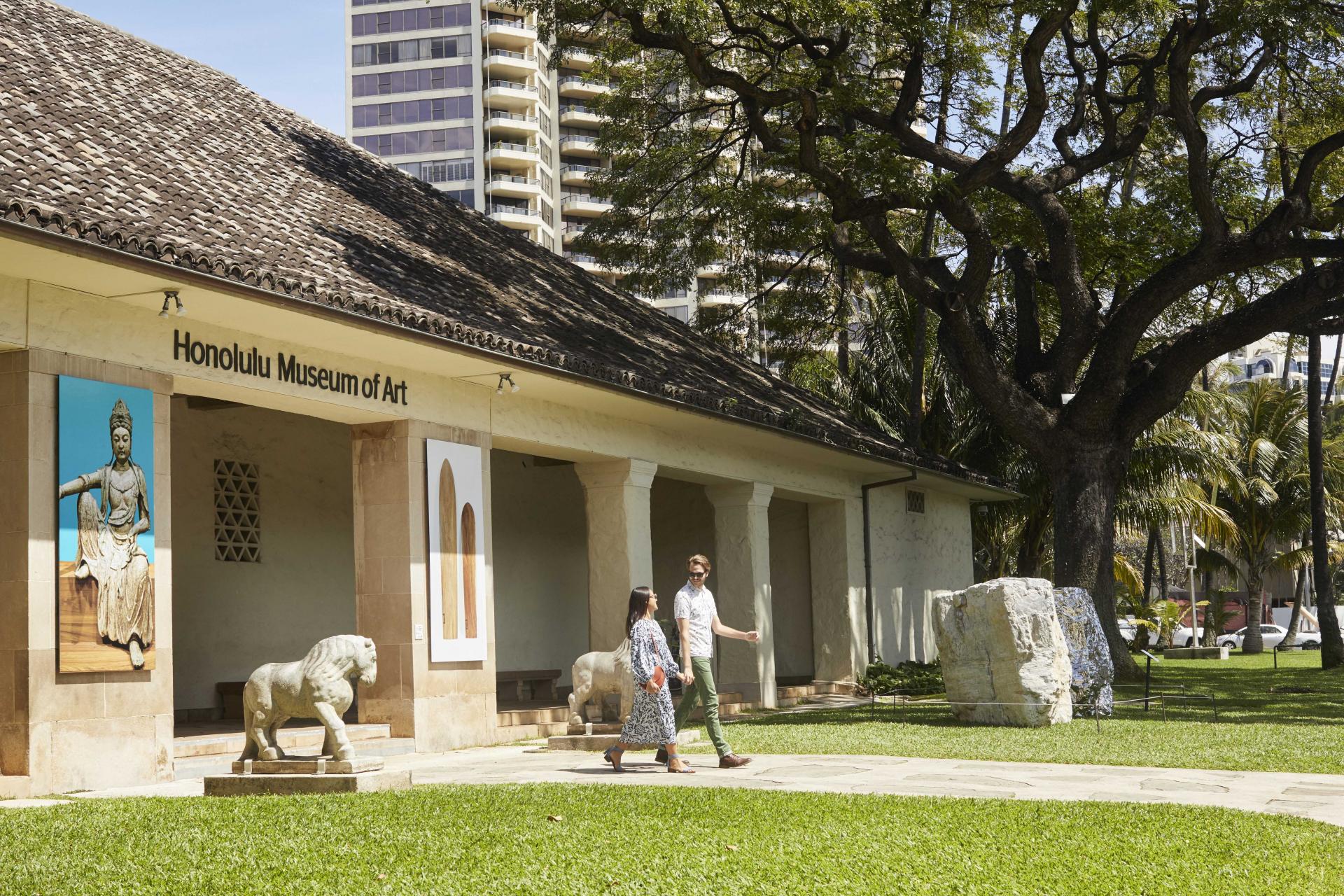 Honolulu Museum of Art and Shangri La
What: Hawaiʻi's largest fine arts museum
Where: Located near Downtown Honolulu
Not far from Downtown Honolulu, the Honolulu Museum of Art has been sharing the arts with
Hawaiʻi
since 1927. With a permanent collection of more than 60,000 pieces, this is
Hawaiʻi
's largest general fine-arts museum.
Stroll from gallery to gallery past open-air courtyards and ponds. Explore one of the finest collections of Asian art in the world as well as impressive collections of Western, European and Polynesian art. If you feel like seeing a film, visit Doris Duke Theatre, which plays an impressive slate of foreign and independent films. After browsing the galleries, take a break to have lunch in the open-air HoMA Cafē or recharge with an energizing drink at the Coffee Bar.
From January to October, the Honolulu Museum of Art even mixes a little nightlife with the arts at its monthly ARTafterDARK event. Guests dance and mingle with young professionals and art lovers on a night that looks like an art gallery opening but feels like a block party. Browse the extensive exhibitions, listen to live music, and grab food and drinks from vendors at stations throughout the museum. Each ARTafterDARK has a fun art-inspired theme, often focusing on an exhibition, and features music and performances. Open from 6-9 p.m. on the last Friday of the month, ARTafterDARK is a fun way to experience the museum in a new way.
Shangri La Museum of Islamic Art, Culture & Design
Shangri-La is a center for Islamic arts and cultures, offering guided tours of what was formerly the home of American heiress and philanthropist Doris Duke. Built in 1937, Shangri La was inspired by Dukeʻs extensive travels throughout North Africa, the Middle East, and South Asia. With an impressive seaside view of
Lēʻahi
(
Lēʻahi
Head), Shangri La is home to such Islamic treasures as rich Iranian tilework, Indian jewelry and an entire wood-paneled room from Damascus. Tours are held Wednesdays through Saturdays and are often booked weeks in advance. All tours leave from the Honolulu Museum of Art.
MORE INFORMATION