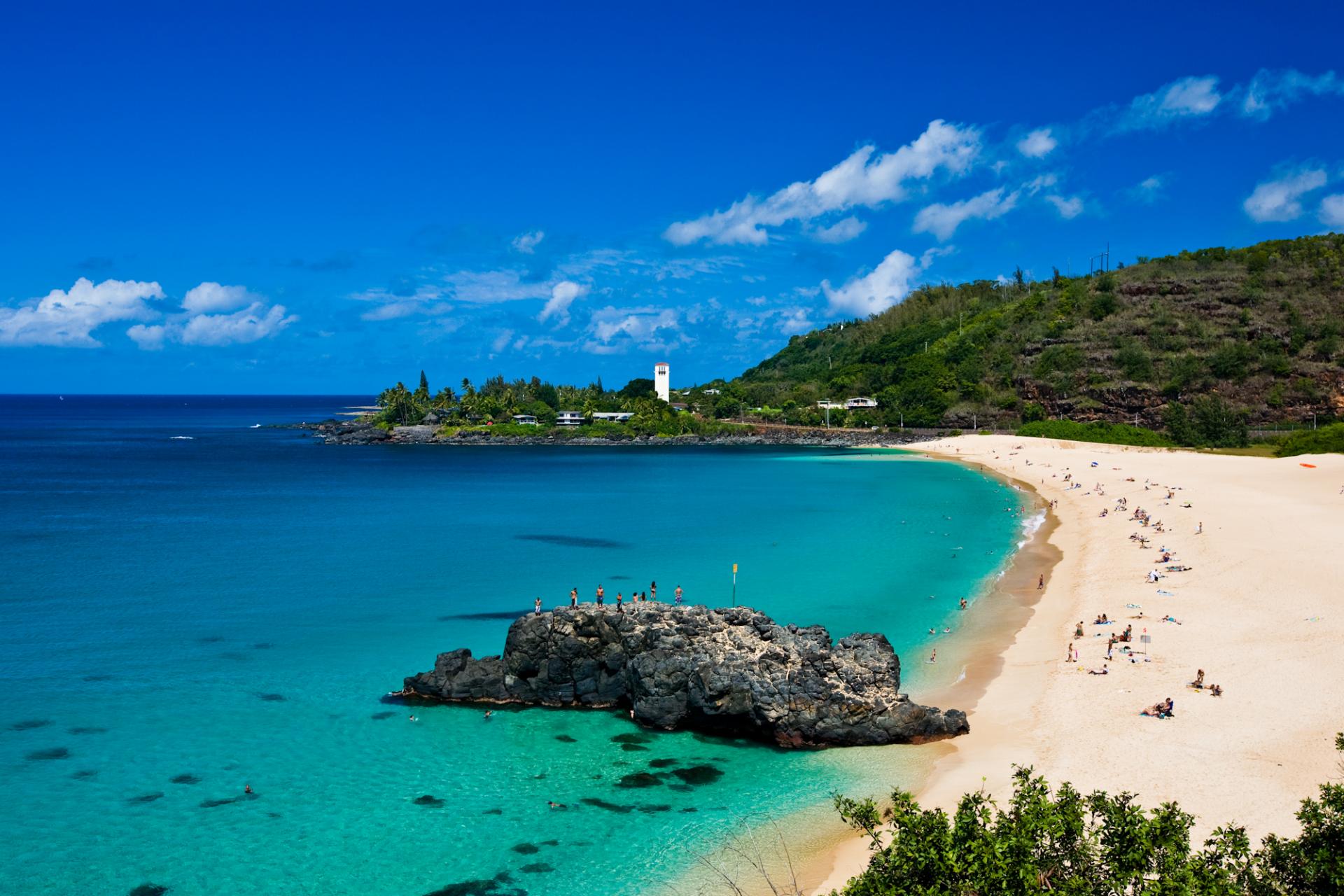 What: Legendary surf spot influential in the birth of big wave surfing
Where: Oahu's North Shore
More Info: Parking lot, restroom, showers, picnic areas, lifeguards
Located on the legendary
North Shore
, Waimea Bay was an influential surf spot during the dawn of big wave surfing in the 1950s. Adventurous surfers began to challenge the powerful winter waves of Waimea (as well as
Makaha Beach
on the west side) giving birth to the big wave-riding phenomenon.
Big wave season hits Hawaii from November through February attracting the best men and women surfers in the world. Waimea Bay, along with other famous spots including Ehukai Beach (Banzai Pipeline), Sunset Beach and Haleiwa Beach host world-renowned surf competitions. The Vans Triple Crown of Surfing, known as the Super Bowl of Surfing, happens every year between November and December on Oahu.
Waimea Bay is also home to the Quiksilver in Memory of Eddie Aikau surf competition. Honoring legendary Hawaiian waterman Eddie Aikau, this special contest only happens during massive swells when "Eddie Would Go." The sport's elite surfers are called between December and February to surf Waimea when the waves are at a minimum of 20-feet high (30-foot face heights). In the last 24 years, the call for this epic competition has only been made eight times.
Beyond the surf, Waimea Bay is a beautiful North Shore Beach with wide stretches of sand to sunbathe and picnic. During the summer, the waves of Waimea actually subside making the waters suitable for swimming. A rock outcropping in the bay is a popular spot for locals to climb and jump off of, but this can be dangerous and is not advised. Also please heed all postings and lifeguard warnings. Leave the dangerous big waves of Waimea to the pros.
Nearby you can also explore Waimea Valley, a botanical garden and cultural attraction that is home to beautiful Waimea Falls. And after the beach, a trip to Haleiwa for a cool shave ice will hit the spot. There is a parking lot at Waimea Bay, but parking is limited since this is one of the more popular beaches on the North Shore.
"Waimea Bay has a lot of history. It's known to be one of the first places where the guys ventured out in the 50's and rode giant waves. Banzai Pipeline is a remarkable spot. For spectators it's probably one of the better spots to watch surfing. It is a dangerous place, so it's for experts only. Sunset Beach is my favorite spot, actually. It's where I learned to ride big waves." - Dan Moore, championship surfer and North Shore resident