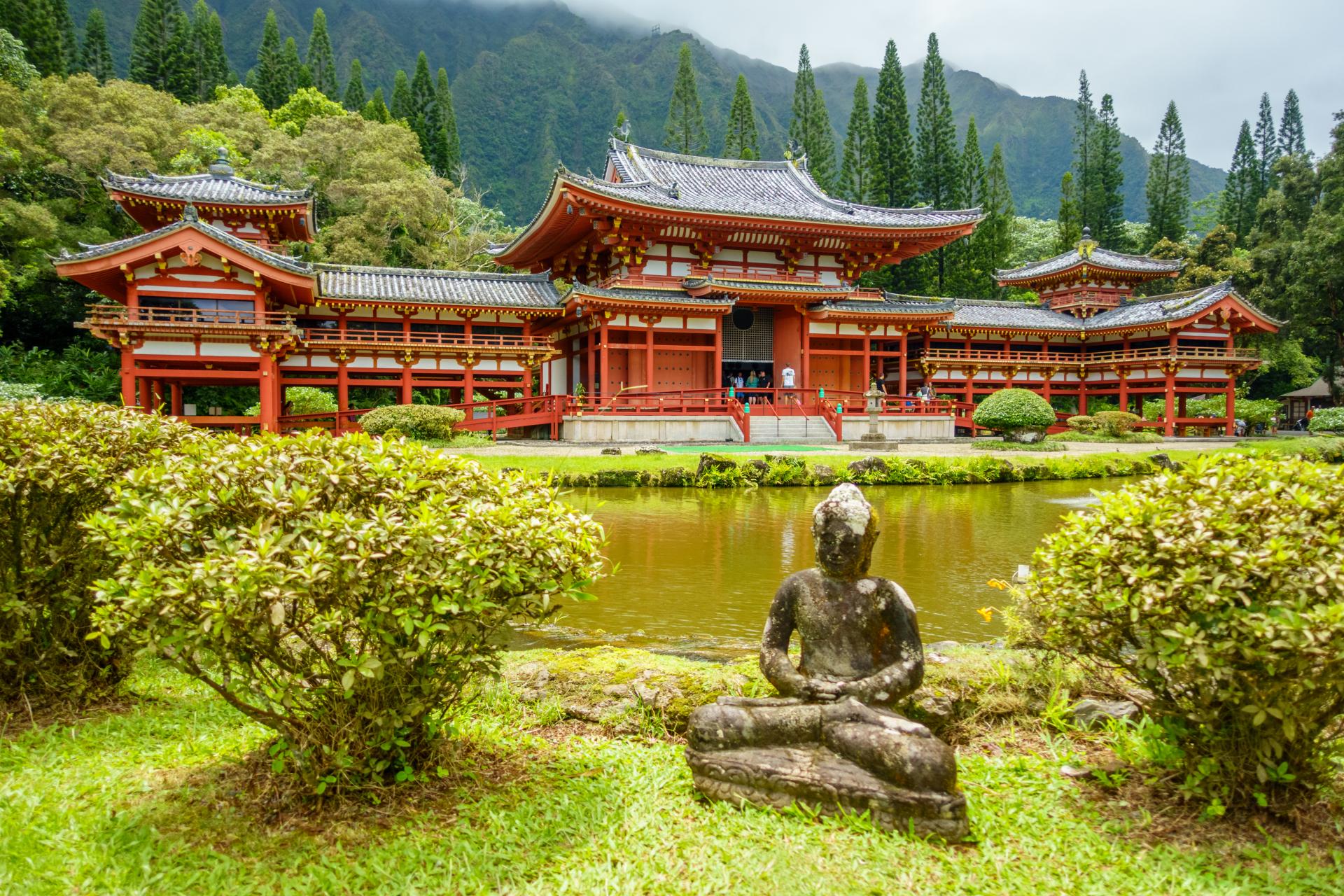 What: A scale replica of a temple in Uji Japan
Where: Off the beaten path on the Windward Coast

Deep in a lush valley along the 2,000-foot Koʻolau Range lies the Valley of the Temples. The resting place for many of Hawaiʻi's departed, Valley of the Temples' hilly landscape is scattered with hundreds of freshly placed tropical flowers, like torch ginger and bird of paradise, to remember loved ones.

The main attraction in the Valley of the Temples is a Japanese temple called Byodo-in, which translates to the "Temple of Equality." A scale replica of a temple in Uji Japan and made entirely without nails, Byodo-in was dedicated in 1968 as a centennial commemoration of the first Japanese immigrants in Hawaiʻi. Famed Kyoto Landscaper Kiichi Toemon Sano planned the Japanese garden complex that houses Byodo-in with extreme attention to detail, from the gravel's ripple-like design to the small bridges over the fishpond.

The deep drone of the sacred bell (bon-sho) fills the tranquil temple grounds, as it is customary for visitors to ring the bell before entering the temple for happiness and longevity. To sound the five-foot, three-ton brass bell, you must pull and release a wooden log called a shu-moku. Inside the Byodo-in sits an 18-foot gold leaf-covered Buddha where visitors are welcomed to light incense and offer a prayer. Outside, peacocks and black swans roam the garden grounds and turtles lounge beside the pond. The temple's pond is also filled with koi, a Japanese decorative fish that is a symbol of love and friendship.

The Valley of the Temples is truly a hidden gem in Hawaiʻi found off the beaten path on the Windward Coast. There is no other place where you can see an authentic Japanese temple situated against the gorgeous backdrop of Oʻahu's soaring Koʻolau Mountains.