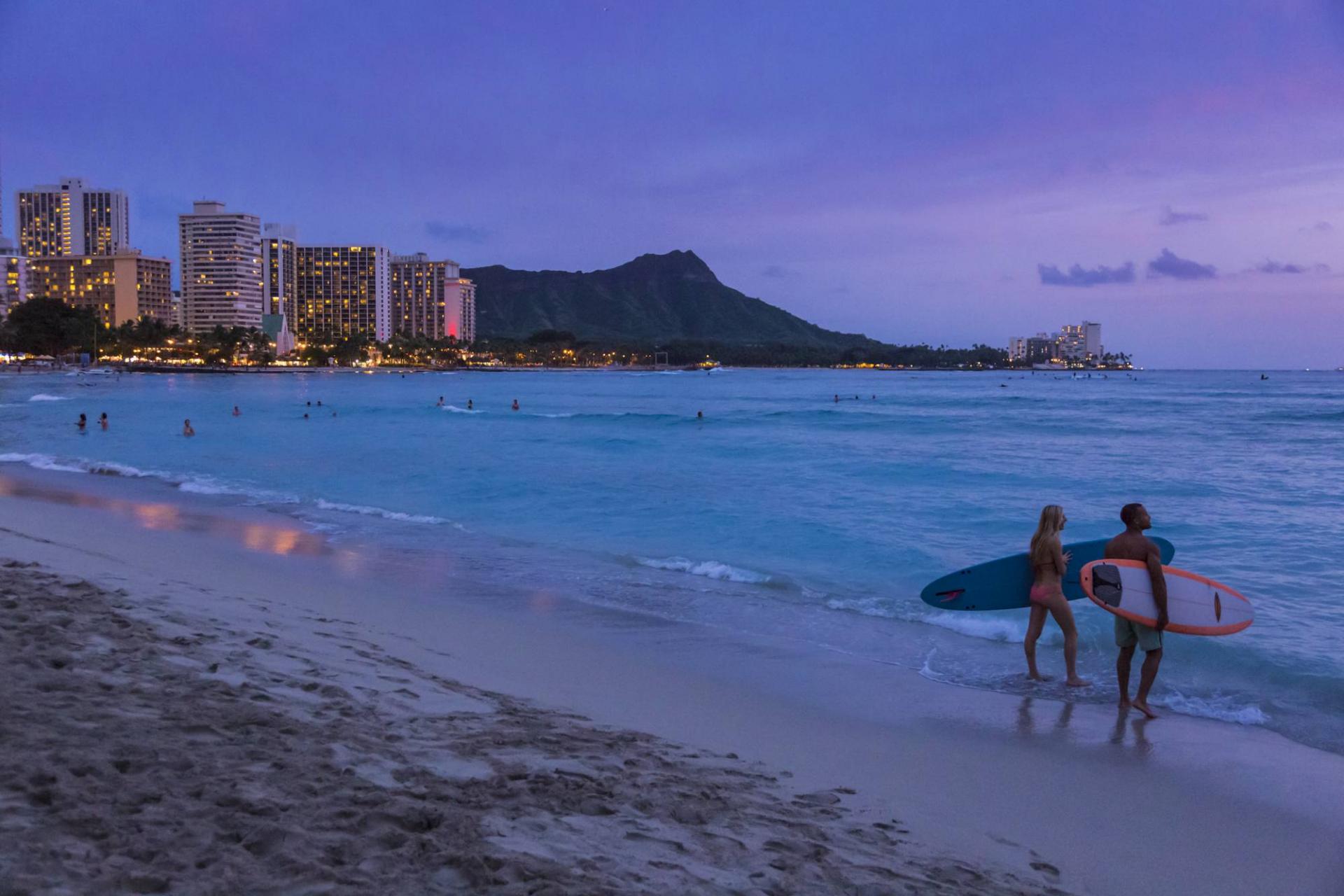 What is the time difference from Australia?
Hawaiʻi
is at GMT-10 hours, the same as French Polynesia. Sydney, Australia is at GMT+10 hours. So 12 noon on Monday in Sydney is 3 pm Sunday in
Hawaiʻi
.
Hawaiʻi
does not observe Daylight Savings Time so add +1 hour during this period each summer.
What are the major islands of

Hawaiʻi

?
Hawaiʻi
has six major islands:
Kauaʻi

:
The oldest and northernmost island. Features the lush
Nāpali
Coast and Waimea Canyon.
Oʻahu

:
Home to the state capital and the majority of
Hawaiʻi
's population. Features
Waikīkī
, Pearl Harbor and the North Shore.
Maui:
The second largest island features beautiful beaches,
Haleakalā
National Park,
Hāna
and great whale watching.
Lānaʻi

:
Luxurious getaway features
Hulopoʻe
Bay and
Lānaʻi
City.
Molokaʻi

:
Known for its connection with Hawaiian culture. Features Kalaupapa National Historical Park.
Hawaiʻi

's Big Island:
The youngest and biggest island. Features the active
Kīlauea
volcano at
Hawaiʻi
Volcanoes National Park, Kona and Hilo.
What is the main airport of

Hawaiʻi

?
Honolulu
International Airport (HNL) on
Oʻahu
is
Hawaiʻi
's major airport, serving as the entry point for most of
Hawaiʻi
's visitors. All major domestic carriers and many international carriers serve
Oʻahu
, so you can get here from just about anywhere. There are also direct flights from the
continental US
to
Maui
,
Kauaʻi
, and
Hawaiʻi

's Big Island.
Do I need a car to get around on

Hawaiʻi

?
Many visitors enjoy taking guided bus tours to conveniently explore the Islands. Shuttles, taxis and public transport are available on the majority of islands. You may also consider renting a car. Reserve your rental vehicles in advance because quantities can be limited on some islands. Australian travelers don't need an international driver's licence as major car hire companies accept an Australian licence. In some cases drivers will need to be more than 25 years of age and in possession of a major credit card.
Do I need my passport to get to

Hawaiʻi

?
You will need a passport to get to
Hawaiʻi
, unless you are a US citizen (
Hawaiʻi
is the 50th state of the United States). Learn more about entry requirements
here.
What should I pack on my trip to

Hawaiʻi

?
It's warm in
Hawaiʻi
, so pack your summer attire. You may want to bring a jacket or jumper for the evenings. Bring warmer clothes if you plan on visiting higher elevations like
Haleakalā

National Park
in
Maui
. Suits and ties are very rarely worn here. Bring some casual dress clothes or resort wear if you plan on experiencing
Hawaiʻi
's nightlife. You can buy an aloha shirt and thongs (or slippers, as the locals call them) when you get here.
What currency does

Hawaiʻi

use?
Hawaiʻi
's currency is the US dollar. Traveller's cheques and major credit cards are widely accepted and ATM machines are plentiful. Don't worry if you forget something.
Hawaiʻi
's retail stores and shopping centres have everything you need, including plenty of sunscreen.
When is a good time to visit

Hawaiʻi

?
Any time of year is a good time to visit
Hawaiʻi
. The average temperature here is between 24°-29.5° C. Summer, between April and November, is warmer and drier (average temperature is 24°-31° C) while winter, between December and March, is a bit cooler (20°-26° C). Trade winds keep things comfortable year-round.
Whale watching
season begins in late December and ends in early May. Peak whale watching months are between January and early April. November through February is big wave
surf
season on
Hawaiʻi
's north shores.
What language do they speak in

Hawaiʻi

?
The official languages of
Hawaiʻi
are English and Hawaiian, although Hawaiian is not commonly spoken. Major resort areas often have customer service representatives who speak Japanese.
What are

Hawaiʻi

's tipping rates?
US standards on tipping apply:
Restaurants: 15-20%. Check to see if "gratuity" is included for large parties.
Bar: $0.50-$1 US per drink
Housekeeping: $1 US per bed, per night
Luggage porters: $1 US per bag
Doorman: $1 US for calling a taxi
Room Service: 10-15% of the total bill
Taxi: 15% of fare
What is the US area code for

Hawaiʻi

?
The area code for the state of
Hawaiʻi
is (808).
How can I make international calls?
You can use phone calling cards or credit cards to make international calls. International calling cards are sold in local convenience stores.
Is there Internet access in

Hawaiʻi

?
Internet access is readily available in
Hawaiʻi
. Most resorts and hotels have Internet access. If your computer can be used at a voltage of 110V, it will work properly. The US uses the "RJ11" jack.
What is the electrical voltage in

Hawaiʻi

?
Electricity in the US is 115/120 volts at 60 cycles (60 Hz) per second. If your device does not accept this voltage, you may need to purchase a voltage converter.