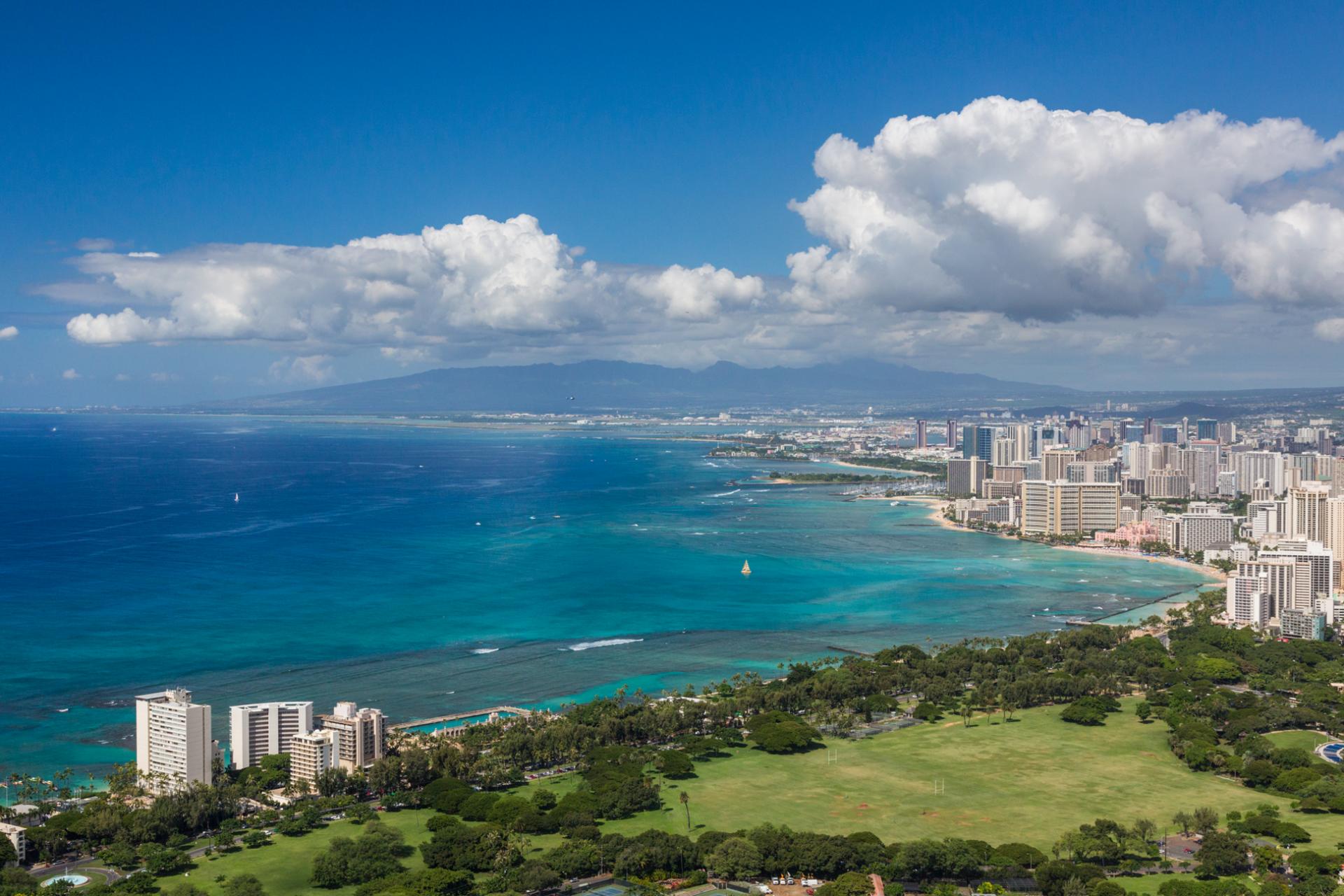 Photo by Hawaii Tourism Authority (HTA) / Tor Johnson
Hiking trails in Hawaii are a visual delight for the senses, witness the natural beauty of lush rainforest interiors, jaw-dropping mountain vistas and vast ocean views - all without the threat of snakes and deadly insects! Venturing into The Great Outdoors is one of the most rewarding experiences a visitor can have in Hawaii, and thankfully the islands offers treks that cater to all fitness levels. Let's start off easy with the best beginner hikes on Oahu.

WAIMEA VALLEY TRAIL
Roundtrip: 2.4 km / 1.5 mi
Elevation: 240 ft
Entrance Fee: US$16 per adult; US$8 per child
Waimea Valley is a magnificent botanical garden on Oahu's North Shore overflowing with more than 5,000 varieties of plants, Hawaiian cultural sites, and rare birds including peacocks. Set within this oasis is Waimea Valley Trail, a laid-back paved pathway out to Waihi Waterfall and back. This waterfall and it's naturally formed pool have a lifeguard on duty and swimming makes for the perfect mid-hike reward. There is also a Visitor Center filled with Hawaii made products and a snack shop serving local food favourites like garlic shrimp and taro burgers. Visit on Thursdays between 2:00-6:00pm to peruse the Haleiwa Farmers Market.

DIAMOND HEAD SUMMIT TRAIL
Roundtrip: 2.5 km / 1.6 mi
Elevation: 560 ft
Entrance Fee: US$5 per car; US$1 per person for pedestrians (cash only)
Diamond Head is Hawaii's most recognised natural landmark, and with 3,000 visitors a day it's the most popular destination in the state. This extinct volcano crater was once an important setting for military weapons and equipment including cannons, bunkers and pillboxes. Today it's active military sites are off-limits. However, visitors are invited to climb the southern slope via the Diamond Head Summit Trail. The hike involves conquering over 200 steps and a few dimly-lit tunnels. Those who brave the journey are gifted with expansive views over Honolulu, from Koko Head to Waianae.



MANOA FALLS TRAIL
Roundtrip: 2.5 km / 1.6 mi
Elevation: 800 ft
Entrance Fee: US$5 per person
Manoa Falls Trail is one of the most accessible waterfall hikes on Oahu and is located only a brief drive out of Waikiki in Manoa Valley. This fairytale setting, with huge 100-year-old trees and an enchanting bamboo forest, has been the backdrop of many TV shows and films including scenes from LOST and Jurassic Park. Year-round rainfall in the area ensures a tropical jungle-like track that is often muddy; hikers should wear proper footwear and bring bug spray. It's a short and heavily trafficked trail but worth it for the tall and visually-pleasing (non-swimmable) falls. Don't forget a camera!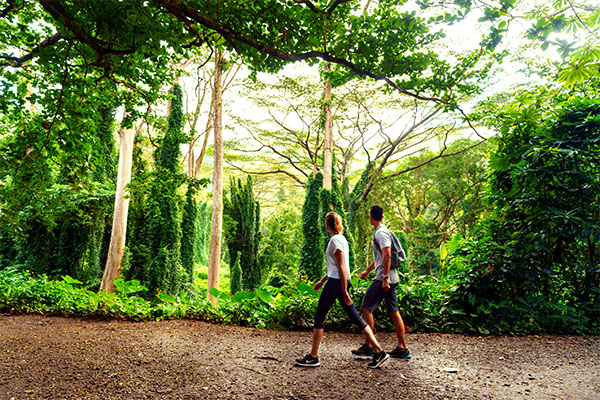 MAKAPUU POINT LIGHTHOUSE TRAIL
Roundtrip: 3.2 km / 2 mi
Elevation: 500 ft
Entrance Fee: None
The Kaiwi State Scenic Shoreline situated on Oahu's south-east edge features the Makapuu Point Lighthouse Trail, it provides excellent opportunities for spotting seabirds and whale watching in season (Dec-Apr). This hike is family friendly thanks to its short uphill paved road, easily navigated with strollers. It meanders along sea cliffs to an observation deck and lighthouse and offers outstanding coastal views from bottom to top. On a clear day it's possible to see the islands of Lanai, Molokai and West Maui in the distance. Ascend the trail before dusk to catch a spectacular sunset. There are no drinking fountains or restrooms, plan accordingly.


KULIOUOU RIDGE TRAIL
Roundtrip: 8 km / 5 mi
Elevation: 1800 ft
Entrance Fee: None
Patience is required on the Kuliouou Ridge Trail; this moderate hike travels through dense woodlands with "big views" over Oahu's east-side not visible until the last part of the trail. This is a scenic and active outdoor experience with the terrain and environment changing dramatically throughout the trip. It encompasses steep ridges and hikers can rest and catch their breath at conveniently located picnic tables halfway up. The peak of this trail is a glorious finale, an almost 360-degree vantage point that takes in the stunning beauty of the Kailua coastline, Kaneohe peninsula, and Hawaii Kai landscapes.
Ashlee Galea is an Aussie living in Hawaii who enjoys sharing Hawaii insider knowledge and travel advice on her blog The Hawaii Admirer.