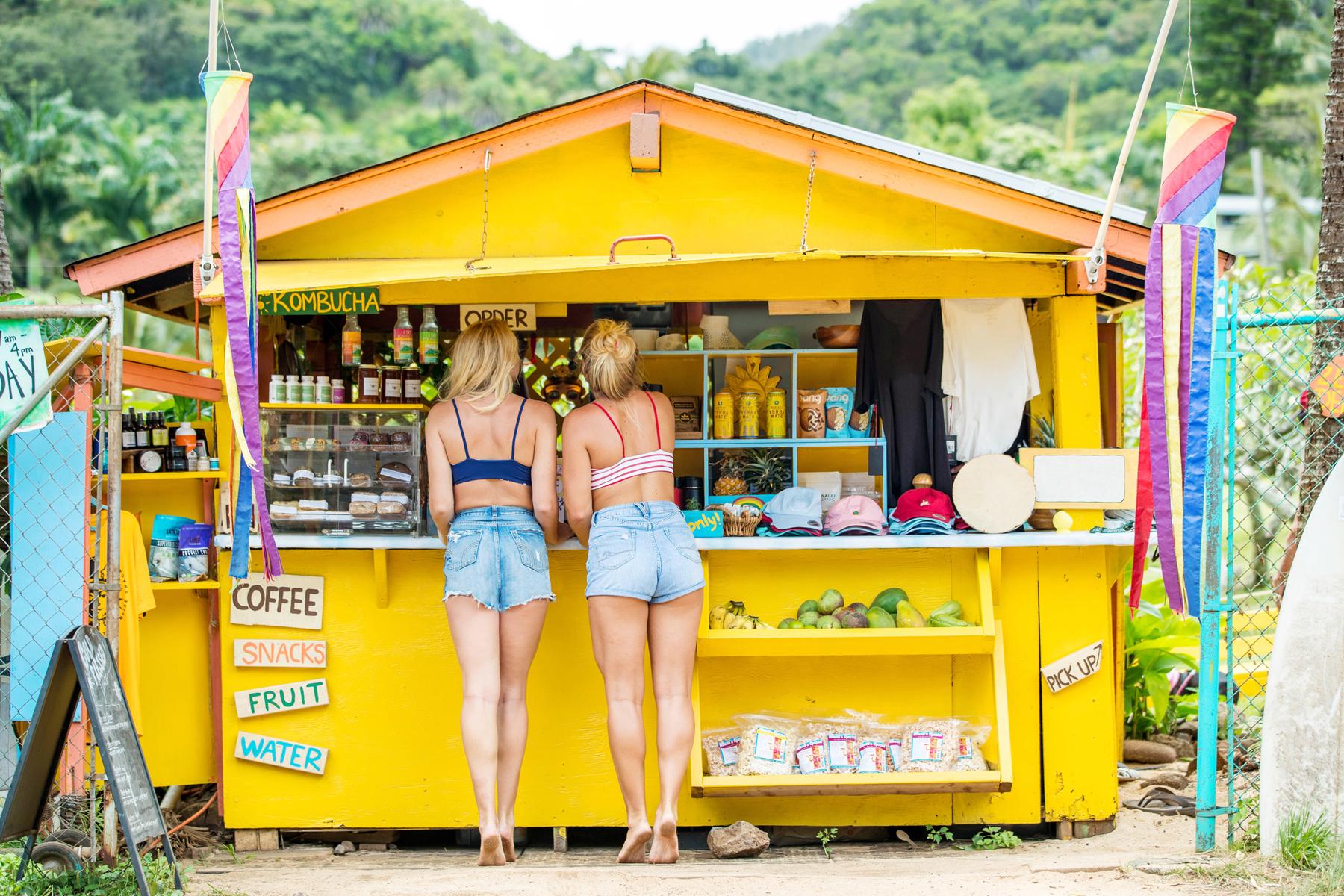 Paula's North Shore Must Do's
Oʻahu

is not all about Honolulu.
One of the things that makes this island so fabulous is just how little time it takes to go from the glamour of Waikīkī to the chilled out surf vibe of its spectacular North Shore.
An easy day trip, the North Shore is a comfortable 40 minute drive straight up the middle of the island. Rent a rag top, put some Fleetwood Mac on blast and cruise this list of North Shore must-do's.
Pipeline For Breakfast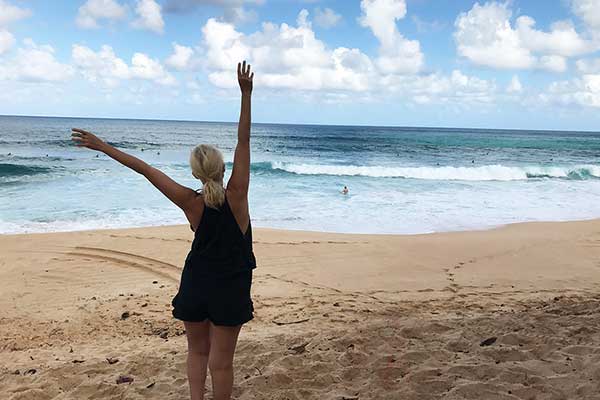 Banzai Pipeline is one of the most iconic strips of sand and salt in the entire world.
You gotta make the pilgrimage to ʻEhukai when visiting Oʻahu. My tip is to head out early from Honolulu – really you want to be on the road by 8am – and arrive at Pipeline forty minutes later for breakfast.
Grab an acai bowl (pronounced ah-sigh-ee) (see below) in Haleʻiwa Town on the way and then drive over to watch the surfers shred.
Even the five year olds are awesome.
A little heads-up: it's very easy to drive right past Pipeline because there's not a single sign post. Look out for Sunset Elementary School (on the right) and you'll find the tiny car park directly opposite.
Roadside Coconuts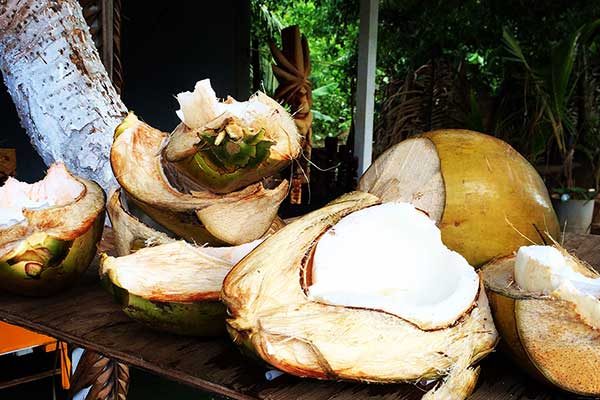 You'll see rustic coconut stalls dotted along the drive from Haleʻiwa Town all the way up the north coast. Fresh and delicious, a road side coconut is a North Shore right of passage. And also practically free.
Shopping In Haleʻiwa Town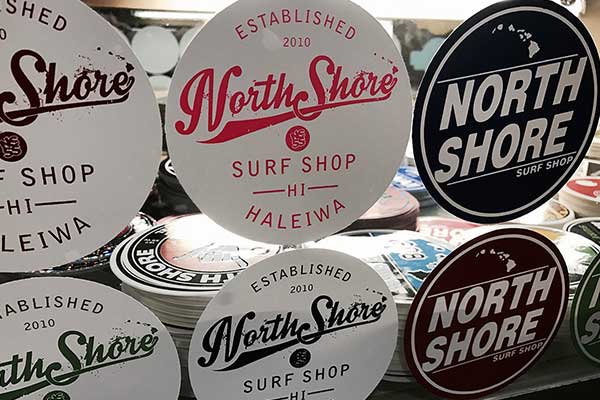 Ok so maybe you need more than one day on the North Shore…for shopping.
Haleʻiwa Town is the area's cultural and arts hub and home to many shops. Many.
From surf and antiques to fine jewelry and art galleries, there's a store for everyone.
I recommend you park at one end of the town – I like to start at the Growing Keiki (where you'll find the best hand-painted baby clothes) and then walk half the street on one side cross the road and then the other as you walk back to you car.
Then drive your car up to where you turned around and repeat with the second half of the strip.
This is a pottering kind of town so take your time – walk into the arcades, down the side streets and I promise you'll find that thing you never knew you wanted.
The Shrimp Truck Thing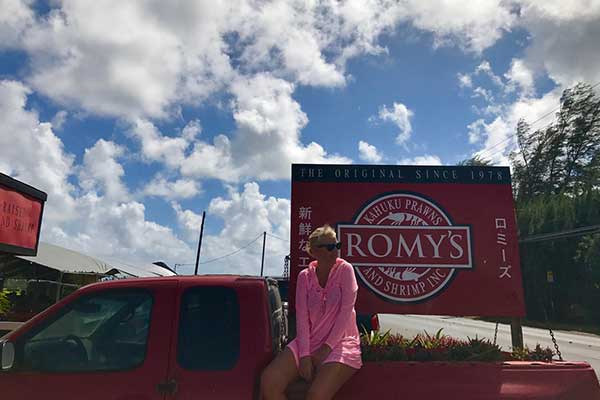 Food trucks are an important part of the local culture and epitomise the whole surf-meets-county vibe of the area. There's quite literally truck after truck on Kahuku Point but the two oldest (and most popular) are Romy's and Giovanni's.
My pick is Romy's Kahuku Prawn and Shrimp Inc because I'm obsessed with the Kahuku Sweet Corn and also the red pick-up truck out the front.
You must try their Sweet and Spicy Shrimp with extra spicy dipping sauce because it will blow your mind.
But expect a wait – this is island time cooking not fast food – particularly on the weekends.
Visit Waimea Valley
Waimea "The Valley of the Priests" was named in 1090 when the ruler of Oʻahu awarded the land to the kāhuna nui. Descendants of the high priests lived and cared for much of the Valley until 1886.
It remains one of last partially intact ahupuaʻa (the native Hawaiian system of land management) on Oʻahu.
Waimea Valley consists of 1,875 acres and has been a sacred place for more than 700 years.
The gardens are simply incredible and almost pre-historic in their size and scope. It's an easy half-hour walk into the waterfall where you can swim and then circle back through to the Botanical Gardens.
This is a sacred, special part of the island and a very different experience from the glamour of Waikīkī and the surf vibes of the surrounding area.
Burgers From KuaAina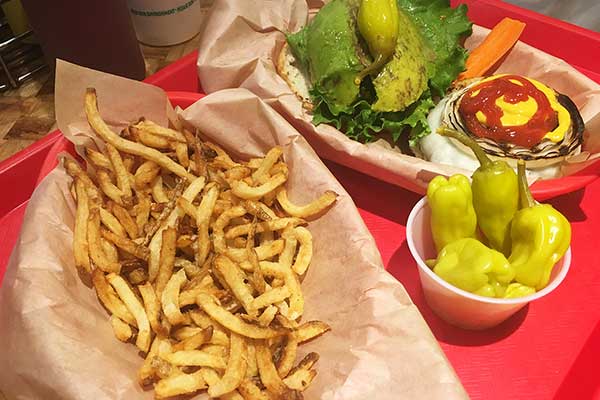 Without over-stating things – this was the best burger and fries of my life.
KuaAina has been making awesome burgers in Haleʻiwa Town since 1975.
Order the avocado burger (you get an entire half) with a side of homemade fries and pepperoncini – then prepare to visit food heaven.
I will forever dream about this burger.
Surf Turtle Beach
If you're a surfer then you will want to hit the waves at Sunset or Pipeline but if you're even remotely still on your surfing "L" plates then Turtle Beach is where you want to go.
Hans Hedemann is one of the most highly regarded surf schools on Oʻahu and runs a school out of the Turtle Bay Resort. The deep, easy waves of the bay combined with the large, easy boards means you'll be surfing in no time.
This place isn't called Turtle Beach for nothing – you'll be swimming and surfing with turtles.
Acai Bowls
People talk about the North Shore's acai (pronounced ah-sigh-ee) bowls in the same way they talk about pizza in Italy.
You visit this part of the world and you must eat it.
My absolute favourite is the breakfast bowl from Waialua Bakery. This is a delicious family run business which specialises in healthy sandwiches (also awesome). However the bakery is closed on Sundays and it's worth planning your day trip around this information because you need to try their food.
Across the street from the famed Matsumoto's Shave Ice, Haleʻiwa Bowls serves up acai bowls to go topped with apple and banana, hemp granola and coconut flakes. Located under a cute grass roof, I like the blend bowl with banana and added chia.
Stop & Explore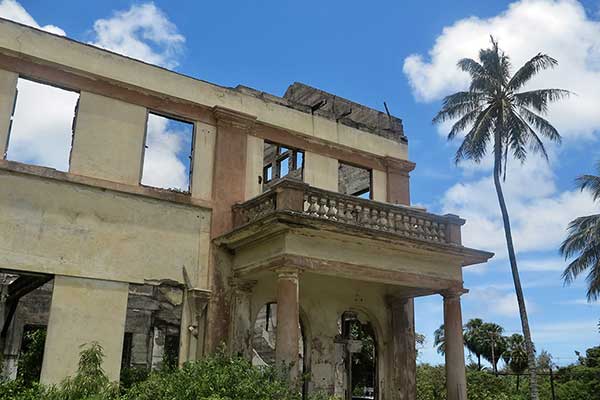 The North Shore is epic and full of character.
My mum taught me that whenever you see a road you should turn down it. Here you will find treasures around every turn.
Lots of the professional surfers have houses here and the architecture is old Hawaiʻi meets modern surf.
There are abandoned mansions, graffiti and mural walls and this trip I spent time taking pictures of different palm and banana trees to blow-up and frame as an art wall for home.
The Shave Ice Thing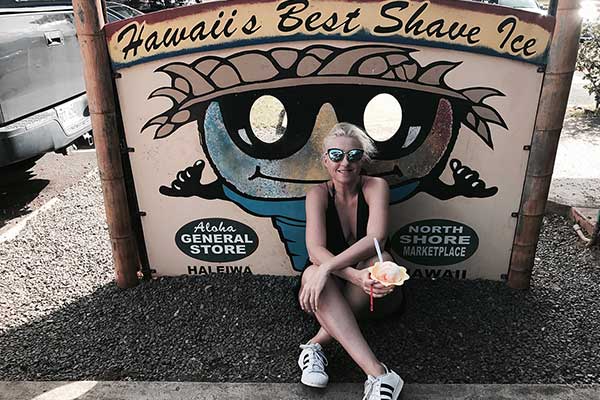 This is a 'Thing' so you have to try it.
People will tell you to go to Matsumoto's Shave Ice and while it is the oldest shop on the shore, I prefer the shaved ice from Aloha General Store.
True shave ice has a coconut ice cream base and condensed milk drizzle on the top. It's perfection and all you need is a kids serve.
Sunset On The Point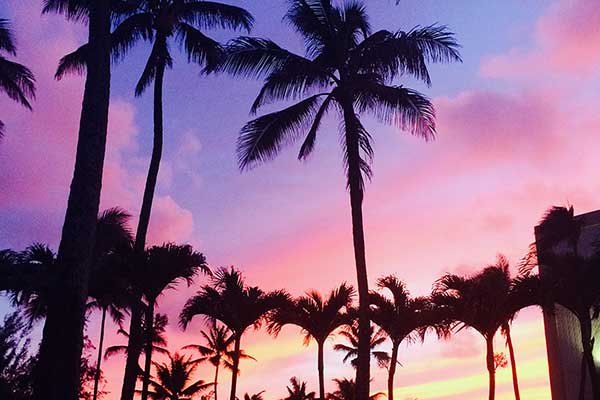 This picture was taken right on the top point of Turtle Bay Resort looking out toward Kahuku Point.
I do not need to say anymore about it. This is why people learn to paint. And THIS is all the reasons you visit beautiful Hawaiʻi.
I flew to Hawaiʻi as a guest of Hawaiʻi Tourism Oceania however all opinions and photos are my own.
Paula Joye
Founder of The Joye