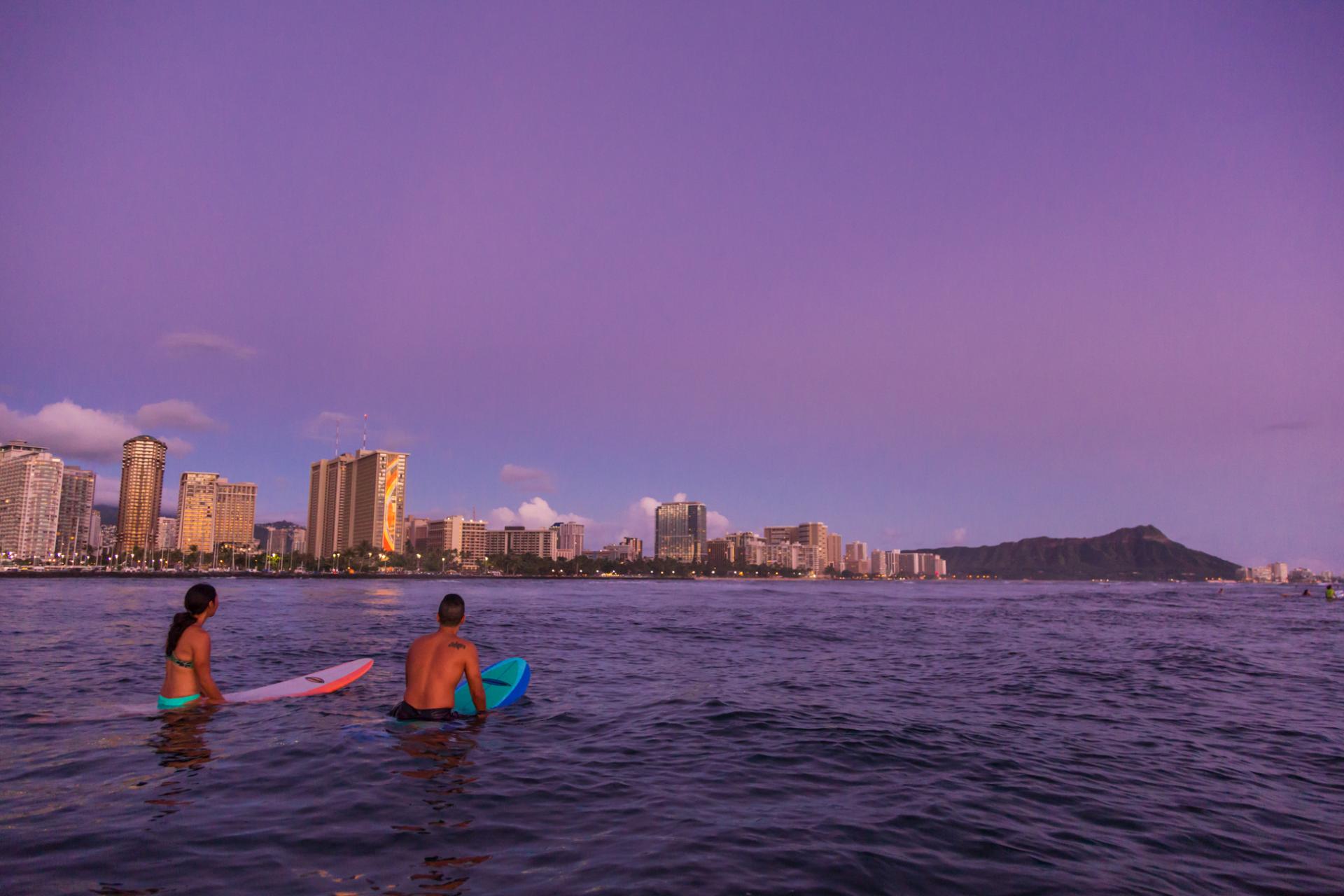 Oahu is an island of town and country contrast. The South Shore, home to Downtown Honolulu and Waikiki, is a buzzing hive of activity. The North Shore, famed for its surfing beaches, is slow-paced with a chilled out vibe. Nicknamed The Heart of Hawaii, Oahu has the most residents and annual visitors of all Hawaiian Islands. It's abundant in sunshine, water sports, hiking trails, museums, shops, restaurants and things to do. Come and hang loose on Oahu with these five unmissable experiences.
Oahu offers something for every type of adventure seeker.
Kualoa Ranch
, a 4,000-acre private nature reserve, is the film site of over fifty movies and TV shows and one of Oahu's premier attractions for thrilling activities. Movie site tours are a big hit on this property, along with zip lining, jungle expeditions, 4WD drive and ATV tours, electric mountain bike excursions, ocean voyaging, secret island beach activities, kayak adventures and a "Taste of Kualoa" farm tour. Nearby
Gunstock Ranch
also provides fun for the whole family with horseback riding adventures and a unique Legacy Tree Planting tour.
At only 70 kilometres long and 48 kilometres wide Oahu is the perfect canvas for day trips! With lots to discover across the island, holidaymakers will appreciate the freedom of having their own set of wheels. Convertibles and soft-top Jeeps allow for 360-degree views and prove to be a popular choice in vehicle. Driving on Oahu is a beautiful experience, roads sweep around sea cliffs, along waterfall-rich mountains and past sun-drenched golden beaches. A scenic lookout is never too far away and the major island attractions, like
Pearl Harbor
,
Dole Plantation
and
Polynesian Cultural Center
, beckon travellers to pull over and take a break.
Oahu is warm year-round with average temperatures ranging between 23-29°C, combined with 365 kilometres of shoreline makes this island a great place to enjoy the sun, sand and surf. As the birthplace of surfing, this is the number one place to hit to the ocean with a board, from beginner surfing lessons to a more advanced big-wave surf session.
Waikiki Beach Services
is the longest running surf school in Waikiki, they are an excellent option for booking surfing lessons and trying other fun ocean sports like stand up paddleboarding and outrigger canoe surfing.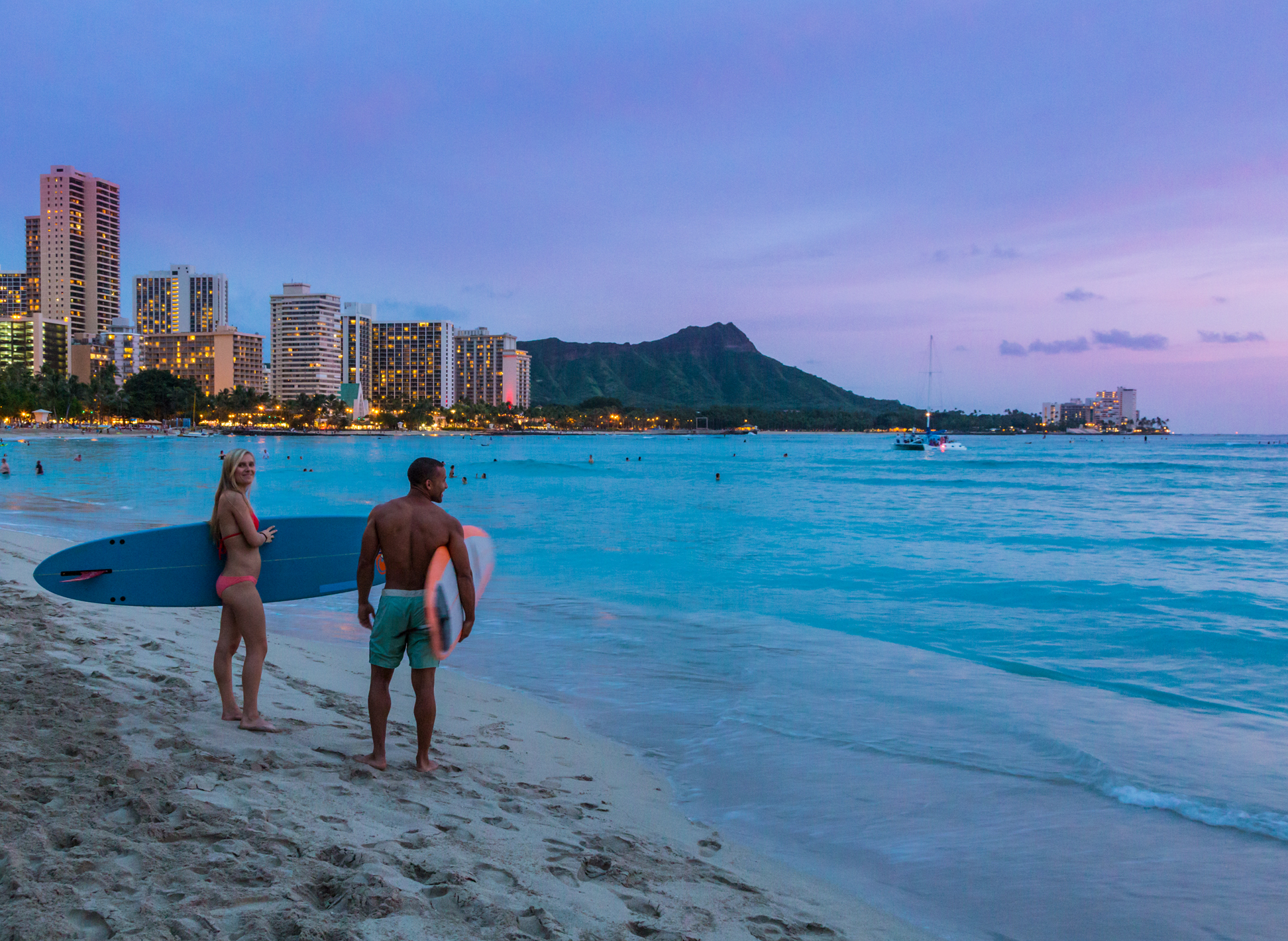 The island of Oahu is not just a tropical paradise, it's a serious shopper paradise too. The opportunities for retail therapy are seemingly endless. The big players include
Ala Moana Center
, the world's largest outdoor mall,
T Galleria by DFS
, a must visit for tax-free goodies, and Waikele Premium Outlets, Oahu's only factory outlets. Hawaii designers are sprouting up all over town, with a noticeable hike in Hawaii made products. Support these local businesses at locations such as South Shore Market at Ward Village, Ohana Hale Marketplace and Haleiwa Store Lots. If trendy boutiques and vintage stores are on the shopping hit-list don't miss a stroll through Honolulu's China Town.
Oahu's food scene is hip, happening and lip-smacking! Don't leave the island without trying these local favourites starting with malasadas (Portuguese doughnuts) from
Leonards Bakery
, garlic shrimp (add chilli for a spicy kick!) from one of the many island-wide food trucks, and shave ice from Waiola Shave Ice or Matsumoto's. If you're short on time, let Aloha Food Tours escort you to all the great hole-in-the-wall eats. Another must-have meal is
Hawaii Regional Cuisine
. The chefs at these establishments blend local island ingredients with ethnic culinary influences to create fresh and tasteful dishes. Savour the flavours at
Roy's Waikiki
or
Chef Chai
.
Ashlee Galea is an Aussie living in Hawaii who enjoys sharing Hawaii insider knowledge and travel advice on her blog The Hawaii Admirer.