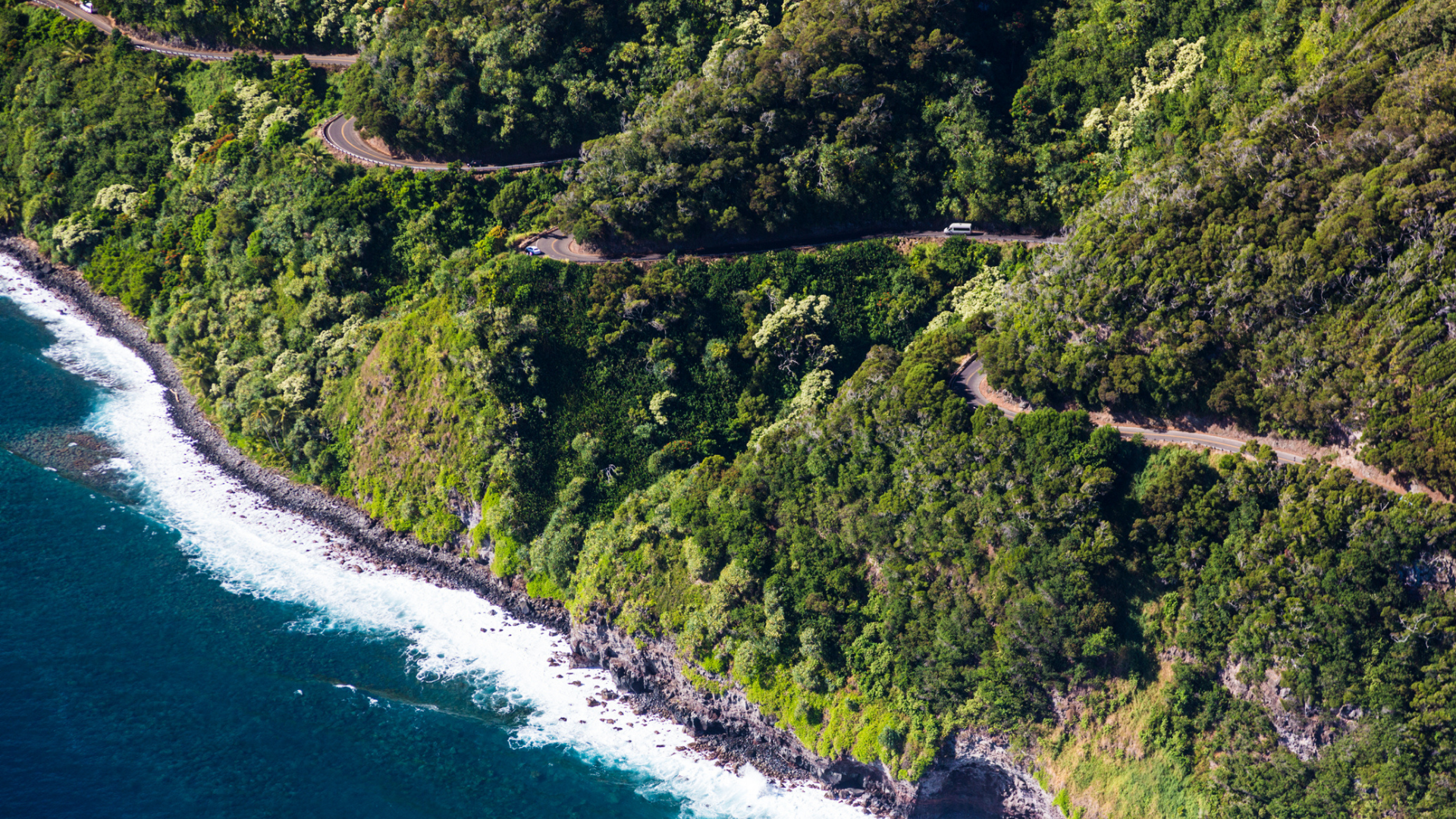 Road to Hana Photography Guide
Maui's striking natural beauty provides the ideal canvas for alluring photography. Whether you are wandering along picturesque trails, admiring soaring waterfalls or indulging at the myriad farm stands, captivating subjects await. Using the photography tips in this Road to Hana photography guide will help you compose photographs that will allow people to emotionally connect with your images.
The Road to Hana offers countless points of interest where you can stop and admire the intoxicating beauty as you navigate the 620 switchbacks along the 104 km (65-mile) drive.

Given Road to Hana's windy nature, it's more enjoyable and safer to drive the road at a leisurely pace. Fortunately, there are a number of pullouts that you can use to allow faster drivers to overtake you. Keep an eye out for the one-lane bridges that straddle rivers and waterfalls throughout the route and yield to oncoming traffic. Be sure to check the weather forecast the day you plan to drive as flash floods and mudslides can occur during heavy storms making the road dangerous and potentially impassable.

PRO TIP: Drive the Road to Hana just after sunrise. Rather than stopping at all the tempting viewpoints along the way, head directly to the Pipiwai Trail in the Kipahulu district of Haleakala National Park. By starting your explorations at the "end" of the road, you can secure a parking spot, hike before the crowds descend, and avoid the traffic snarls that ensue later in the day.
Banyan Tree Pipiwai Trail
Only a half mile into the Pipiwai Trail hike, a formidable banyan tree with sprawling branches and roots will mesmerize you.

PHOTOGRAPHY TIP: Use the wide angle lens on your iPhone or camera to capture its exceptional shape and size. Given its breadth, 14-24mm is the ideal focal range. Squatting down low will allow you to photograph the tree's massive base and all the branches beckoning you. To further emphasise its expansive stature, have someone stand beneath it to provide scale.

Given the contrast in the scene, it's also rewarding to experiment with intentional camera movement here. After setting your shutter speed to 1/30 second and focusing on the tree, manually zooming your lens in and out as your camera takes the image will result in a time warp effect.
Bamboo Forest Pipiwai Trail
After continuing another half mile along the Pipiwai Trail, you'll be enveloped by an enchanting bamboo forest. Being here early in the morning provides solitude to listen to the wind whistling through the leaves without other distracting sounds.

Since the trail varies between stone steps, leaf covered rocks and wooden walkways, you'll have a variety of scenes from which to choose.

PHOTOGRAPHY TIP: If you want to emphasise the forest's storybook feel, seek out areas with thick bamboo arching over the trail or perspectives where the pathway curves.

Alternatively, to draw people into the image, use the wooden walkway as a leading line that vanishes into the horizon, pulling people into the scene and encouraging them to explore.
Waimoku Falls Pipiwai Trail
If you continue to the end of Pipiwai Trail (3 km/2 miles one way), you'll be rewarded with the alluring 122m (400ft) Waimoku Falls cascading down a moss-covered, volcanic valley wall. Be aware that you will have to cross a small creek to reach the waterfall. If it has been raining and is flowing swiftly, it's best to be safe and not cross the stream.

PHOTOGRAPHY TIP: To give a sense of place, include some of the surrounding trees and ferns to anchor the image. Since waterfalls occur throughout the world, including these elements highlights Maui's lush rainforest.

Have you always admired serene waterfall images with wispy, cotton candy like water? To achieve this ethereal effect, put your camera on a tripod and use a shutter speed of .5-.7 seconds. On a bright day, you might also need to use a six or ten stop filter.

A similar effect can also be achieved with your iPhone. Simply click on the three circles in the upper right hand corner of the camera screen to turn on "Live View". After composing and capturing the photograph, open the image in "Photos". Then, swipe up to get to "Effects" and swipe left until you see "Long Exposure." Click on this and your image will convert to a silky long exposure photograph.
After finishing the idyllic Pipiwai Trail, stop and refuel at Hana Farms and enjoy their delectable banana bread. Elevate the flavour further with their lilikoi (passionfruit) jam or surprise someone with this delicious gift. Maui's abundance of fresh fruit is one of its many enticing offerings.

PHOTOGRAPHY TIP: When capturing pictures at a business, it's always best to ask permission to photograph. If the proprietors permit photography, find displays that capture the shop's essence. Look for colours that punctuate the scene and add visual interest as well as signage describing the goods or the business name. Photographing on a diagonal creates depth and imparts more energy in the shot.
Twin Falls is another striking waterfall along the Road to Hana. With only 55 parking spots available, it's best to visit this waterfall late or early in the day. After paying $10 to park, hike less than 2km/1 mile to reach Twins Falls.
Since Twin Falls is located on a private working farm that has graciously granted permission for people to visit, be respectful, leave no trace and don't go off trail.
PHOTOGRAPHY TIP:
When you reach Twin Falls, wander around and find interesting ways to frame it within the forest. Notice how the light caresses the trees and roots. Seek out shapes and shadows to accentuate the setting. For more compelling images, place the waterfall off-center. Use the same tips from Waimoku Falls to achieve the silky water effect.
Savouring a fresh juice, smoothie or banana bread at the fruit stand is the ideal way to end your Road to Hana explorations.
Marielena Smith, Epic 7 Travel's founder, is an avid photographer and scuba-diver. Having traveled to 70 countries on all seven continents, Hawaii holds a special place in her heart as she has visited the Hawaiian Islands 10+ times since she was a kid.
All images in this article are supplied by Marielena Smith