Road Tripping, Hawaii-Style
Are great road trips really possible on a collection of islands in the middle of the Pacific Ocean with just under 28311 square kilometres of total terra firma among them? Better believe it! Road trippers sampling Hawaii's uber-scenic island roadways simply have to adjust their definition of the Great American Road Trip a bit. Rather than hundreds of kilometres of driving, think dozens. Instead of multiple days to finish, think multiple hours.

Best of all? Hawaii's road trips are as varied as they are unique. From stunning sea level and sea cliff coastal drives to cool inland countryside and mountain journeys, road trips in Hawaii boast nature, scenery and experiences you won't find anywhere else in the world. Ready to put some miles on that rental car? Here are five of our favourite Hawaii road trips, complete with must-see scenery, activities, towns to check out and groovy stops along the way.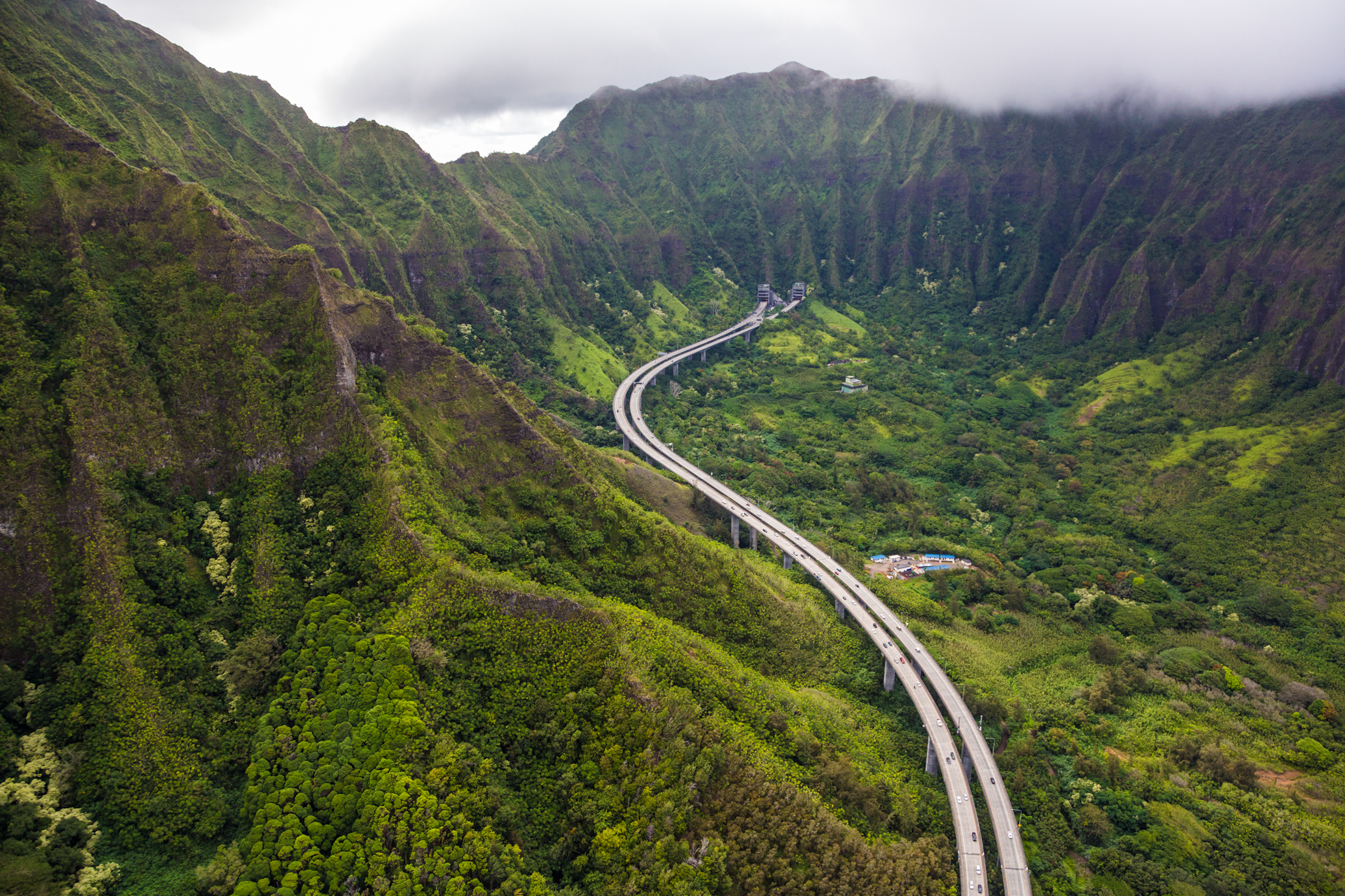 Island of Hawaii: Hamakua Coast via Modern and Old Mamalahoa Highway
The modern sections of Mamalahoa Highway showcase the northeast Hamakua Coast's rugged sea cliffs, lush stream-cut valleys, waterfalls and multiple profiles of Hawaii's tallest mountain, Maunakea, with lots of scenic spots and small towns along the way. Take some time to pull off onto remnants of Old Mamalahoa Highway, though, and you'll see everything roll by a bit slower and more up close and personal.
Start here: Hilo. Head to Waianuenue Falls early to experience firsthand how morning sunlight lent the cascade the nickname Rainbow Falls. Then grab a bento from a local lunch shop or fresh island-grown fruit from the Hilo Farmers Market before heading up the coast.
On the road: Visit Hawaii Plantation Museum, Onomea Scenic Route, Akaka Falls State Park, Honomu town, Laupahoehoe Point, Kalopa State Recreation Area
Brake here: Honokaa. Explore the main street of the coast's largest and most vibrant former sugar plantation town then make a short detour onto Route 240 to the scenic wonder of Waipio Valley Lookout.
Finish here: Waimea. Check out the paniolo (Hawaiian cowboy) town's heritage center and handful of visitor-welcoming working ranches, which share the island of Hawaii's longtime place in U.S. ranching history.
Roads taken: Route 19 and sections of Old Mamalahoa Highway
Total distance: 88 kilometre (115 if taking the Route 240 side trip to Honokaa and Waipio Valley Lookout)
Oahu: Windward Coast and North Shore
Honolulu's super cool and all. But for a respite from all things city, spend a day on this country-ish two-lane road trip winding alongside the foot of the sumptuous Koolau mountain range and quietly lapping shoreline waters of Oahu's Windward Coast. Along the way are beaches, bays, offshore islands, parks, world-famous surf spots and great eats, from Hawaiian food and garlic shrimp plate lunches to fresh-made poke bowls, local fruit smoothies and shave ice.
Start here: Hoomaluhia Botanical Garden. Steal a pre-road trip moment (or hour) of zen at this 400-acre tropical rainforest garden and lake at the foot of the majestic Koolau range.
On the road: Visit Byodo-In Temple Hawaii, Kualoa Regional Park and Mokolii Island, Kahana Bay Beach Park, Ahupuaa o Kahana State Park, Malaekahana State Recreation Area, North Shore beaches and surf breaks
Finish here: Haleiwa. Make this relaxed North Shore surf town, and its main street lined with shave ice stands, funky boutiques, assorted eateries and surf shops, your end-of-road-trip reward. Brake here: Shrimp shacks and shrimp trucks. Follow the intoxicating aroma of sizzling garlic and butter to the multitude of shrimp plate lunch purveyors between the towns of Haleiwa and Kahuku. How to find the best of 'em? Look for the lengthy queues of hungry customers.
Roads taken: Route 83
Total distance: 65 kilometres
Molokai: East Molokai via Kamehameha V Highway
One of the loveliest sea-level coastal drives in the Islands takes road trippers from Molokai's main town Kaunakakai past several centuries-old loko ia (Hawaiian fishponds), and at times right beside tranquil or tempestuous shoreline on its way to breathtaking end-of-the-road Halawa Valley and Beach.
Start here: Kaunakakai. Molokai's only true town is a little-changing, authentically rustic main street of small retailers, eateries and food trucks dedicated to serving island residents – fact that makes visiting Kaunakakai all the more wonderful. Fortify here before hitting the road east.
On the road: An East Molokai road trip is actually less about specific places to stop than the view along the way, especially as Kamehameha V Highway narrows and holds tight against the island's rugged southeast shoreline, at times sending crashing surf across the road. Pull over for views only where you're not blocking the passage of other drivers.
Finish here: Halawa Beach. Halawa Valley, as lush and enticing as it is, should only be hiked with a guide, as its acreage is privately owned. You can, however, take in amazing views from the valley's rugged, remote beach. There's no swimming here. But the sea-level tranquility at road's end is reward enough.
Roads taken: Route 450
Total distance: 45 kilometres
Kauai: Waimea Canyon and Kokee State Parks
Give yourself a day to truly explore winding Waimea Canyon Drive and Kokee Road from sea level Waimea town all the way up into the chill, misty mountain forests of Kokee State Park. This isn't a long road trip. But it'll seem lengthier as you make stops to trek a trail or two, check out the road-ending Kalalau Valley lookouts, and take in all of the breathtaking wonder that is Waimea Canyon.
Start here: Waimea. Yep, like the island of Hawaii, Kauai also has a Waimea town; this one also rich with Hawaiian cowboy history, but with the added coolness of being an historic seaport. Stop at the West Kauai Technology and Visitor Center for an illuminating look at the town's present and past. On the way: Visit Kekaha Lookout, Waimea Canyon State Park and Lookout, Waimea Canyon Trail/Cliff Trail Lookout, Kokee State Park, Kalalau Lookout and, if you have time and stamina for a great hike, the Iliau Nature Loop, Kukui Trail or Awaawapuhi Trail.
Finish here: Puu O Kila Lookout. Situated at the literal end of the road (Kokee Road, that is), this overlook boasts stunning views of the Napali Coast's massive amphitheater-shaped Kalalau Valley even better than the Kalalau Lookout a mile before it. Brake here: Kokee Natural History Museum. The best place to get a sense and appreciation of the flora, fauna, hiking trails, valleys and history of the vast Kokee area forest reserves before getting out an experiencing it all.
Roads taken: Route 550
Total distance: 30 kilometres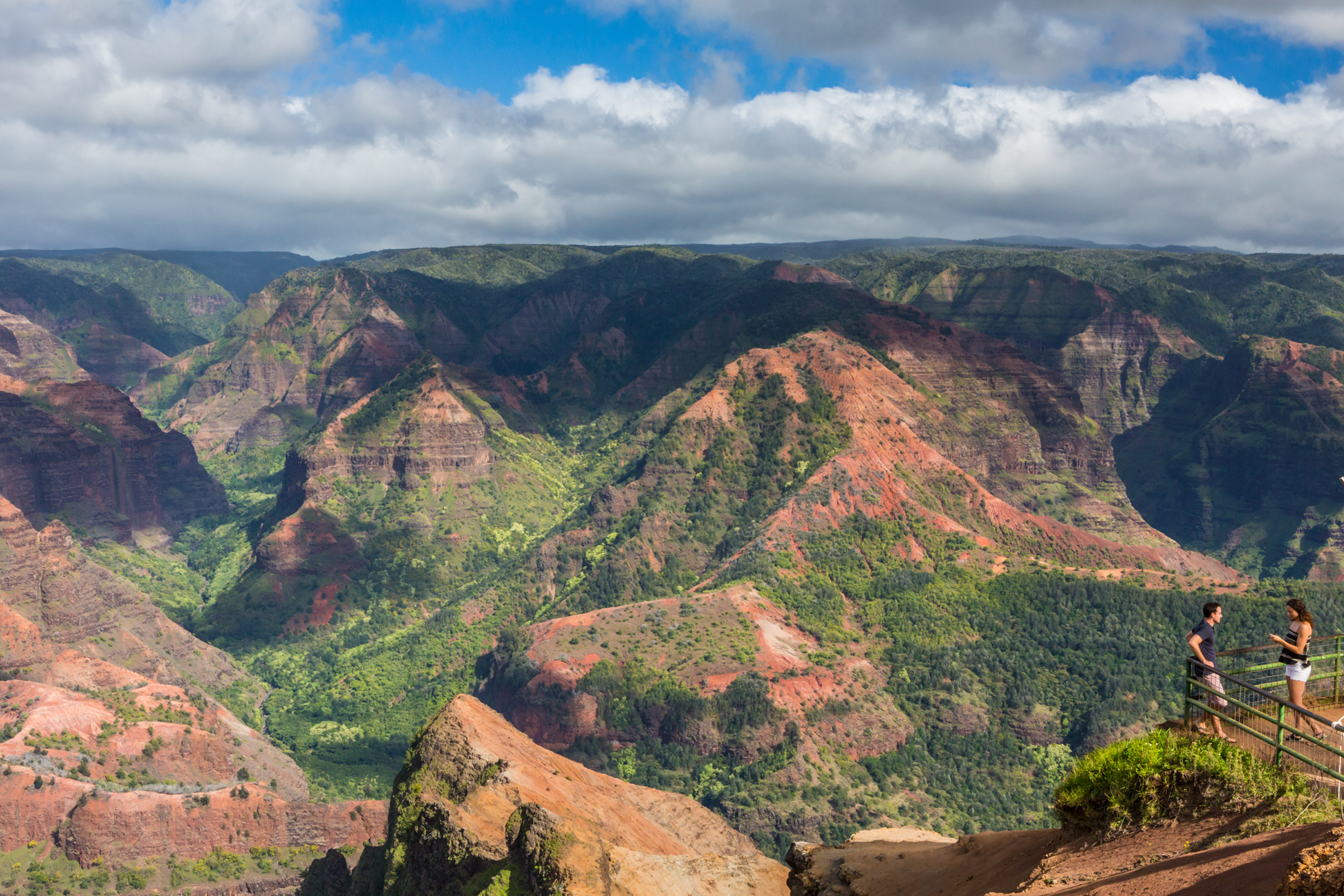 Maui: Northeast Coast and East Maui via Hana Highway
What do you get when you combine 59 or so mostly single-lane, century-old bridges, hundreds of asphalt curves, and 54 miles of roadside waterfalls, verdant rainforests and stunning sea-level and thousand-foot elevation East Maui coastal views? One of Hawaii's best (and most famous) road trips, period.
Start here:
Paia. The gateway to Maui's renowned north shore surf spots, this trendy little surf town and its restored sugar plantation-era storefronts are home to a modern mix of casually hip retailers, groovy eateries and, no surprise, lots of surf shops.
On the way:
Visit Hookipa Beach Park and Lookout, Kaumahina State Wayside, Keanae Peninsula and Lookout, Wailua Valley State Wayside, Puaa Kaa State Wayside, roadside waterfalls (lots of 'em), Kahanu Garden, Waianapanapa State Park (
advanced reservations
required), Hana town Hana Bay Beach Park, Hamoa Beach
Finish here:
Haleakala National Park Kipahulu Visitor Center. Way downslope (we're talkin' sea-level downslope) of Haleakala volcano's 10,023-foot elevation summit, take the three-mile hike from the coastline freshwater Pools of Oheo through a lush bamboo and rainforest valley to 400-foot Waimoku Falls.
Brake here:
Banana bread stands. You'll see more than a few of them alongside Hana Highway as growing conditions on East Maui are, pardon the pun, ripe for bananas. Visit early in the day and there's a good chance you'll receive your fresh-baked banana goodness still warm from the oven.
Roads taken:
Routes 36, 360
Total distance:
86 kilometres
First published in the Hawaiian Islands newsletter