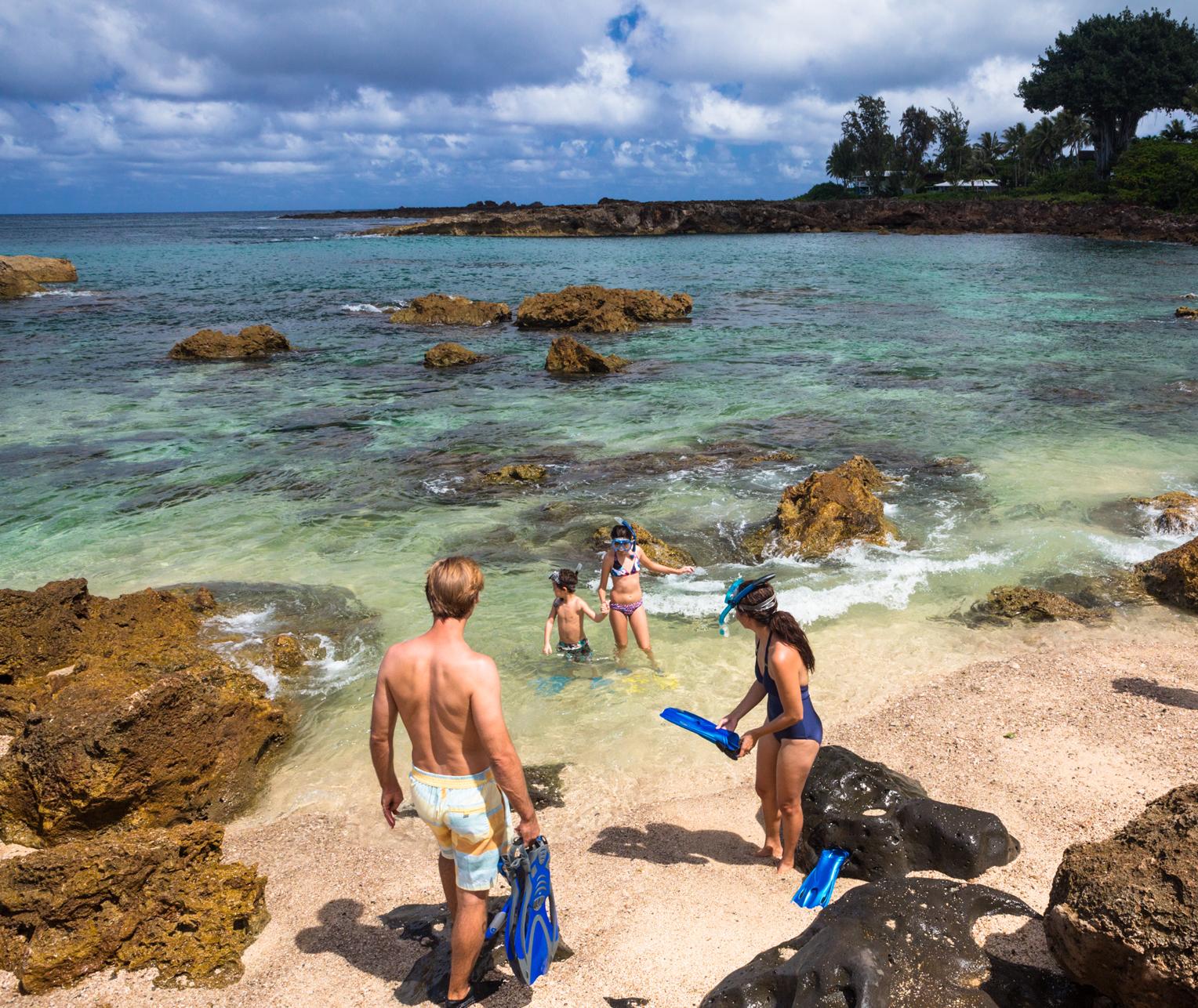 Hawaii is a family-friendly holiday destination thanks in part to its amazing kids clubs. The island of Oahu has a handful of luxury resorts providing fun-filled children programs, each one infused with uniquely Hawaiian elements. Adults can drop-off their offspring knowing that they're going to have a blast and learn a thing or two. That can only equate to one thing, guilt-free adult time by the hotel pool!

AUNTY'S BEACH HOUSE at Aulani, A Disney Resort & Spa
Open: Daily 8:00am-9:00pm
Ages: 3 to 12 years old

Aulani is a unique resort experience, a magical fusion of Disney and Hawaiian culture. It's a place where little guests get to hang out in Aunty's Beach House, a complimentary kids club designed to stretch the imagination. Disney Youth Counsellors teach children interactive Hawaiian games, arts and crafts, songs and hula. Kids have the opportunity to dress-up in Disney costumes, learn how to make Stitch's "space goo" and meet surprise visitors like the adventurous teenager Moana.

HAWAII KEIKI WAIKIKI at Sheraton Waikiki
Open: Daily 9:00am-6:00pm
Ages: 3 months to 12 years old

Hawaii Keiki Waikiki offers a complete babysitting solution with private nannies, an hourly childcare program and field trips to Hawaii attractions. This daycare facility is located in the Sheraton Waikiki but is open to everyone not only the hotel guests. Children are entertained by Hawaiian cultural activities, pool and beach experiences and outdoor activities including bodyboarding and canoe rides. This Japanese owned company employs bilingual staff adding a multi-cultural dimension to this kids club.

CAMP PENGUIN at Hilton Hawaiian Village Waikiki Beach Resort
Open: Daily 8:00am-12:00pm and 11:30am-3:00pm (Half Day); 8:00am-3:00pm (Full Day)
Ages: 5 to 12 years old

Hilton Hawaiian Village is Waikiki's only true resort set on 22 acres of oceanfront land, providing a vast playground for Camp Penguin kids club attendees (easily spotted in their Camp Penguin t-shirts). Every day features half or full-day themed activities led by trained camp counsellors. There's a scavenger hunt through the resort gardens, a volcano building beach session and a smorgasbord of excursion options including the Hawaii Children's Discovery Center, Honolulu Zoo and Waikiki Aquarium.

THE KEIKI CLUB at The Kahala Hotel & Resort
Open: Daily 9:00am-4:00pm; Evening Sessions (Seasonal) 6:00-9:00pm
Ages: 5 to 12 years old

The Keiki Club at Kahala Hotel & Resort has half and full-day programs that focus on giving participants a deeper understanding of Hawaii's culture, natural environment and traditions. Kids can learn new skills including weaving lauhala bookmarks, singing Hawaiian songs and bamboo pole fishing. Junior master chefs will enjoy the weekly tour of the property's kitchens, and budding marine biologists can study the turtles, rays, tropical fish and dolphins in the hotel lagoon.

KIDS FOR ALL SEASONS (KFAS) at Four Seasons Resort Oahu at Ko Olina
Open: Daily 9:00am-5:00pm
Ages: 5 to 12 years old

Children staying at Four Seasons Resort Oahu at Ko Olina have complimentary access to an impressive Kids for All Seasons (KFAS) centre featuring a media room, computer area and creativity zone. The supervised kids club program is designed to feel like a year-round summer camp with plenty of outdoor exercise including tennis lessons and yoga classes. Children can partake in a variety of unique Hawaiian experiences like haku lei making (head lei) and poi pounding (a Hawaiian food staple).
Ashlee Galea is an Aussie living in Hawaii who enjoys sharing Hawaii insider knowledge and travel advice on her blog The Hawaii Admirer.