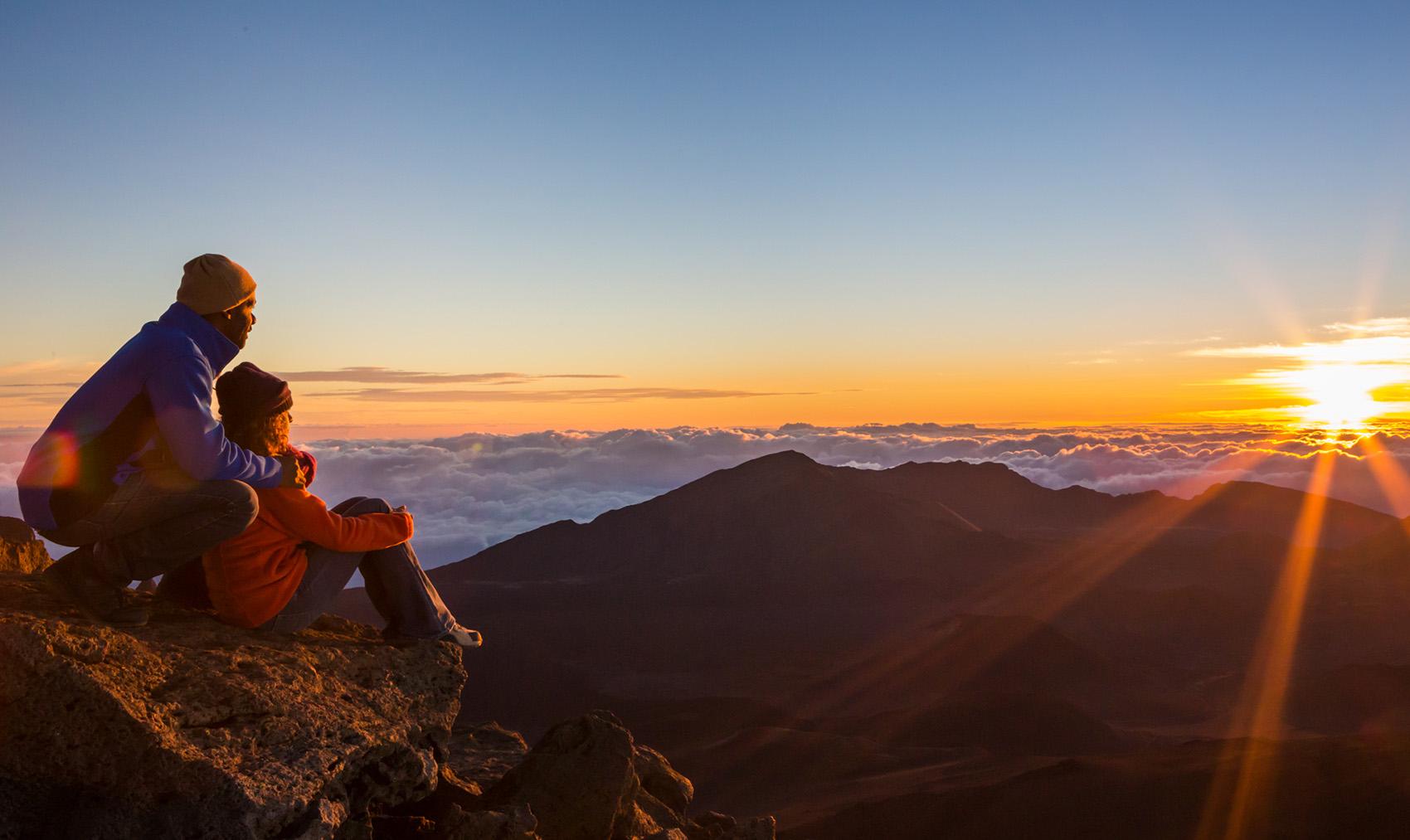 Sunrise and Sunset on Haleakalā
One of Maui's most memorable experiences is seeing the
Haleakalā
sunrise or sunset from almost 10,000 feet above sea level, and like anything worthwhile, it take some planning. Here are a few tips to make the most of your
Haleakalā
expedition.

Make A Reservation
The
National Park Service requires a reservation
for visitors in personal and rental vehicles to enter the Summit District from 3:00 am to 7:00 am to view the sunrise. The one-day $1.50 sunrise reservation can be made up to 60 days in advance. The park entrance fee is separate and payable on the day of visit.

Come Early
Depending where you get started from on
Maui
, it can take you up to two hours to drive the
Haleakalā
Highway (HI 37) and then up the winding
Haleakalā
Crater Road leading to the summit of
Haleakalā
. It's an early wake-up call, but the reward is well worth it. Drive past the Park Visitors Center at 7,000 feet to get to the
Haleakalā
Visitors Center at 9,740 feet. Try to arrive at the
Haleakalā
Visitor Center no later than a half hour before the sun rises — earlier for a good spot. In the summer the sun rises as early as 5:38 AM, in the winter as late as 6:55 AM. The color of the sky and clouds before daybreak are stunning.

Bring Warm Clothes
This is
Hawaiʻi
but it gets very cold at the summit. The temperature drops 3º for every 1000 feet of elevation, so at the
Haleakalā
Visitor Center's 9,740-foot elevation (where most people watch the sunrise), it's about 30º colder than at sea level. Be sure to bring pants, shoes, layers of clothing, and blankets. Temperatures are often in the 40-degree range.

Pick Up Breakfast
Although there are restroom facilities, there is no food or gas sold within the park. So fill up your tank and bring some food and drink for an early morning breakfast. And most importantly don't forget your camera.

Stay Beyond Sunrise
One of the most common mistakes visitors make (besides wearing shorts) is to leave immediately after the sun rises. If you stay just ten to twenty minutes later you'll be treated to an incredible show as the colors of dawn stretch across the landscape of the
Haleakalā

National Park
. Encompassing over 30,000 acres of public land, the park offers hiking trails, pre-arranged horseback riding tours and more endangered species than any other National Park. Parking reservations are self-guided, but
guided Ranger tours
are available.

Sunset
Not an early riser? Take a leisurely drive up the summit and give yourself some time to explore before the sun goes down. Sunset at
Haleakalā
, with its flaming clouds, is as breathtaking as its morning counterpart although a little less known. And just as with the sunrise, bring a snack, drinks and hang out for a while as the quiet of dusk transforms into a starry night.
Average Sunrise and Sunset Times
Summer sunrise average time is 5:45-6 a.m. HST and Winter sunrise average time is 7 a.m. HST, overall sunrise times by day can be found
here
.
More information: (808) 572-4400;
http://www.nps.gov/hale
To make a
reservation
!