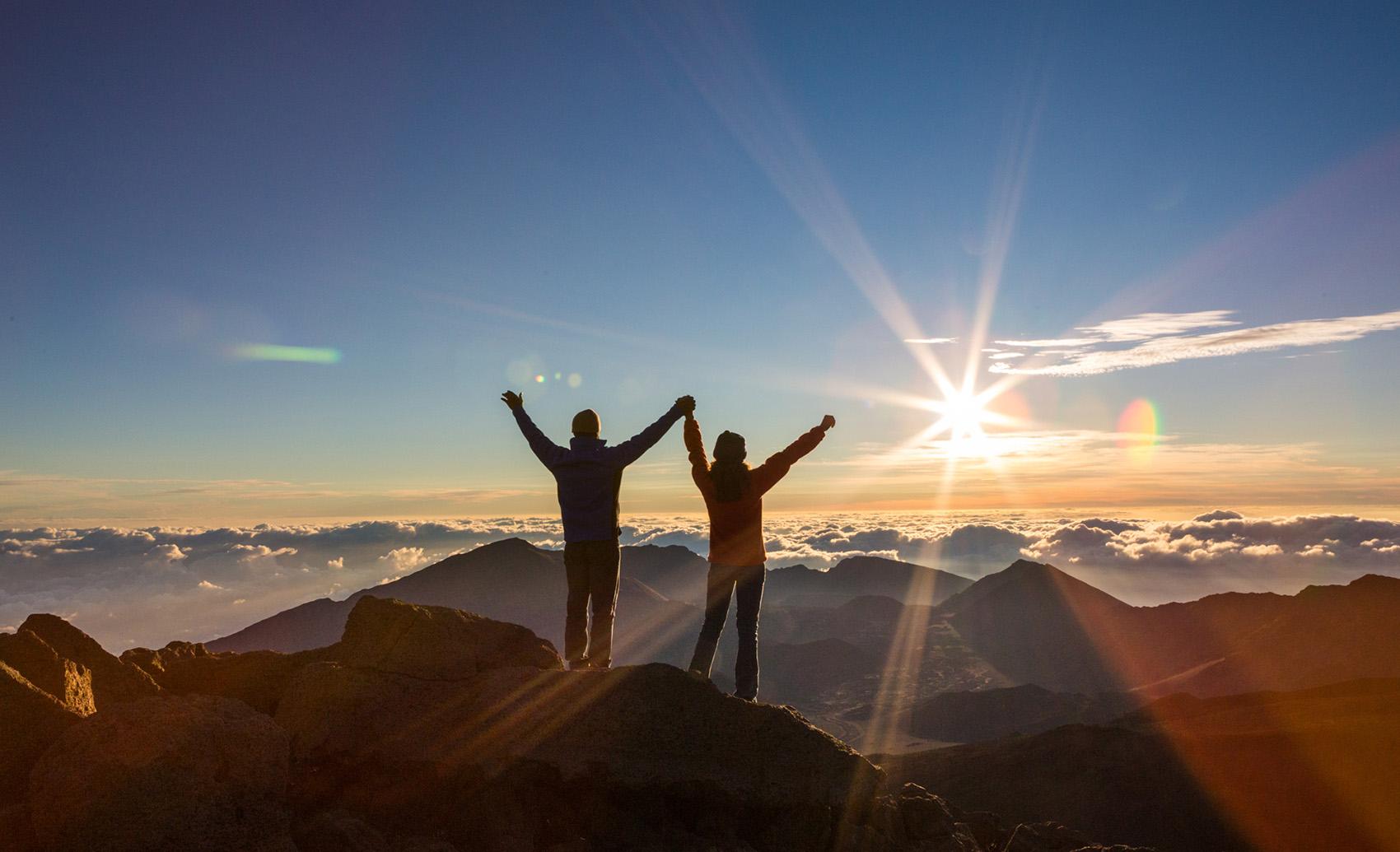 Things to Do on Haleakalā
Haleakalā
is an active but not currently erupting massive shield volcano that rises 10,023 feet above sea level. The park itself stretches from the summit to the sea and encompasses an alpine zone, sub alpine scrublands and dry forests. The
Kīpahulu
area on
Haleakalā
's windward slopes features rainforests and includes the beautiful
Pools of

ʻOheʻo
.

Sunrise, Sunsets & Stargazing
At this altitude views of Maui are incredible. When the skies are clear you can see three other Hawaiian islands from
Haleakalā
's lookouts:
Molokaʻi
,
Lānaʻi
, and the
island of

Hawaiʻi
. Sunrises are unforgettable but sunsets can be equally as amazing and oftentimes can be less crowded. Stargazing is spectacular and the park — which is open 24 hours a day — offers stargazing programs in the summer. [
It's important to know that in order to prevent overcrowding during pre-dawn hours, visitors interested in watching the sunrise require reservations. You can find more information from the link at the bottom of the page.
]

Hiking & Horseback Riding
There are a variety of trails along the summit and in the lush
Kīpahulu
area including
Keoneheʻeheʻe
Trail and
Pīpīwai
Trail. Hiking times range from a half hour to three-day camping expeditions. You can also explore the park by horseback.

See Endangered Species
Haleakalā

National Park
has more endangered species than any other park in the National Park Service. Take a hike and you'll soon see—or hear—
Hawaiʻi
's state bird, the
Nēnē
(Hawaiian goose). The endemic
ʻāhinahina
plant (
Haleakalā
silversword) can only be found on the upper slopes of
Haleakalā
, while a handful of close relatives remain on Maunakea and Maunaloa on the island of
Hawaiʻi
. To see a silversword blossom is a poetic gift as this
Hawaiʻi
native can take up to 50 years to bloom, and perishes after a single flowering.
More general information: (808) 572-4400;
http://www.nps.gov/hale
Information regarding
Haleakalā

sunrise viewing and reservations
, visit the National Park Service's site.
ʻĀhinahina (Haleakalā Silversword)
A Protected Plant
The National Park Service carefully manages the fragile ecosystem to ensure the Haleakalā Silverswords' survival. Please respect the plant and the land by staying on trails.