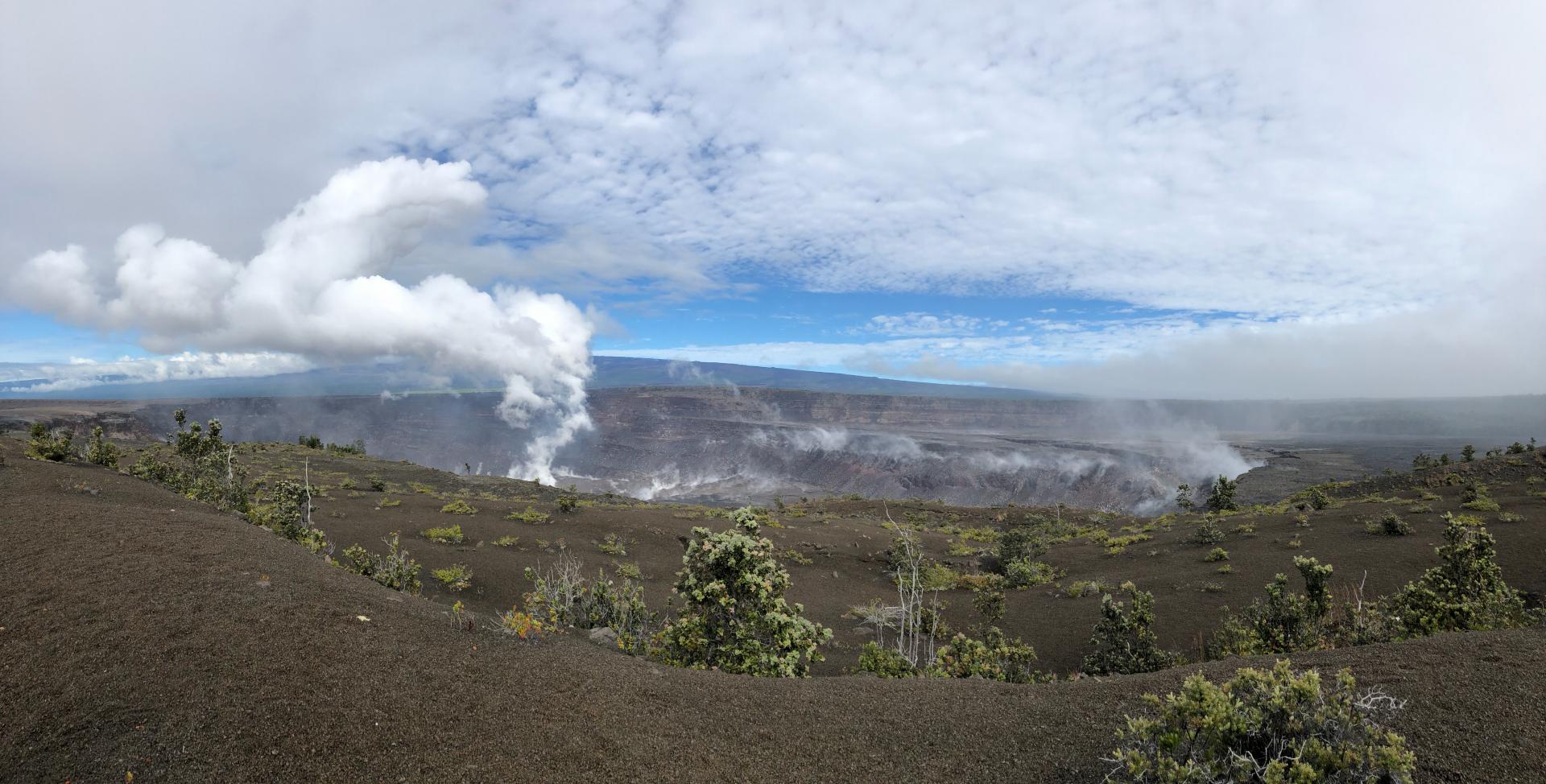 Hawaii Volcanoes National Park
Hawaii Volcanoes National Park
What: Massive park home to one of the world's most active volcanoes
Where: 45 minutes south of Hilo
Experience some of nature's most awe-inspiring wonders at Hawaii Volcanoes National Park. Located 45 miles southwest of
Hilo
, the park is home to two volcanoes including Kilauea, one of the most active volcanoes on earth. The chance to witness the primal process of creation and destruction makes it one of the most popular visitor attractions in Hawaii and a sacred place.
Hawaii Volcanoes National Park encompasses 333,308 acres from the summit of Maunaloa to the sea. Discover 150 miles of hiking trails through volcanic craters, scalded deserts and rainforests, as well as a museum, petroglyphs and two active volcanoes: Maunaloa, which last erupted in 1984 and Kilauea which has been erupting since January 3, 1983.
Kilauea is sometimes called "the world's only drive-in volcano." This prolific volcano produces 250,000–650,000 cubic yards of lava per day—enough to resurface a 20-mile-long, two-lane road each day. As of January 1994, 875 acres of new land have been created on the
island of Hawaii
. Many locals say that Pele, the volcano goddess who lives here, is very unpredictable.
The extraordinary natural diversity of the park was recognized in 1980 when it was named a World Biosphere Site by UNESCO and in 1987 when the park was honored as a World Heritage Site.
HAWAII VOLCANOES NATIONAL PARK HIGHLIGHTS
Kilauea Visitor Center
Open daily: 9:00 a.m.–5 p.m.
Begin your visit at the Kīlauea Visitor Center for a great introduction to the park. Ranger talks are offered, hike suggestions for the day, and ranger-guided activities. Pick up maps, learn about the park's hikes and get the latest volcano updates here.
Crater Rim Drive
Crater Rim Drive is the 10.6-mile drive that circles Kilauea Caldera. Driving around this loop will take you to the park's main attractions: the Kilauea overlook, Devastation Trail and Kilauea Iki Crater Overlook.
Halemaumau Crater
Steam vents plume from this massive crater, known as the home of Pele, the volcano goddess. In 2008, this crater was filled with a lake of lava that disappeared earlier this year. Seismic activity caused by the crater walls falling into itself created a much larger crater. In May 2018, the Halemaʻumaʻu's volume was about 70-78 million cubic yards. It is now about 1.2 billion cubic yards. The crater floor has dropped more than 1,600 ft. Great respect should be paid at this sacred site. Also worth noting is that higher elevation near the crater means that temperatures can drop fairly quickly. If you're coming from the beach in shorts and t-shirt, be sure to pack some warmer items like a light jacket while you're here.
Puuoo Vent
On April 30, 2018, the lava lake from Puʻuʻōʻō Vent vanished and headed toward the Lower East Rift Zone. Puʻuʻōʻō had been erupting almost continuously since January 1983.
Chain of Craters Road
Ranger station open daily: 10 a.m.–9 p.m.
Veering south of Crater Rim Drive is Chain of Craters Road. This 3,700-foot drive eventually ends where a lava flow has overtaken the road.
Volcano House
The Volcano House hotel overlooking Halemaumau Crater has been operating since it was a grass shack in 1846. Mark Twain once stayed here on his visit to Hawaii.
TIPS FOR YOUR VISIT
For your safety, please stay on marked routes, heed all warning signs, and stay out of restricted areas. There is a danger of harmful volcanic gases and unstable land in these areas.
Finally, allow plenty of time for your trip. To maximize your experience consider staying in accommodations on the east side of the island. Hilo is only 45 minutes away. The drive to and from Kona is about 2.5–3 hours each way.
Stay on open trails and roads. Closed trails and roads are dangerous, do not enter.
Stay away from cracks and sinkholes. Falls into cracks have seriously injured and killed people. Cracks have unstable edges, do not approach them.
Rockfalls are unpredictable. Pay attention and keep away from all cliffs.
Wear sturdy shoes and long pants, falling on lava rock is like falling on broken glass.
Do not hike after dark. Even those who know the area must be cautious.
Hawaiʻi Volcanoes National Park is a wild place. The dramatic landscape of Kīlauea volcano is constantly being shaped by powerful and uncontrollable natural forces. Respect the dangers of this dynamic natural process and stay out of closed areas.
For More Information
Visit
nps.gov/havo
or call (808) 985-6000
For daily Kilauea eruption updates:
http://hvo.wr.usgs.gov/
or call (808) 967-7328
For a live view of Halemaumau Crater:
http://hvo.wr.usgs.gov/cams/KIcam/
For Hawaii County Civil Defense updates:
http://www.hawaiicounty.gov/active-alerts/
or call (808) 935-0031