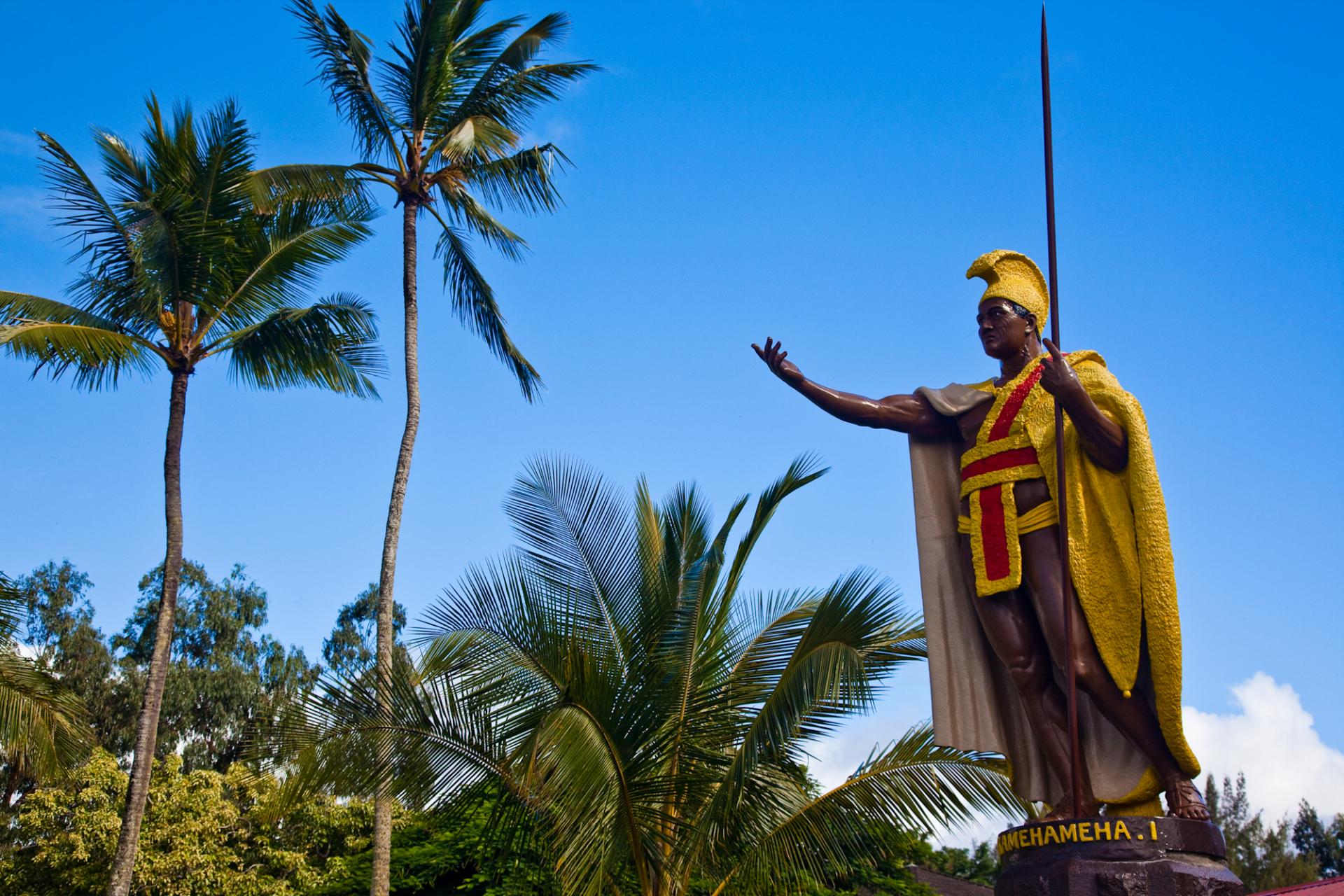 Kamehameha Statue, Kapaʻau
Just beyond the lovely town of Hāwī in North Kohala is the small town of Kapaʻau. In front of the North Kohala Civic Center stands the original King Kamehameha I Statue, erected not far from where Hawaiʻi's greatest king was born.
A great warrior, diplomat and leader, King Kamehameha I united the Hawaiian Islands into one royal kingdom in 1810 after years of conflict. Kamehameha I was destined for greatness from birth. Hawaiian legend prophesized that a light in the sky with feathers like a bird would signal the birth of a great chief. Historians believe Kamehameha was born in 1758, the year Halley's Comet passed over Hawaiʻi.
Given the birth name Paiʻea, the future king was hidden from warring clans in secluded Waipiʻo Valley on the Hāmākua Coast after birth. After the death threat passed, Paiʻea came out of hiding and was renamed Kamehameha (The Lonely One). Kamehameha was trained as a warrior and his legendary strength was proven when he overturned the Naha Stone, which reportedly weighs between 2.5 and 3.5 tons. Legend had it that whoever had the strength to move the Naha Stone would rule the Hawaiian Islands. Today, the Naha Stone can still be seen today, located in front of the Hilo Public Library.
During this time, warfare between chiefs throughout the islands was widespread. In 1778, Captain James Cook arrived in Hawaiʻi, dovetailing with Kamehameha's ambitions. With the help of western weapons and advisors, Kamehameha won fierce battles at ʻĪao Valley in Maui and the Nuʻuanu Pali on Oʻahu. The fortress-like Puʻukoholā Heiau on the Kohala Coast was built in 1790 prophesizing Kamehameha's conquest of the islands. In 1810, when King Kaumualiʻi of Kauaʻi agreed to become a tributary kingdom under Kamehameha, that prophecy was finally fulfilled. Kamehameha spent his final days in Kailua-Kona on the western coast of his island home.
Kamehameha's unification of Hawaiʻi was significant not only because it was an incredible feat, but also because under separate rule, the Islands may have been torn apart by competing western interests. Today, iconic statues honor King Kamehameha's memory, perhaps the most well-known King Kamehameha Statue stands across the street from ʻIolani Palace on Oʻahu. However, the story of the Kapaʻau statue has a history that's far more intriguing.
Forged in Florence, Italy in 1880, the ship that was ferrying it to Honolulu sank off the Falkland Islands. Believed to have been lost at sea, a replacement statue was commissioned and was erected in Downtown Honolulu and has become one of the most photographed landmarks on Oʻahu. However, the original statue was miraculously found and recovered in 1912. The restored statue was then installed near Kamehameha's birthplace at Kapaʻau. On your way from Hāwī to the Pololū Valley Lookout, make sure to stop in this small town to see this majestic tribute to the Kingdom of Hawaiʻi's first monarch.
More recently in 1997, a new Kamehameha Statue was dedicated in Wailoa State Park in Downtown Hilo on the eastern side of the island of Hawaiʻi. Hilo was Kamehameha's first seat of government and is still the capital city of the island of Hawaiʻi. Every June 11th, on Kamehameha Day, each of these statues is ceremoniously draped with flower lei to celebrate Hawaiʻi's greatest king.