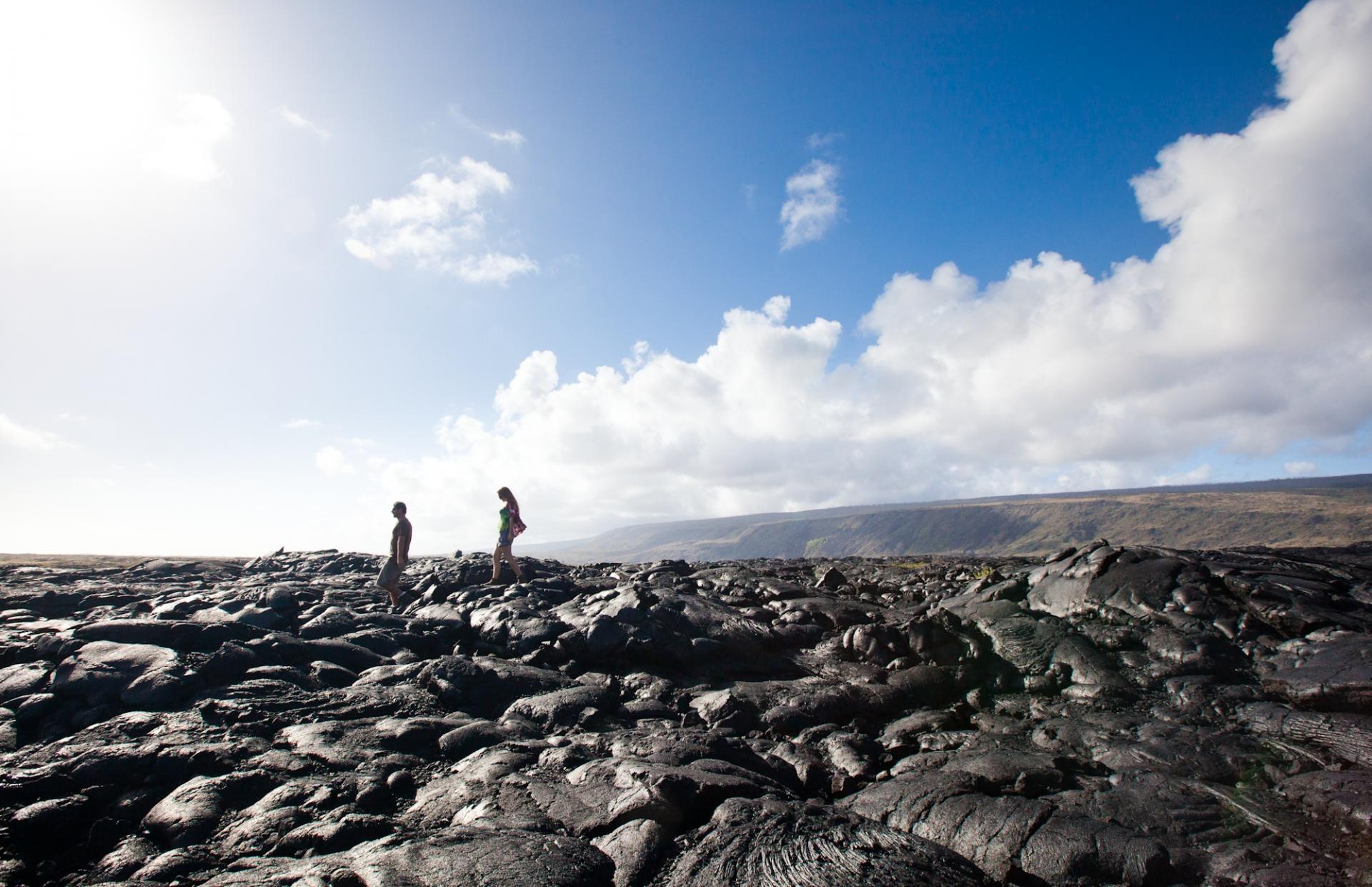 The island of Hawaii is heaven for hikers. Whether you're looking for a challenging trail on fields of lava or short, scenic hikes through historic sites, you'll find it here.

Most hiking adventures begin in Hawaii Volcanoes National Park, which offers more than 150-miles of trails. Stroll through Nahuku (Thurston Lava Tube), take a day hike along Chain of Craters Road or walk over volcanic fields to witness the power of creation as lava flows into the sea in Kalapana. For the well-equipped and experienced backpackers, hike overnight in the park's backcountry. See a ranger at the Kilauea Visitor Center to get trail information, maps and permits.

Other famous hikes can be found on the Kona Coast on the Ala Kahakai National Historic Trail, also known as the King's Trail. This 175-mile trail weaves through hundreds of important cultural sites including sacred heiau (temples), Hawaiian fishponds, petroglyphs and other historic sites. You'll also find a variety of other amazing hikes including the Pololu Valley Lookout in North Kohala which leads to a black sand beach and guided hikes into lush Waipio Valley, known as the Valley of Kings.
Featured Hikes
Always hike safely and make sure to take advantage of all safety tips and guidelines. When hiking on the island of Hawaii, be sure to be prepared with these essentials:

- Good hiking shoes with tread
- Light pants to keep cool or shorts (but beware that you may get scratches from branches)
- Light shirt to keep cool
- Light rain jacket (especially if you are going into rainforests or valleys)
- Backpack with enough water, lunch and sunscreen (depending on length and intensity of hike)
- Mosquito repellent
- Cellphone

For longer, tougher hikes you may want to also include:
- Work gloves
- Sweater
- First Aid Kit
- Additional water and food
- Flashlight
- Compass
- Map

For safety reasons, DO NOT hike alone if at all possible, but if you must, make sure to tell someone where you are going. DO NOT drink water from freshwater ponds or streams you may encounter during your hike. Avoid entering streams or ponds with open cuts. Stick to the trail and follow trail head markers to avoid getting lost. With a little preparation, your hike on the island of Hawaii will reap unforgettable rewards.
Learn more about the State of Hawaii Trail and Access Program - Na Ala Hele
Learn more about trails in Hawaii Volcanoes National Park:
http://www.nps.gov/havo/index.htm

Learn more about the Ala Kahakai National Historic Trail (King's Trail):
http://www.nps.gov/alka/index.htm
Hiking and Guides on the Island of Hawaii