Island of Hawaiʻi Parks & Gardens
Hawaiʻi Volcanoes National Park may be the most popular visitor attraction in the state and a World Heritage Site, but the island of Hawaiʻi also boasts a multitude of beautiful state, county and historical parks.
Here's a look at the parks you'll find on the the island of Hawaiʻi:
Hāmākua
Kalōpā State Recreation Area: : Picnicking and easy family nature hike (0.​7-mile look trail) in native ʻōhiʻa forest at a 2,000 foot elevation. Trail passes through the beginnings of an arboretum of the island's native plants.
Mauna Kea Recreation Area: A 32-acre park with restroom facilities and playground area, located about half way between East and West Hawaiʻi on the Daniel K. Inouye Highway (also known as Saddle Road).
Hilo
Wailuku River State Park: Home to Boiling Pots, a succession of bubbling pools fed by Peʻepeʻe Falls, and the 80-foot Waiānuenue (Rainbow Falls).
Wailoa River State Recreation Area: Surrounds the Waiākea Pond and stretches along the banks of the Wailoa River in Downtown Hilo. Home to the newest King Kamehameha Statue (the original is located in Kapaʻau in North Kohala).
Liliʻuokalani Gardens: Authentic Japanese garden park features an arching footbridge, teahouse, manicured pathways and reflecting lagoons.
Laupāhoehoe Point Beach Park: Midway along the Hāmākua Heritage Corridor drive, this is a great place to picnic, and relax and explore tide pools.
ʻAkaka Falls State Park: A beautiful self-guided 0.4-mile loop trail to scenic points overlooking Kahuna Falls and the 442-foot ʻAkaka Falls.
Puna
Lava Tree State Monument: This 0.7-mile loop trail meanders through a forest of lava trees, created when a lava flow swept through an ʻōhiʻa forest in the 18th century.
Ka'ū
Hawaiʻi Volcanoes National Park: Established in 1916, this is the home of Nāhuku (Thurston Lava Tube), Halemaʻumaʻu Crater (home of Pele) and Kīlauea, one of the world's most active volcanoes.
Manukā State Wayside: Part of the larger Manukā Natural Area Reserve, this is an excellent example of mid- to lowland native mesic forest.
Kahuku Unit: Part of the Hawaiʻi Volcanoes National Park on the slopes of Maunaloa, entrance to the Kahuku Unit is near mile-marker 70.5 on Highway 11 (in Kaʻū), a one hour drive from Kīlauea Visitor Center. Check the website for current days/hours of operation.
Kona
Kealakekua Bay State Historical Park: A small monument commemorates the spot where Captain James Cook, supposedly the first Westerner to discover the Hawaiian Islands, first set foot on the island of Hawaiʻi Great area for kayaking and snorkeling.
Kaloko-Honokōhau National Historical Park: A 1160-acre park established in 1978 for the preservation, protection and interpretation of traditional Native Hawaiian activities and culture.
Puʻuhonua o Hōnaunau National Historical Park: This sacred place of refuge preserves Royal Grounds, heiau (temples) and other historic artifacts along the Kona Coast.
Kekahakai Beach Park (Kona Coast State Park): Located just a few miles north of the airport, features the white sands of Kekahakai Beach and the small crescent cove of Mahai'ula Beach.
Laʻaloa

Beach Park (White Sands Beach Park):
Also known as Disappearing Sands or Magic Sands, this white-sand beach is located on
Aliʻi
Drive just south of Kailua-Kona. This small beach may disappear overnight due to tidal shifts or strong surf, but always returns.
Kohala
Lapakahi State Historical Park: Take a self-guided tour and learn about early Hawaiian life by viewing partially restored remains of this ancient coastal settlement.
Puʻukoholā National Historic Site: Home to the largest heiau in Hawaiʻi built by King Kamehameha in his quest to unite the islands.
Hāpuna

Beach State Recreation Area:
A large, white sand beach located on the Kohala Coast.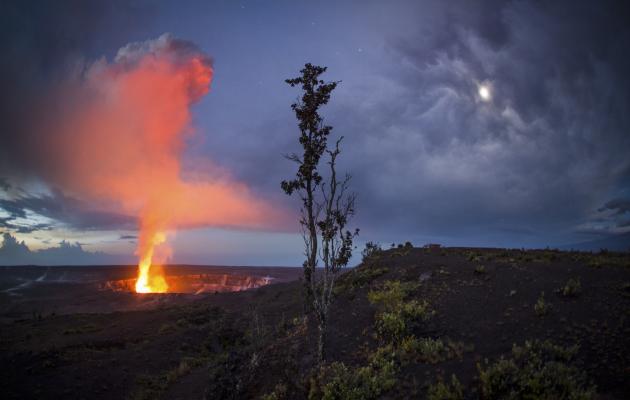 Hike across lava fields, peer into a boiling caldera and learn about the formidable power of volcanoes at this geological wonder.
More
Featured Parks & Gardens