Get a glimpse of Hawaii's thriving hula tradition during your visit to Kauai. The dance, accompanied by a chant or percussive elements, preserves the traditions and culture of Hawaii. Hula has a special meaning to Kauai, as the island's legends suggest that the art form began on its shores. At Keahualaka on the Napali Coast, a fabled Hawaiian love story unfolded. When Lohiau, a handsome mortal Kauai chief, danced before the volcano goddess Pele, the two fell passionately in love. Today, hula dancers still come to this sacred spot to demonstrate their skills.

You can see hula on Kauai at seasonal festivals, events, competitions, live performances and luau (although the latter often mixes traditional Hawaiian dances with those of other Polynesian cultures). Hula is taught by a kumu hula (hula teacher) in a halau hula (hula school), but visitors can take free hula lessons offered at various locations around Kauai, including some hotels and resorts.

Kauai has many fantastic luau venues where you can watch hula performances and learn more about Polynesian and Hawaiian cultures, including the Grand Hyatt Kauai Luau at the Grand Hyatt Kauai Resort and Spa on the South Shore. Or check out the Smith Family Garden Luau in Kapaa and the Luau Kalamaku in the historic Kilohana Plantation.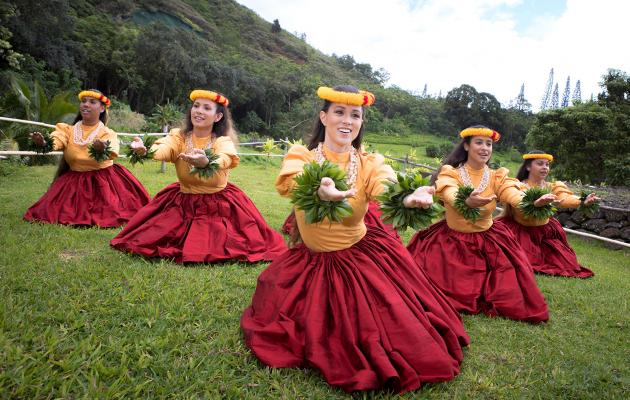 Learn more about the tradition of Hula on the Hawaiian Islands in the site's Culture section.
More