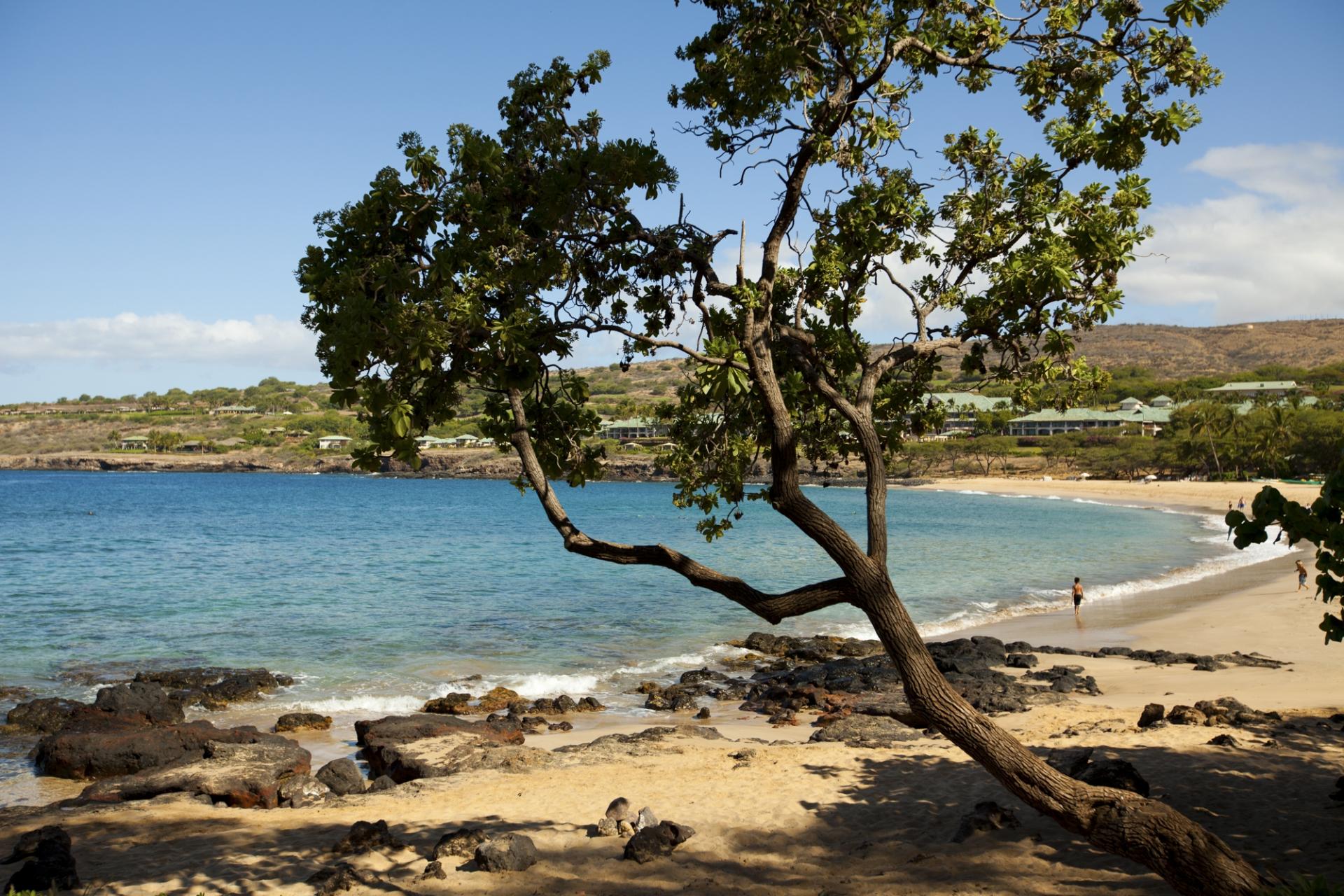 What: Fronting the Four Seasons Resort
Lānaʻi
, named one of America's best beaches
Where: Follow
Mānele
Road south to the coast
More Info: Restroom and picnic facilities available, NO lifeguards are present at this beach
The pristine beauty of
Hulopoʻe
Bay earned
Hulopoʻe
Beach the title of America's best beach in 1997 from Dr. Stephen Leatherman (Dr. Beach). Located on
Lānaʻi
's southern coast,
Hulopoʻe
Bay greets you with a stunning expanse of pearl-white sand and crystal blue waters.
Most of the year, this protected bay fronting the luxurious
Four Seasons Resort

Lānaʻi
is the best spot on the island for snorkeling and swimming. Summer conditions are especially prime for swimming. Surf and current tend to pick up during the winter months, though, so swimmers should avoid rough conditions during that season. Open to the public,
Hulopoʻe
Beach Park also has a great beach park complete with picnic tables, barbecue grills, restrooms and showers.
One of the highlights of
Hulopoʻe
Bay is its large tide pools located at the eastern side of the bay. Carved out of volcanic rock, these tide pools are well protected, keeping the waters calm for exploring. Tide pools are created when rocky shores are covered and then exposed by the fluctuating tide. Small organisms adapt to this changing landscape, and many hermit crabs, sea stars,
ʻopihi
(limpet) and small fish dwell here.
As a protected site, rich with marine life, visitors are asked to leave every stone and shell in its place. This helps preserve the bay for
Hawaiʻi
's colorful, native fish and sea life. Acrobatic spinner dolphins can often be seen in
Hulopoʻe
Bay
(it is highly discouraged to chase any dolphins that come into the bay, please let them be and just enjoy the view)
, while the winter months bring visits from humpback whales.
Be sure to take a 15- to 20-minute hike along the cliffs just southeast of the tide pools to view the
Lānaʻi
landmark
Puʻu

Pehe
. Legend says a heartbroken warrior jumped from this 80-foot summit, rising from the sea, overcome with grief after his wife's passing.