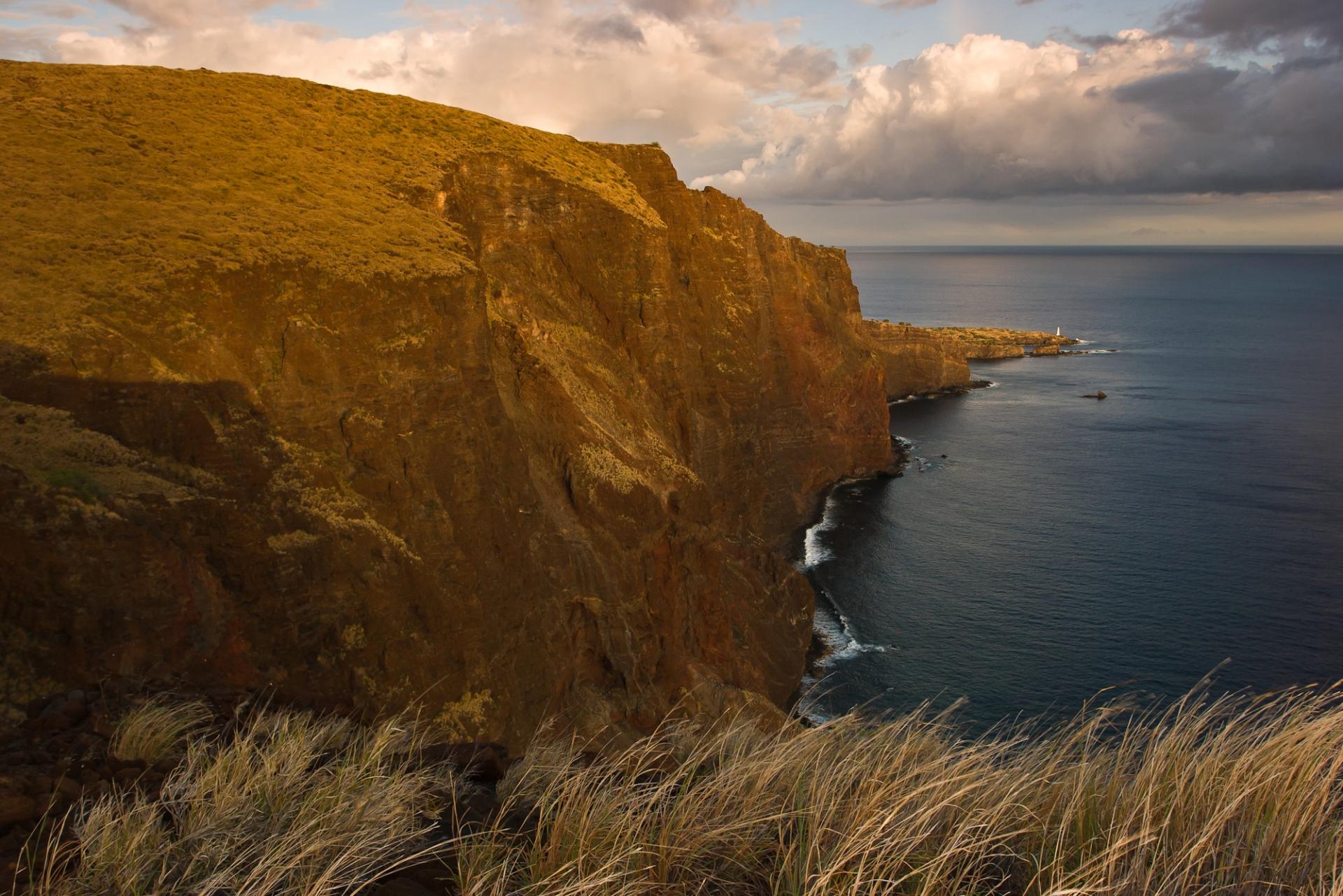 Located on the southern tip of Lānaʻi, Kaunolū Village was a fishing village until the 1880s, when it was abandoned. Back in its day, the village was a favorite fishing spot of King Kamehameha I and was where he retreated to after conquering Maui, Molokaʻi and Lānaʻi. Now the largest surviving ruins of a prehistoric Hawaiian village, the site was designated a U.S. National Historic Landmark in 1962 and added to the National Register of Historic Places in 1966.
Here you'll find a spectacular view of Lānaʻi's southern sea cliffs, the remains of Halulu heiau (sacred temple), petroglyphs and "Kahekili's Leap," where warriors would demonstrate their bravery by diving off a 60-foot cliff. The cliffs to the west of "Kahekiliʻs leap" are called Palikaholo. The highest point (nearly 1000ʻ above sea level) is called Kāhilikālani and is descriptive of the grasses at the top of the cliff brushing the heavens.
The leap itself, or lelekawa was associated with a Lānaʻi person named Kahekili, who predates the Maui chief by the same name. In addition to the bravery and loyalty aspect of its use, it was also used to determine guilt or innocence. Someone accused of wrong doing could be required to jump. If they were uninjured it indicated they were innocent. If injured, it showed their guilt. Also, the leap was a leina, or leina-a-kaʻuhane, a place where spirits left this earthly realm to the next.
The little islet that juts out of the water in the bay is known as Moku Noio, which references the native bird of this area. This is a sacred place, so please be respectful.
To get to Kaunolū Village you'll need a four-wheel drive vehicle. Take Hwy. 440 west of Lānaʻi City toward Kaumālapa'u Harbor. Go past the airport turnoff and take the next left on Kaupili Rd., an unmarked dirt road. Travel approximately 2.5 miles until you see the heritage site sign and boulder below saying Kaunolū. Turn right on this rocky road, which descends downhill about 3 miles to Kaunolū Village.
Since most of Lānaʻi's roads are unpaved, be sure to utilize the free downloadable
Lānaʻi Guide app
for driving directions.