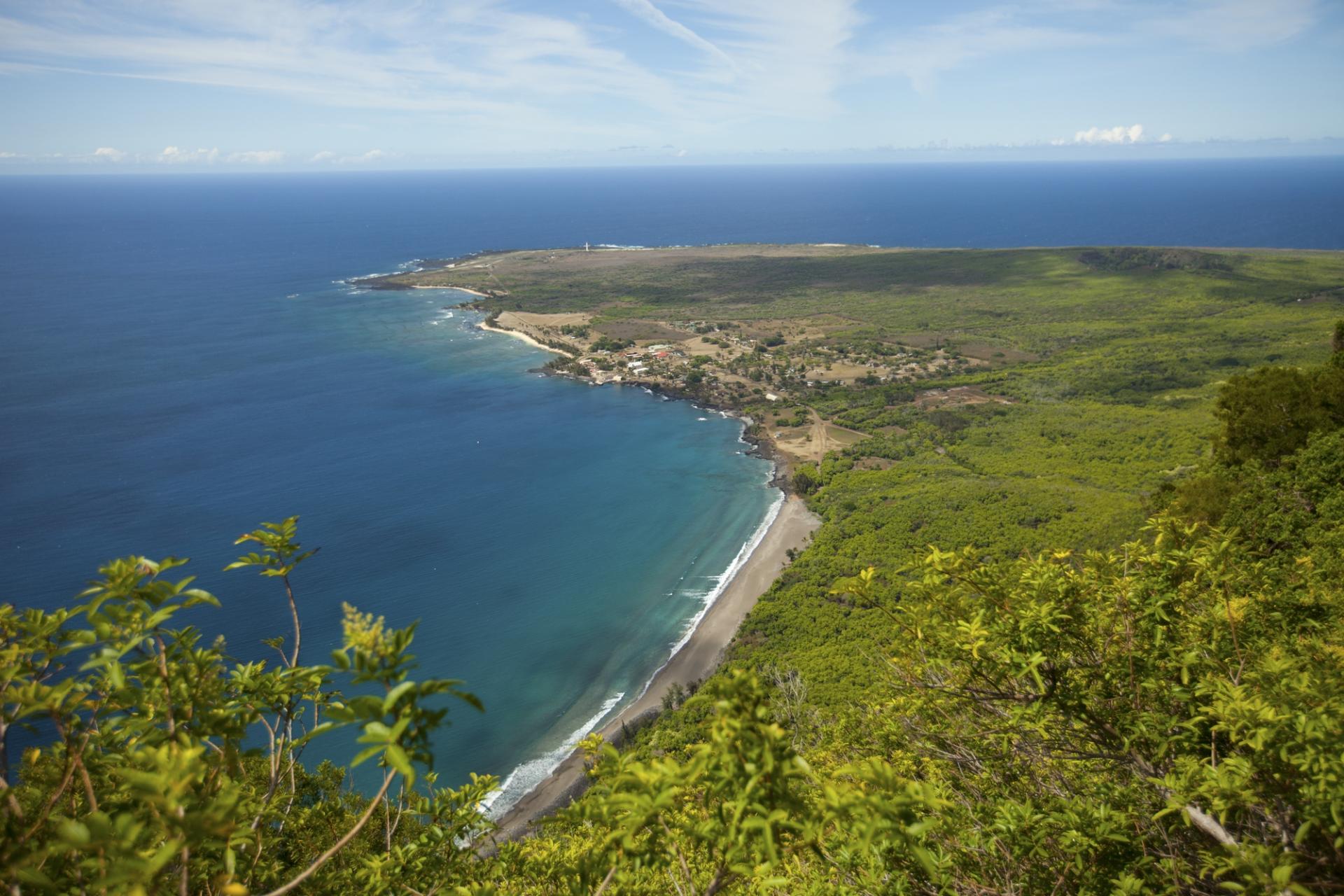 Kalaupapa National Historical Park
What: Historic site accessible by scenic mule ride
Where: On the northern tip of Molokaʻi

It's quiet as you ride on your mule along the 2.9-mile trail to Kalaupapa Peninsula. The sheer cliffs overlook the Pacific, descending from 1,700 feet with Molokaʻi's North Shore Pali just to the east—the tallest sea cliffs in the world as recorded by the Guinness Book of World Records, measuring 3,600 to 3,900 feet.
Three miles, 26 switchbacks and 90 minutes of magnificent views later, you're back to sea level in the historic town of Kalaupapa, one of the most remote settlements in Hawaiʻi. It's scenic, isolated and peaceful here, but the story of Kalaupapa National Historical Park is even more compelling.
This special community was once home to Belgian missionary Saint Damien and later, to Saint Marianne Cope. In 1873, Father Damien chose to leave the "outside world" to care for the residents with Hawaiʻi's Hansen's disease who were exiled to this isolated peninsula. After 16 years of faithful service, he too, tragically succumbed to the disease and was laid to rest at historic St. Philomena Roman Catholic Church in Kalaupapa where you can visit his grave. In October of 2009, Father Damien was canonized as a saint for his selfless dedication.
A few months before Saint Damien's death, a woman of extraordinary spirit came to Kalaupapa to continue his life's work. Mother Marianne Cope had been the head of her religious order, an accomplished hospital administrator at the St. Joseph's Hospital in New York, and oversaw several hospitals and care homes in Hawaiʻi. At Father Damien's request, she and her Franciscan sisters volunteered to live out their lives in the exiled community, operating the Boys' Home he established and the Bishop Home for Girls. The beloved Mother died in 1918 of natural causes. Her remains were buried on the grounds of the Bishop Home and returned to Syracuse, New York in 2005.
Mother Marianne was canonized as Saint Marianne Cope on October 21, 2012. A bronze statue in her honor overlooks the ocean at Kewalo Basin Park in Honolulu.
Today, the serene Kalaupapa National Historical Park is a place of preservation and education and is only accessible by mule ride, hiking tour or airplane from the small commuter Kalaupapa Airport (LUP). Kalaupapa cannot be reached by car. To take a Kalaupapa tour, make a reservation in advance with Damien Tours, (808) 567-6171. For mule ride information, call Kalaupapa Mule Tour at (808) 567-6088. To reserve flights to Molokaʻi, contact Makani Kai Air (877) 255-8532 or Mokulele Airlines (866) 260-7070.
You can also view Kalaupapa Peninsula from the 1,000-foot elevation of Pālāʻau State Park. This 34-acre recreation area offers winding trails among eucalyptus and ironwood trees as well as breathtaking views of Molokaʻi's north coast.

For more information, visit the Kalaupapa National Park site.