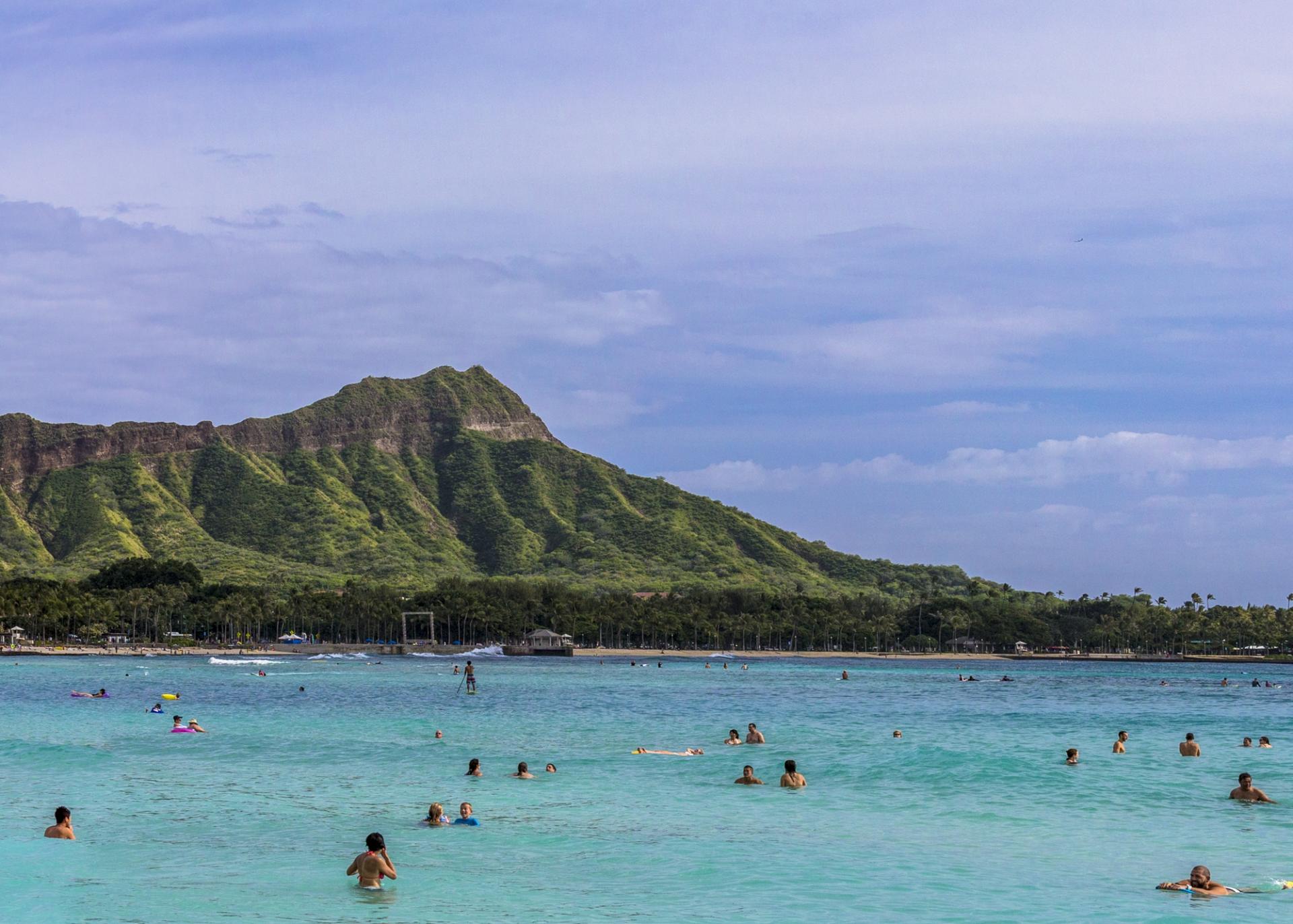 What: Iconic state monument with a panoramic view of Honolulu
Where: Five minutes east of Waikiki
The iconic silhouette of Diamond Head State Monument sits along the Honolulu skyline just beyond
Waikiki
. This 760-foot tuff crater is one of Hawaii's most famous landmarks.

History of Leahi
Known as Leahi (brow of the tuna) in Hawaiian, the crater was named Diamond Head by 19th century British sailors who thought they discovered diamonds on the crater's slopes. These "diamonds" were actually shiny calcite crystals that had no value. Formed more than 100,000 years ago, the crater was used as a strategic military lookout beginning in the early 1900's and was named a National Natural Landmark in 1968. Today, Diamond Head is a popular
hiking
destination with panoramic views of Waikiki and Oahu's south shore.

Visiting Leahi
It only takes a short drive or bus ride to get to Diamond Head Crater from Waikiki. This moderately challenging trail includes two sets of stairs, totaling 175 steps, as well as dark, underground tunnels and old military bunkers that require a flashlight. The stunning views that greet you at the top of Diamond Head are well worth the effort.
If you plan to hike on Saturday morning, don't forget to stop by the Kapiolani Community College Farmer's Market—Oahu's premier farmers market showcasing locally grown food and produce—across the street from the monument entrance on Monsarrat Avenue. In fact, there are a few notable cafes and restaurants lining Monsarrat that will make for a great pre- or post-Diamond Head meal.

Leahi Visitor Information
[
NOTICE:
Complete closures of Diamond head summit trail are taking place between late October into late November 2017 due to rockfall mitigation work. For more information, see the
DIVISION OF STATE PARKS WEBSITE
]
Open daily, 365 days a year, from 6 a.m. to 6 p.m., including holidays. Parking at Diamond Head State Monument is limited. To avoid the crowds, visit the monument in the afternoon between the hours of 1 and 4 p.m. Last entrance to hike the trail is 4:30 p.m. Admission is $5 per cars and $1 per pedestrian.