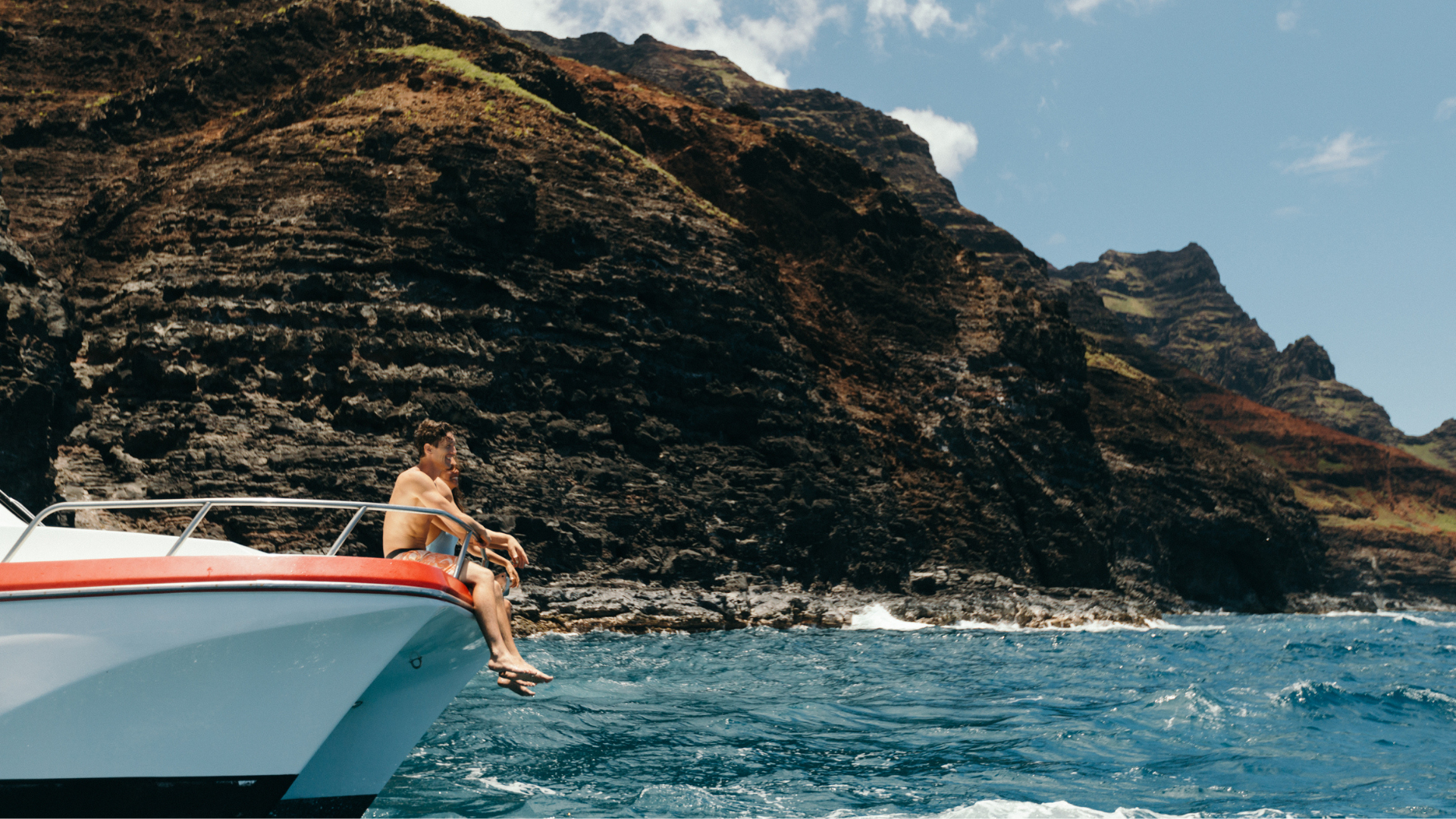 Five Ways to Holiday on Kauaʻi
Kauaʻi

, the northernmost and oldest island in the Hawaiian chain, is a natural spectacle of white sandy beaches, tall sea cliffs, deep canyons and waterfall-filled rainforests.

Kauaʻi

is the perfect tropical vacation destination renowned for romantic things to do, soft adventure, rare attractions, locally made products and Hawaiian cultural experiences.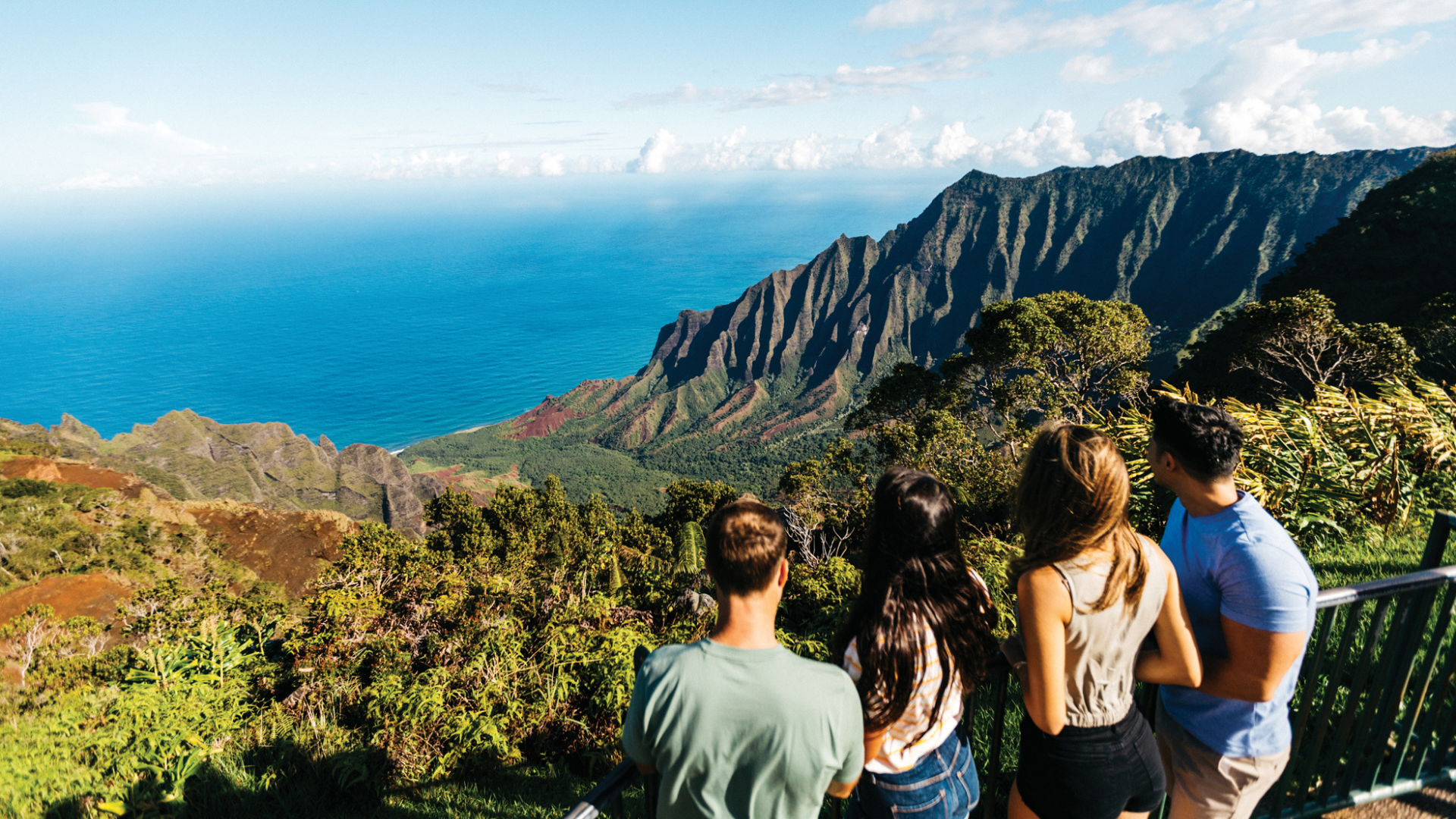 Pā'ani (Play) for Couples
Kauaʻi's natural landscapes form the backdrop to lots of fun and memorable activities.
The island of Kauaʻi has over 70 remarkable beaches to choose from, including the lengthiest beach in Hawaiʻi. With ocean safety top of mind, it's best to swim only at the lifeguarded beaches. For all others, take long walks on the beach with your loved one.
Kauaʻi is ideal for zipline (flying-fox) tours, thanks to a lush island interior best viewed aerially. Kauaʻi ATV has enhanced this activity with Sky Bike. Participants can pedal bicycles (rather than fly in a harness) side-by-side over parallel zip lines suspended above the Waita Reservoir.
If you prefer your bike wheels to touch the ground, try biking the Ke Ala Hele Makālae path along the Royal Coconut Coast on Kauaʻi's east side. Pick up beach cruisers at Hele On Kauaʻi bike rentals in Kapaʻa and savour the picturesque delights of this coastal paved pathway.
The Wailua River is the only navigable river in Hawaiʻi. Winding almost 20 km through Kauaʻi, this waterway lends itself well to tandem kayak excursions. Book a guided eco-adventure with Aliʻi Kayaks; it combines paddling on the river with a muddy trail hike through a rainforest.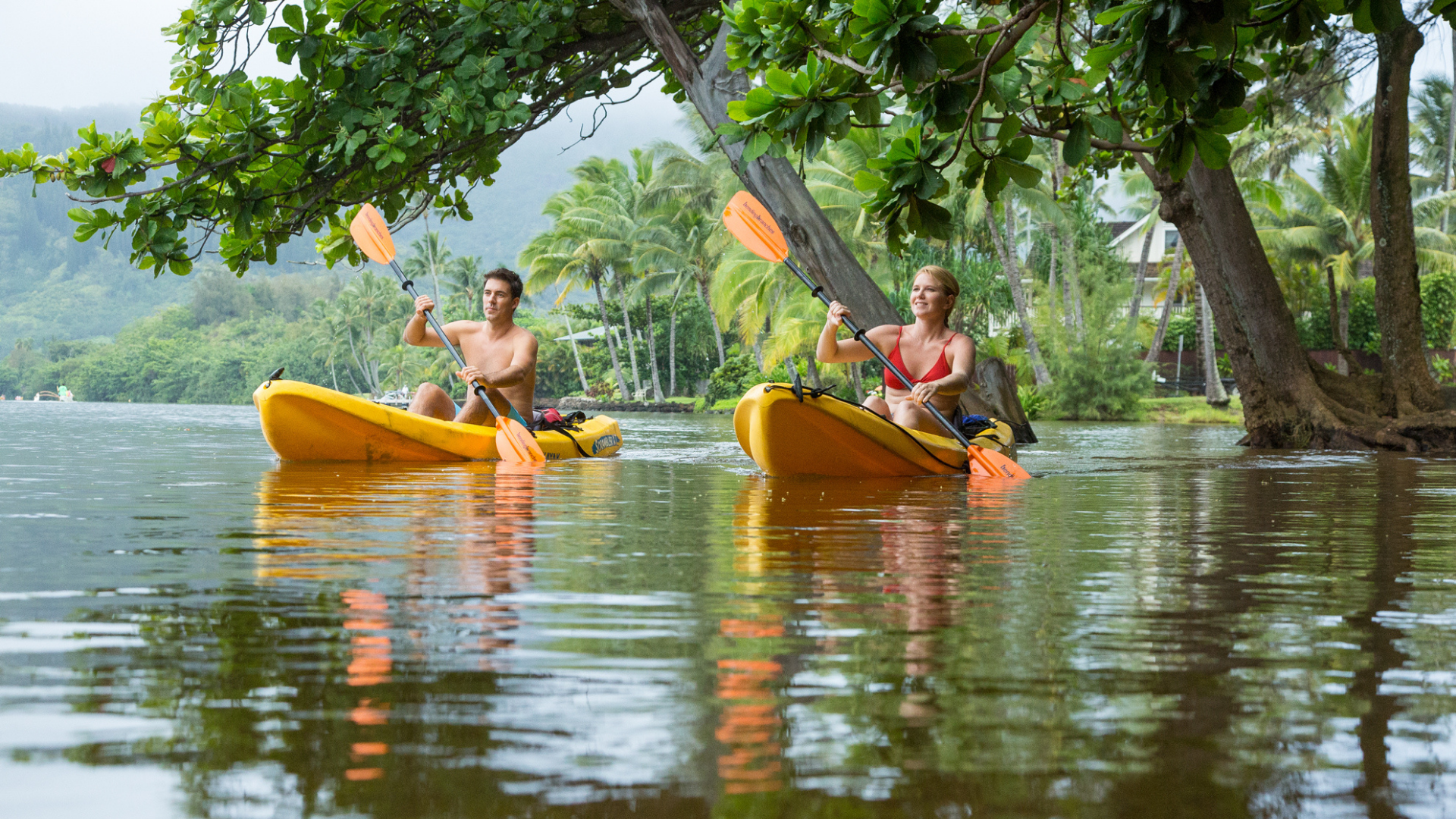 An assortment of feel-good pursuits are available across the island of Kauaʻi.
Kauaʻi is the perfect place to pamper yourself; almost every resort on the island features a full-service spa! Wellness packages featuring massage therapy and body treatments await at standout spas like Anara Spa at the Grand Hyatt Kauaʻi Resort and The Spa at Koa Kea Hotel & Resort.
The National Tropical Botanical Gardens encompass three magical green spaces on Kauaʻi - Allerton & McBryde Gardens and Limahuli Garden & Preserve. Let an interpretive guide take you on a journey through each tropical paradise to learn more about Hawaiʻi's native plant species.
Travellers can support the health of their mind, body and spirit with a memorable beachside yoga session. Kauaʻi Yoga on The Beach offers daily sunrise yoga on the oceanfront lawn at Kauaʻi Beach Resort and daily mid-morning yoga on the sands of Kauaʻi Shores Hotel.
Hawaiʻi has loved the slack key guitar ever since it was first introduced by the Spanish and Mexican cowboys in the 1800s. McMaster Slack Key Guitar & 'Ukulele often host slack key guitar concerts on the island of Kauaʻi. Secure your ticket, sit back and enjoy the acoustic tunes.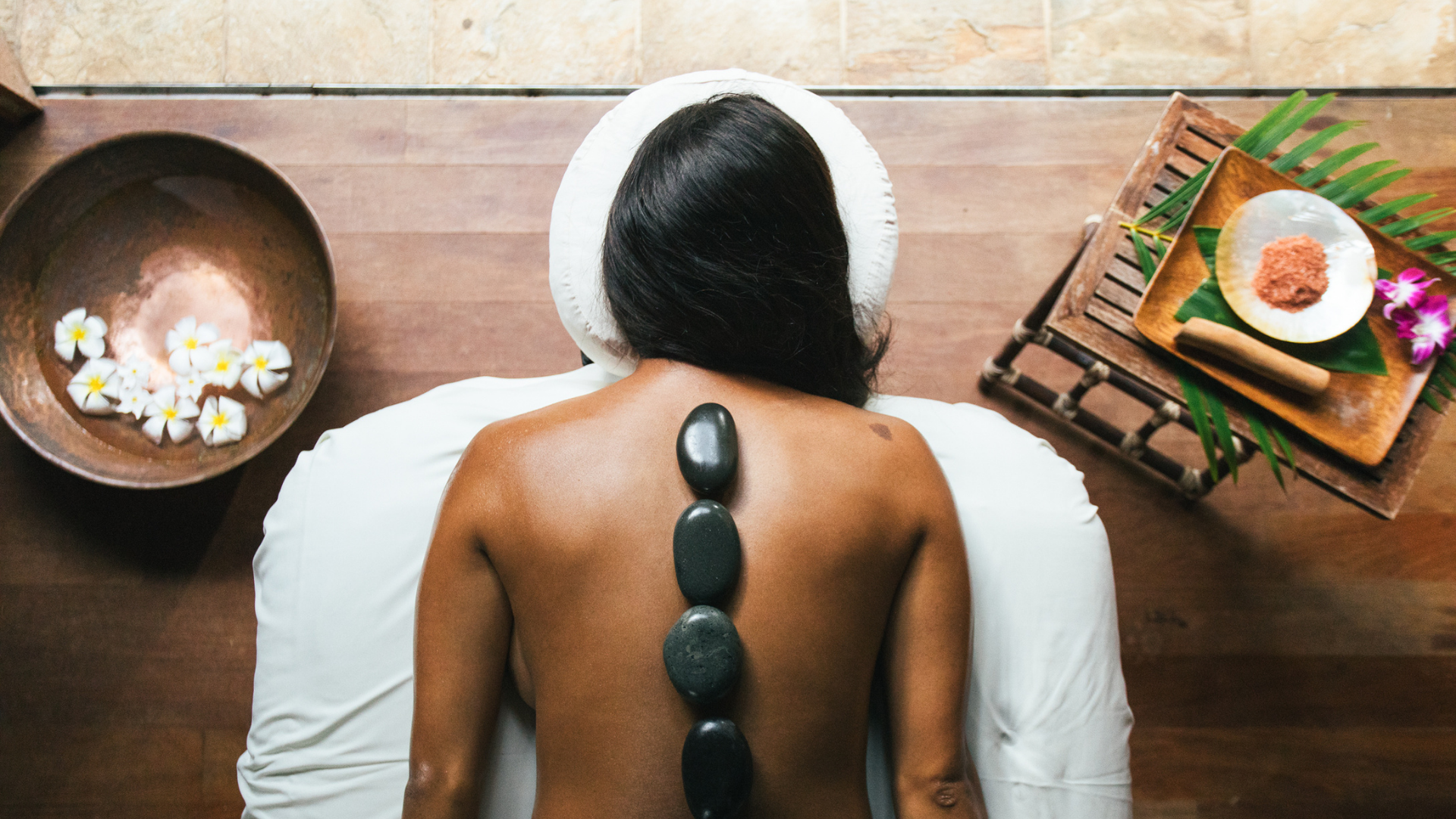 Kauaʻi's major attractions are absolutely breathtaking, get your camera ready!
The west side of Kauaʻi features an extraordinary coastline, 27 km of soaring sea cliffs rising up to 1.2 km from the ocean. This exquisite Nāpali Coast scenery can be witnessed on a catamaran, sailing boat or ocean raft tour. Keep your eyes open for humpback whales (Dec-Apr).
Nicknamed the 'Grand Canyon of the Pacific', Waimea Canyon is one of Kauaʻi's most striking geological landscapes. This large, red rock canyon is rich in scenic lookouts and hiking trails. While in the area, visit the Kōkeʻe Natural History Museum to get an overview of the area's history.
Kauaʻi houses the only tubing activity in Hawaiʻi. Kauaʻi Backcountry Adventures offers a Mountain Tubing Adventure down the ditches and tunnels of the historic Līhuʻe Plantation. Hop into an inflatable ring and float along the waterways that once irrigated the sugar plantation crops.
The majority of Kauaʻi is rural land that's inaccessible by road, making helicopter tours a great way to witness the island's beauty - especially all the waterfalls! Blue Hawaiian Helicopters Kauaʻi Eco Adventure can take you over the stunning Manawaiopuna Falls, aka 'Jurassic Park' falls.
Immerse your tastebuds in some of Kauaʻi's best homegrown foods and beverages.
Get to know the real Kauaʻi on a food tour led by a local foodie. Tasting Kauaʻi Food Tours aims to give patrons an inside view of the culture and history of the island through a culinary lens. Tours include tastings at specialty food stores, famous local restaurants and food trucks.
If you fancy rum, you'll love Kauaʻi! The only distillery on the island, Kōloa Rum Company, creates premium rum using local ingredients like Hawaiian cane sugar and pure mountain rainwater. Sample it at Kilohana Plantation, in the Tasting Room or on a two-hour Rum Safari.
No trip to Kauaʻi would be complete without a tropical cocktail from a tiki bar. Order the World Famous Tahiti Nui Mai Tai at the iconic Tahiti Nui (as featured in The Descendants movie) or the Hawaiian Typhoon, made with three types of Hawaiʻi spirits, from the quirky outdoor bar Mamahune's.
Hawaiian shave ice, a dessert made with fine ice block shavings, syrups and other sweet ingredients, is found in ample supply on Kauaʻi. Create your custom flavoured cup at one of three JoJo's Shave Ice stores located in Waimea, Hanalei or Kapaʻa on the island of Kauaʻi.
Explore Hawaiʻi's native roots through Kauaʻi's museums, sacred sites and cultural activities.
The history of Kauaʻi, including the royal family of Kauaʻi and Niʻihau, is well-documented throughout the exhibits and galleries at Kauaʻi Museum. Add this stop in Līhuʻe to your itinerary - ideally, on a Monday, Wednesday or Friday at 10am to join a guided tour.
Traverse the Māhāʻulepū Heritage Trail, a 3.2 km coastal path starting at Shipwreck Beach and ending on Punahoa Point in Kauaʻi's south. You'll uncover a heiau, an ancient Hawaiian sacred site, and Makauwahi Cave, one of Hawaiʻi's most important archeological sites.
Just a short walk from Kauaʻi's Poʻipū Beach is the Kāneiʻolouma Heiau & Hawaiian Village Cultural Site. Seek out this historical Hawaiian complex to see sacred gathering sites, fishponds, taro patches, aqueduct and irrigation systems as well as a natural amphitheatre.
The most popular cultural activity in Hawaiʻi is a luau, a Hawaiian celebration and feast. Two unforgettable options are the Lūʻau Ka Hikina at Sheraton Kauaʻi Coconut Beach or the Smith Family Garden Lūʻau in Wailua River State Park.