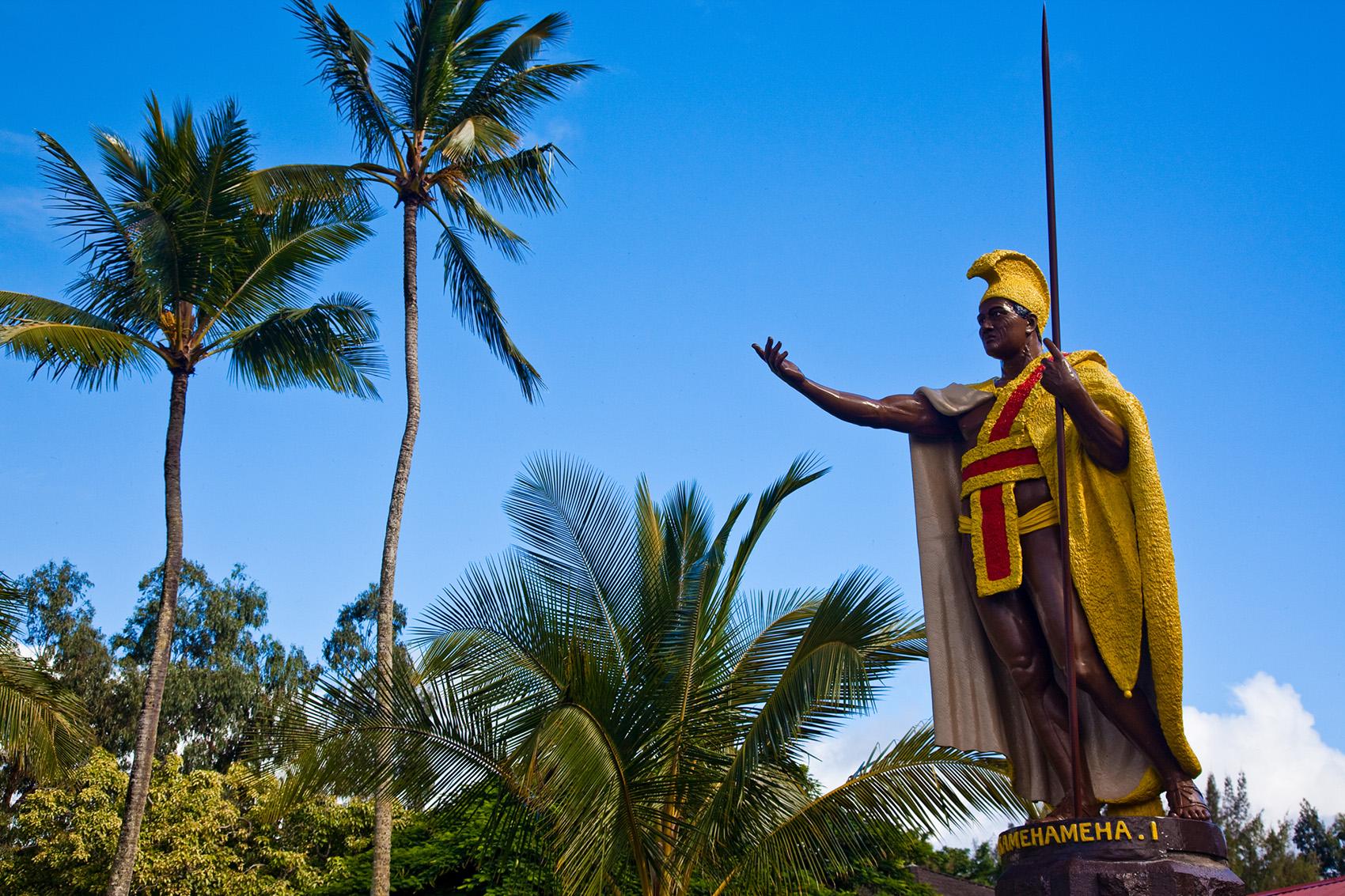 Statues of Hawaiian Heroes
Heroes of Hawaiʻi and their Statues
King Kamehameha I, Saint Damien, Saint Marianne and Duke Kahanamoku were heroic figures in
Hawaiʻi
's history. They are honored today with iconic
Hawaiʻi
statues.

King Kamehameha I
Kamehameha was born in North Kohala on the island of
Hawaiʻi
. He united the Hawaiian Islands into one royal kingdom in 1810 during a time of increasing western influence. His legendary strength and ferocity as a warrior was tempered by his diplomatic skill and his love for the Hawaiian people.
There are four commissioned statues of King Kamehameha.
Perhaps the most well-known statue
stands in front of
Aliʻiōlani
Hale (across from
ʻIolani

Palace
) in Downtown Honolulu on the island of
Oʻahu
. The second (original) is located
near his birthplace
in front of the North Kohala Civic Center on the island of
Hawaiʻi
. The third stands in Wailoa River State Park in Hilo on the island of
Hawaiʻi
. The last statue can be found in National Statuary Hall in Washington D.C.

Saint Damien
In 1873, Belgium priest Father Damien arrived in
Molokaʻi
. Islanders afflicted with the contagious Hansen's disease were kept segregated here on the isolated
Kalaupapa
peninsula. After sixteen years of selflessly caring for the people of Kalaupapa, Father Damien himself succumbed to the disease. His selfless acts have earned him sainthood status and he was canonized in Rome in October 2009.
His three
Hawaiʻi
statues are located in front of the State Capitol in
Downtown Honolulu
on the island of
Oʻahu
, in front of St. Joseph's Church on
Molokaʻi
and in National Statuary Hall in Washington D.C.

Blessed Saint Mariane Cope
Father Damien was not alone in his passion to provide care for Hansen's disease victims in
Hawaiʻi
. Mother Marianne Cope was head of her religious order and had already proven herself as a capable administrator at the St. Joseph Hospital in Syracuse, N.Y. when she and other Sisters of Saint Francis answered a request from King
Kalākaua
and traveled to the islands in 1883. A year after her arrival, she was asked to oversee the Branch Hospital in
Kakaʻako
on
Oʻahu
and in the same year, she established the Malulani Hospital on Maui. In 1885, Mother Marianne founded the
Kapiʻolani
Home for homeless girls who were left behind when their parents with Hansen's disease were exiled to the remote peninsula of Kalaupapa,
Molokaʻi
. In 1888, a few months before the death of Father Damien, Mother Marianne joined him in Kalaupapa where she not only carried on his life's work, but also implemented many innovations of her own.
Mother Marianne was canonized on October 21, 2012. Her remains were moved to Syracuse, New York, in 2005 and returned to Our Lady of Peace Cathedral in Honolulu,
Hawaiʻi
, in July 2014. Today, her bronze statue overlooks the ocean at Kewalo Basin Park in Honolulu.

Don Ho
Born in the Honolulu neighborhood Kakaʻako in 1930, Don Ho grew up to become Hawaiʻi's most famous entertainer. After graduating from the University of Hawaiʻi in 1953, Ho joined the Air Force, where he flew fighter jets and earned the rank of first lieutenant. He returned to Honolulu and began his musical career at his mother's Kāneʻohe lounge Honey's, drawing a following with his fun and laid-back style. Eventually he was offered a residency at the showroom at Duke Kahanamoku's Club, performing for packed houses three times nightly. Ho became the must-see musician in Waikīkī, attracting record-number audiences of Hawaiʻi residents and international visitors. His 1966 hit "Tiny Bubbles," earned him a national recording contract as well as several best-selling albums, tours, television appearances and his own namesake variety show on ABC.

Designed by O'ahu-based artist Kim Duffett, the bronze statue of Ho is located beneath a historic banyan tree at Waikīkī's International Market Place, positioned to welcome guests as they enter the shopping center from Kalākaua Avenue. The spot is fitting, as Ho played his popular show to sell-out crowds at Duke's nearby for many years. The statue depicts Ho in the 1970s, conveying the warmth, charisma and carefree aloha that made him beloved worldwide throughout his prolific career.

Duke Kahanamoku
Duke Kahanamoku's legendary swimming ability helped him to win five Olympic medals in the early 1900s. He was also one of the first Waikīkī Beach Boys, watermen who taught first-time visitors to Oʻahu how to surf and canoe. Later in life, Duke went on to spread the popularity of surfing and the spirit of aloha to the world. His statue, which is on Kūhiō Beach facing lively Kalākaua Avenue, welcomes all visitors to Waikīkī with open arms.

Note: Tossing lei onto outstretched arms of statues is discouraged due to the acidity of the flowers on the bronze material.