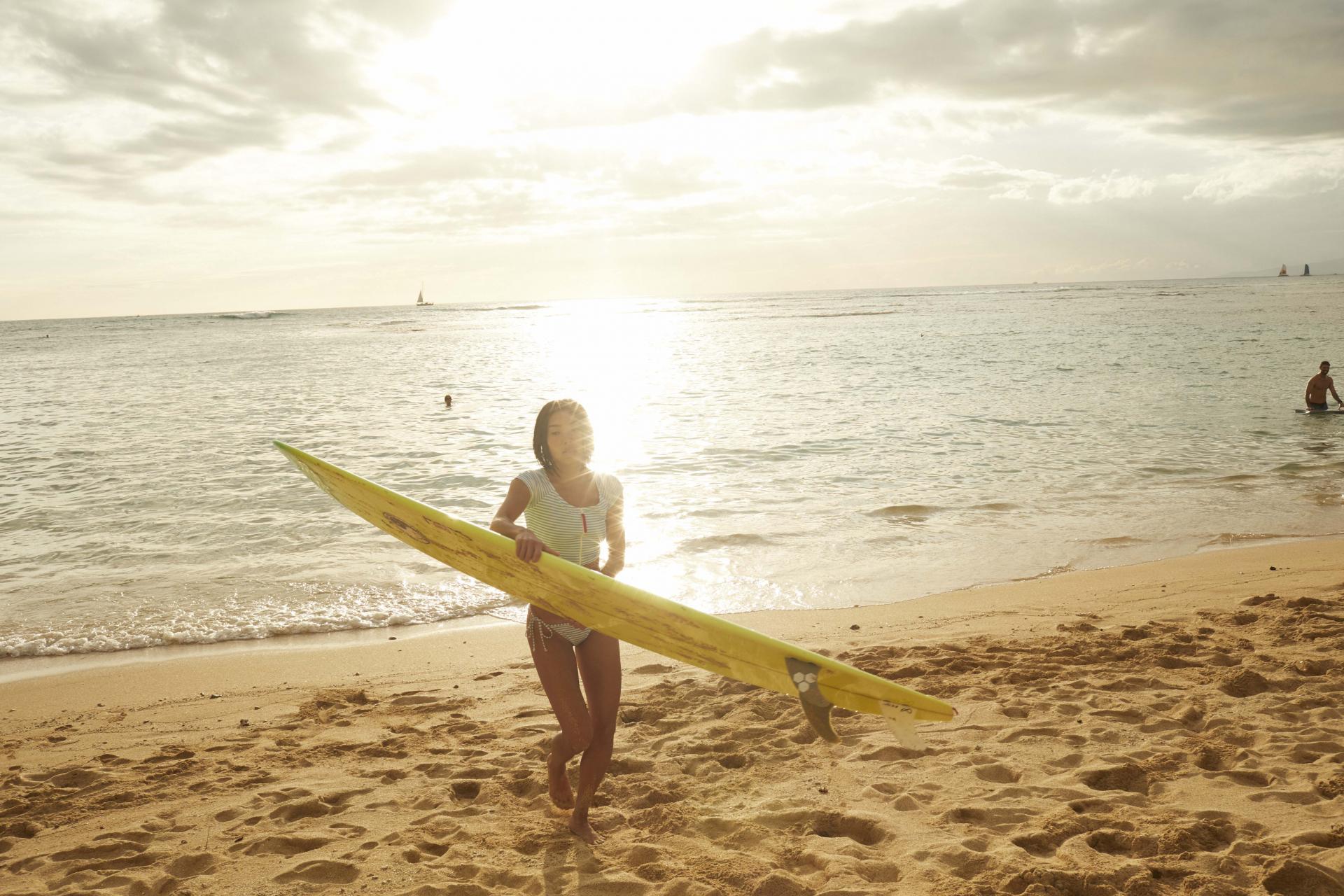 As any local will tell you, your first taste of surfing, or heʻe nalu in Hawaiian, is something you never forget. From the gentle, beginner-friendly waves of Poʻipū and Kalapakī to the wild North Shore breaks that attract world champions in the winter months (and should not be attempted by inexperienced surfers because of their extreme danger), Kauaʻi is a surfing paradise set against some of the most majestic scenery on earth.
Believed to have originated in ancient Polynesia, surfing was once reserved for Hawaiian aliʻi, or royalty—giving it the nickname "the sport of kings." In the 20th century, surfing surged in popularity, spreading from Hawaiʻi's shores around the world.

You can feel the exhilaration of catching a wave by taking a lesson at surf schools and resorts around Kauaʻi. Experienced instructors will take you to safe breaks and get you on your feet during lessons that last 1–2 hours. If you're not quite ready to brave the waves yourself, watch seasoned surfers charge massive swells on the North Shore during big wave season (November–February) from the safety of the beach.

Kitesurfing, body surfing and stand-up paddleboarding are other popular activities, and outfitters can be found on many of Kauaʻi's more popular beaches.


Explore the many beautiful beaches of Kauaʻi and find the right one for your trip.
More
showing 1 - 2 of 2
Kauai Beach Boys
Summary or Description (Profiles)
Kalapaki Sunset Catamaran Cruise Join the legendary Kauai Beach Boys aboard our new 50-foot catamaran on [...]
Poipu Beach Surf School
Summary or Description (Profiles)
Poipu Beach Surf School is owned and operated by professional waterman and former pro bodyboarder Doug [...]