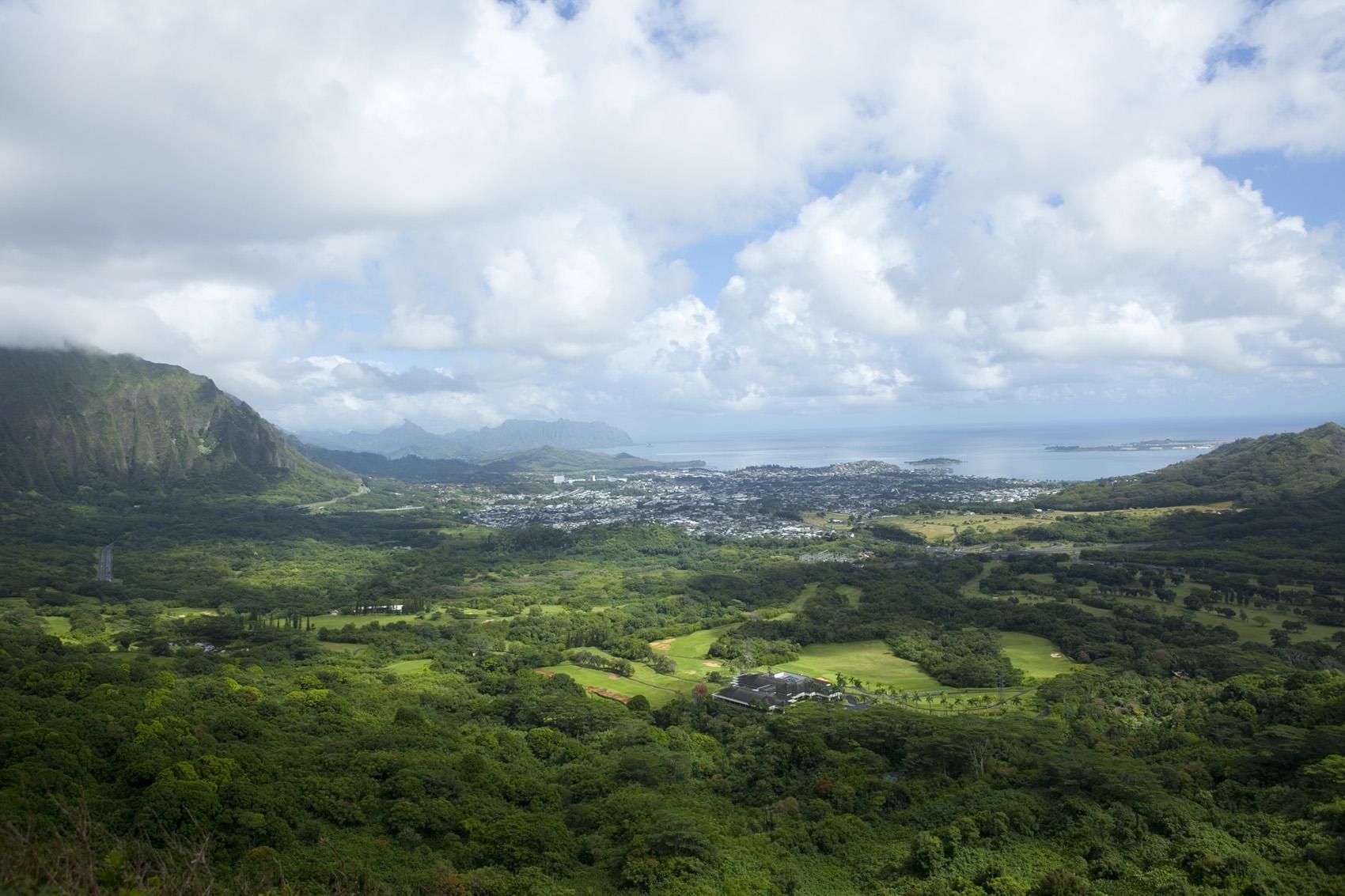 Nuʻuanu Pali Lookout, Oʻahu
What: Historical landmark and scenic spot with panoramic views
Where: Pali Highway between Honolulu and Kailua
Additional Info: More Info: No entry fee, $7 for cars
Just a five-mile drive northeast of
Downtown Honolulu
, the
Nuʻuanu
Pali Lookout offers panoramic views of the sheer
Koʻolau
cliffs and lush
Windward Coast
. Driving up the Pali Highway through tall trees and dense forests to get to the lookout, you'll see the city disappear and the tranquil beauty of
Hawaiʻi
's natural landscape emerge.
Perched over a thousand feet above the
Oʻahu
coastline amid mountain peaks shrouded by clouds, the stone terrace overlooks the areas of
Kāneʻohe
and Kailua,
Mokoliʻi
, and the University of
Hawaiʻi
's marine biology research center, Coconut Island. Other notable landmarks that can be seen are
Hawaiʻi
Pacific University's Windward campus,
Kāneʻohe
Marine Corps Base and the
Hoʻomaluhia
Botanical Garden, which is part of the Honolulu Botanical Gardens.
After you've soaked in the view, continue through the Pali Tunnels to Windward
Oʻahu
. As you near the bottom you'll face a "tough" decision: go straight to the buzzing beach town of Kailua or turn left through
Kāneʻohe
and follow the lush coastline to
Haleʻiwa
and Waimea Bay on
Oʻahu
's famed North Shore.
The Pali Lookout is a site of deep historical significance. Named "Pali" meaning "cliff" in Hawaiian, the Pali Lookout is the site of the Battle of
Nuʻuanu
, where in 1795 King Kamehameha I won the struggle that finally united
Oʻahu
under his rule. This fierce battle claimed hundreds of soldiers' lives, many of which were forced off of the Pali's sheer cliffs.
Note that the Pali Lookout is also known for its strong and howling winds. You'll understand why the
Nuʻuanu
Pali Lookout is one of
Oʻahu
's best scenic points when you feel the wind push up against you, hear the winds whistle through the mountains and see the breathtaking views of
Oʻahu
's lush Windward Coast.