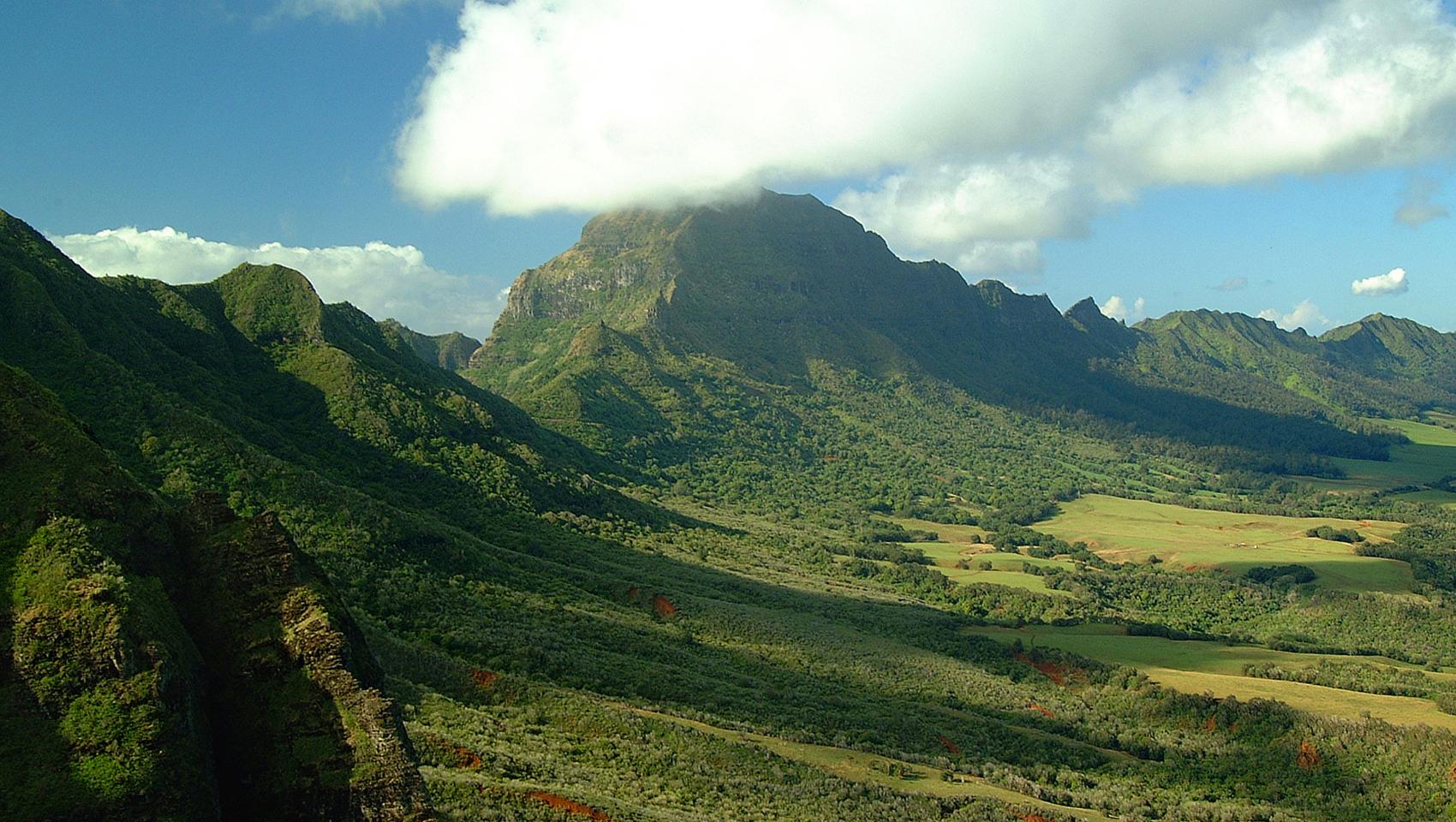 Although Kauai may not be the largest of the Hawaiian islands, many features of its landscape trace their roots to legendary giants.
On the southeast side of Kauai is Haupu, a peak with many stories attached to it. There's the giant guardian who shared the name Haupu with the peak on which he lived, whose responsibility was to watch for invaders coming in canoes from Oahu across Kaieiewaho Channel. He once saw the glow of torches on the horizon, saw many canoes and heard many voices. It was a fishing tournament off the western coast of Oahu organized by the chief Kaena, but Haupu mistook this for a fleet of invaders and flung rocks at them. The chief was one of the unlucky ones who lost his life, and his people named
Kaena Point
in his memory. Pohaku O Kauai, one of the stones the size of a house that Haupu threw across Kaieiewaho Channel, can still be found off Kaena Point.
Then there's Hinaiuka, the profile of a beautiful woman found on Haupu. The feature is sometimes known today as Queen Victoria's profile, but legend tells another story. Chiefess Peleula from Oahu heard about the beauty of Kauai women. Since her own royal court was known for its beauty, Peleula ventured across the channel to see if what she heard of Kauai was true. Peleula was greeted by Hina, her Kauai counterpart, who agreed to a friendly competition where a young, tall, handsome chief would be both judge and prize. Peleula, adorned in the lei ilima for which Oahu is known, was quite pleased with her performance. But when Hina emerged draped in kapa and decked with lei maile wrapped in the famous mokihana of Kauai, Peleula conceded that Kauai's beauties are second to none. To memorialize this, Hina's profile was carved into Haupu.
Further north between majestic Waialeale and Kauai's east shore is
Nounou
, a peak looking over the town of Wailua. One of the legends says that a gentle giant named Nunui created deep holes wherever he stepped, helping farmers with places to plant their crops. The chief of the area wanted to gather rocks and ohia logs from the uplands to build a heiau, and Nunui was happy to help. When it was completed, Kukui Heiau was notable for the huge stones used to build its walls, thanks to the help of Nunui. To thank him for his efforts, the people prepared a huge feast for Nunui. After he enjoyed the feast and the company of the people, he laid down to rest and has yet to awake. The peak is popularly known today as Sleeping Giant.