Photo by NPS Photo-Janice Wei
Hawaiʻi emerged from the sea millions of years ago, forged by the power of volcanoes. Over time, volcanoes have formed some of our most iconic landscapes. Today, Hawaiʻi Volcanoes National Park on the
island of Hawaiʻi
is one of the few places in the world where visitors can come face to face with an active volcano—a truly unforgettable experience.
Hawaiʻi's main volcanoes are "shield" volcanoes, which produce lava flows that form gently sloping, shield-like mountains. A good example is Maunaloa, the most massive mountain on earth, deceptively covering half of Hawaiʻi Island. Standing with this sleeping giant beneath your feet will give you a greater respect for earth's ever-changing landscapes.

Hawaiʻi's Active Volcanoes
Two of the world's most active volcanoes - Kīlauea and Maunaloa - can be found on Hawaiʻi Island. Other volcanoes on Hawaiʻi Island include: Maunakea, Hualālai, and Kohala. Other landmark volcanoes in the State include:
Lēʻahi (Lēʻahi Head)
, Oʻahu and
Haleakalā
, Maui.
"Tip 1: Stay on designated pathways and out of hazardous areas. Newly cooled lava deltas can collapse into the sea at any time."
"Tip 2: Wear proper shoes. This is not flip-flop territory. The lava rocks are sharp and unforgiving. Armor your feet accordingly. "
"Tip 3: Drink plenty of water. Lava fields give off a heat of their own from lava not far beneath the surface. Plus they're black, making it even warmer!"
"Tip 4: If you're going for a sunrise or sunset, make sure you go early. Crowds tend to form at these times."
"Tip 6: Don't forget to read the information and updates on conditions at the park before you go!"
"Tip 7: Bring a rain jacket. The temperature at the summit may be considerably colder than at sea level. "
"Tip 8: Got questions? Want to know if you can go into a particular area? Ask a professional. The rangers enjoy imparting information to guests."
"Tip 9: Slather on the Reef Safe sunscreen. At these altitudes you're even closer to the sun and can get burned easily. Be sure to use Reef Safe just in case you take a dip later on!"
"Tip 10: Donate until it feels good! The parks need all the help they can get!"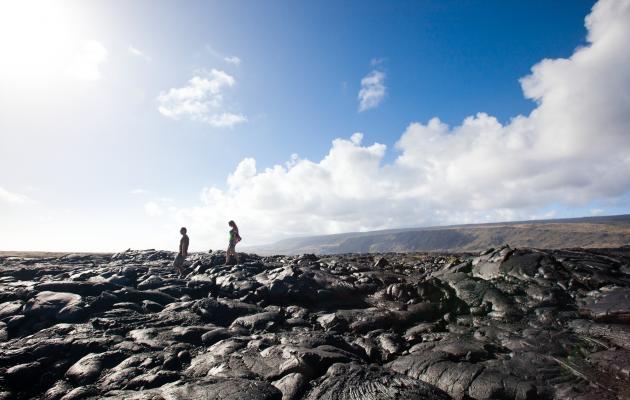 Discover 150 miles of hiking trails through volcanic craters, scalded deserts and rainforests, as well as petroglyphs, a walk-in lava tube and one of the most active volcanoes on earth, Kīlauea, which has been erupting since 1983.
More