Island of Hawaii Arts & Culture
As the youngest island in the Hawaiian chain, the Island of Hawaii is an ever-evolving palette of historical and cultural influences. Today, the people of Hawaii Island continue to perpetuate and interpret the Hawaiian culture through their art, world-famous festivals and important historic sites.

Held in Hilo, the Merrie Monarch Festival (follows Easter Sunday in March–April) is the world's premier hula event. This weeklong celebration of the native art of hula draws halau (hula schools) from every island as well as the mainland, who practice year-round for the event. The Merrie Monarch Festival is just one example of how Island of Hawaii locals live comfortably in the present but with great respect for the past. The mana (spiritual power) is still strong at important historical places like Puuhonua o Honaunau National Historical Park and Puukohola Heiau Historic Site.

The spectacular environment of the Big Island inspires its many artists. Whether it's through paintings, sculptures, glassware, jewelry or hand-carved koa wood bowls, you'll see the distinct styles that make the art found on the Island of Hawaii truly unique.

Hilo town is also home to an array of museums, galleries and performance venues where you can admire the work of local painters, sculptors, musicians, storytellers and crafts people. If you're visiting Hawaii Volcanoes National Park, be sure to make a stop at Volcano Village—a creative community of notable glassblowers, painters and ceramic artists who have made their home among the towering pine trees and endemic ohia llehua. Take time to browse the galleries, stretch your legs and meet the artists.
More Island of Hawaii Art & Culture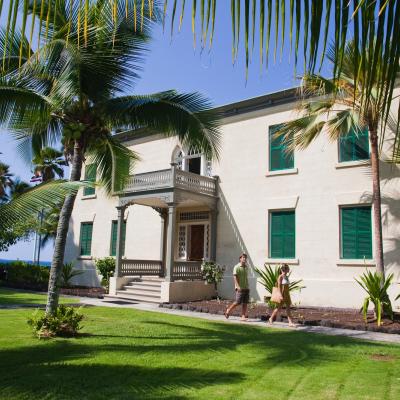 Arts & Culture on the Island of Hawaii