If the perfect wave exists, you'll find it on
Oʻahu
's North Shore. The towering, glassy winter waves of this legendary surf mecca draw the best surfers in the world, while smaller and gentler summer waves are better for beginners. Stretching for more than 7 miles, the beaches of the North Shore host the world's premier surfing competitions during the peak winter months, including the biggest of them all, the Vans Triple Crown of Surfing (November - December).
Waimea Bay
,
ʻEhukai
Beach (Banzai Pipeline) and Sunset Beach are great places to sunbathe and stroll along the shore—just leave surfing the huge waves to the pros because they can be very dangerous for inexperienced surfers.
The months between November and February are the best times to see big wave surfing. The massive waves can sometimes swell up to thirty feet or more—dangerous even for experienced surfers—so always heed warning signs. From May to September, the waves subside, creating a more tranquil atmosphere for surfing and swimming.
Roughly a one-hour drive from
Waikīkī
, the North Shore is also home to a variety of accommodation options, including condo rentals and the exclusive beachside Turtle Bay Resort. Take a little road trip to the charming surf town of
Haleʻiwa

Town
, where you can shop, eat like a local and cool off with rainbow-flavored shave ice. Continue your drive to
Lāʻie
to visit the Polynesian Cultural Center and the old plantation town of Kahuku.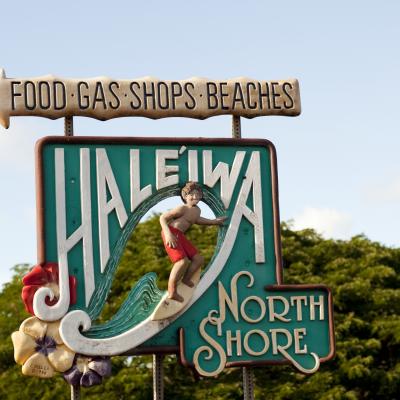 This laid-back surfer town offers beautiful beaches, tasty local restaurants and food trucks, cool shops and plenty of shave ice.
More
This beloved beach is popular with locals and visitors alike, and was an influential surf spot during the dawn of big wave surfing in the 1950s.
More
"Waimea Bay has a lot of history. It's known to be one of the first places where the guys ventured out in the 50's and rode giant waves. Banzai Pipeline is a remarkable spot. For spectators it's probably one of the better spots to watch surfing. It is a dangerous place, so it's for experts only. Sunset Beach is my favorite spot, actually. It's where I learned to ride big waves." - Dan Moore, champion surfer and North Shore resident
Find Things to Do on Oʻahu